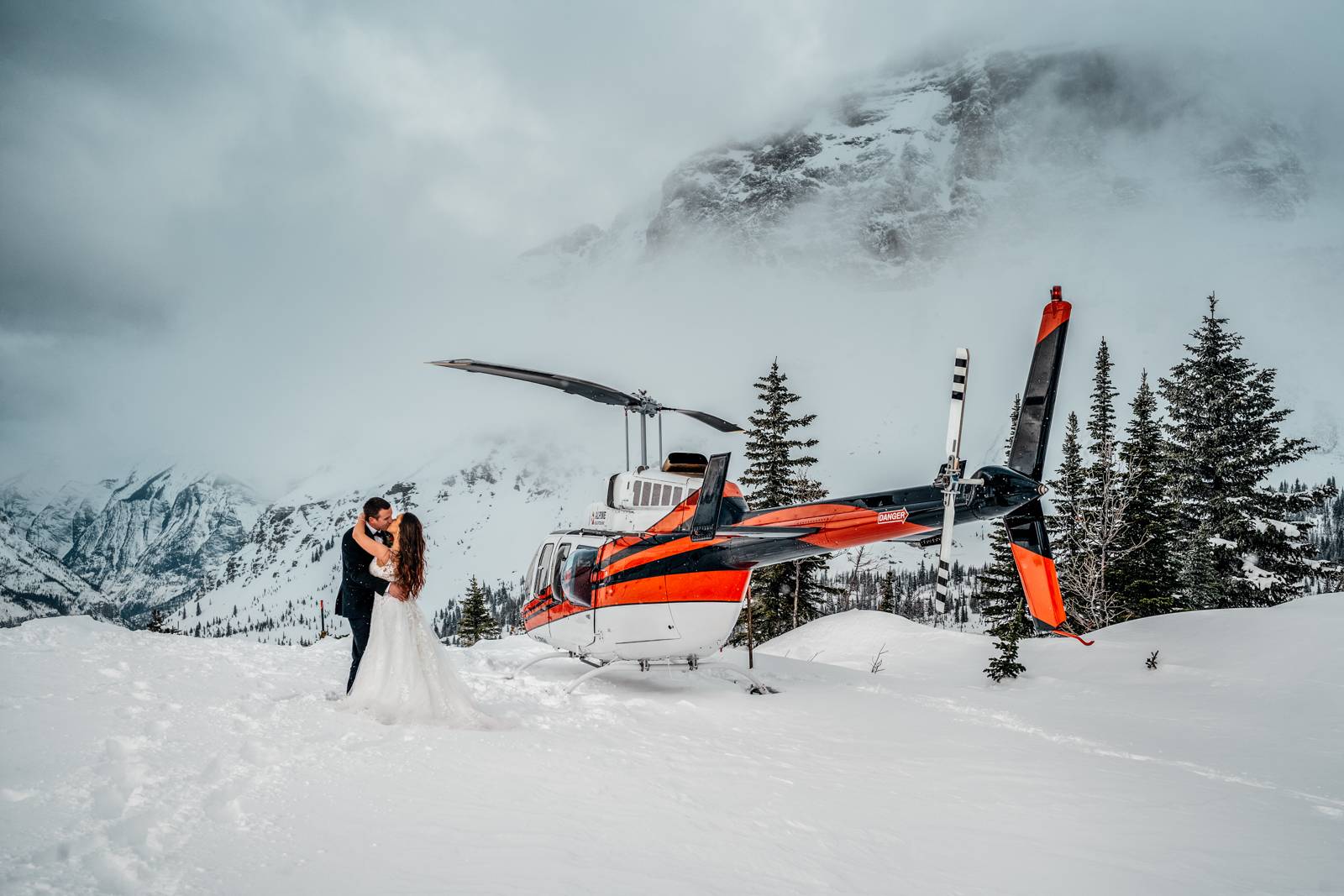 Winter Helicopter Elopement
Meg and Luke planned on having a big backyard wedding with all their friends and family however with the ever-changing restrictions they decided they would elope and have a reception at a later date with all their loved ones when they could. That's when they came up with the idea to get married in their favourite vacation destination, the Rocky Mountains. What better way to get married in the rockies than to be placed in the mountains by a Helicopter?
We helped Megan and Luke plan their adventure elopement at beautiful location in the Banff National Park, starting at sunrise. Than we took Alpine helicopters to Marvel Pass located in the Rocky Mountains to take winter wonderland elopement pictures. It was a wonderful adventure!
Two Jack Lake sunrise elopement photos
We met with Meg and Luke at Two Jack Lake just before the sunrise. We were alone during the elopement sunrise photo session so our couple had a lot of privacy. The weather was very beautiful. It was not windy or cold. We enjoyed every moment of quiet sunrise during our photoshoot.
Canmore Alpine helicopter adventure
After early morning Banff elopement photos we were ready for helicopter adventure. Our pilot Jackson was fantastic. On our way to Marvel Pass he showed us breathtaking and massive glacier with ice cave. Marvel Pass was really spectacular and full of snow. At the top we had 15 minutes for short portrait session. We worked super fast to be able to get as many different elopement photos as possible. We liked the weather we found at the top. Cloudy and dramatic sky is our favourite.


Ceremony at Three Sisters Lookout in Canmore
The elopement ceremony took place at "secret" location in Canmore. We met with super nice marriage commissioner Carl Shields at the Alpine helicopter parking lot and together we hiked to the Three Sisters Lookout. We were very excited when we got there because we were alone again. We all had a wonderful time together. Megan and Carl are from Ontario so they had a lot to talk about. We also had the pleasure of being witnesses to the newly wedded couple.
Married couple at elegant Fairmont Banff Spring Hotel
Megan and Luke stayed in a beautiful Banff Springs Hotel. After Canmore wedding ceremony we decided to use the elegant interior of the hotel for a few portrait photos. We must admit that we had a great time with Megan and Luke during their Canadian Rockies heli elopement.
Review from a happy couple
"Marcin and Dorota are incredible photographers, they truly captured all of my visions and made sure they were brought to life.
We are so happy we chose them for our adventure elopement in Banff!

We highly recommend BDFK photography to anyone!"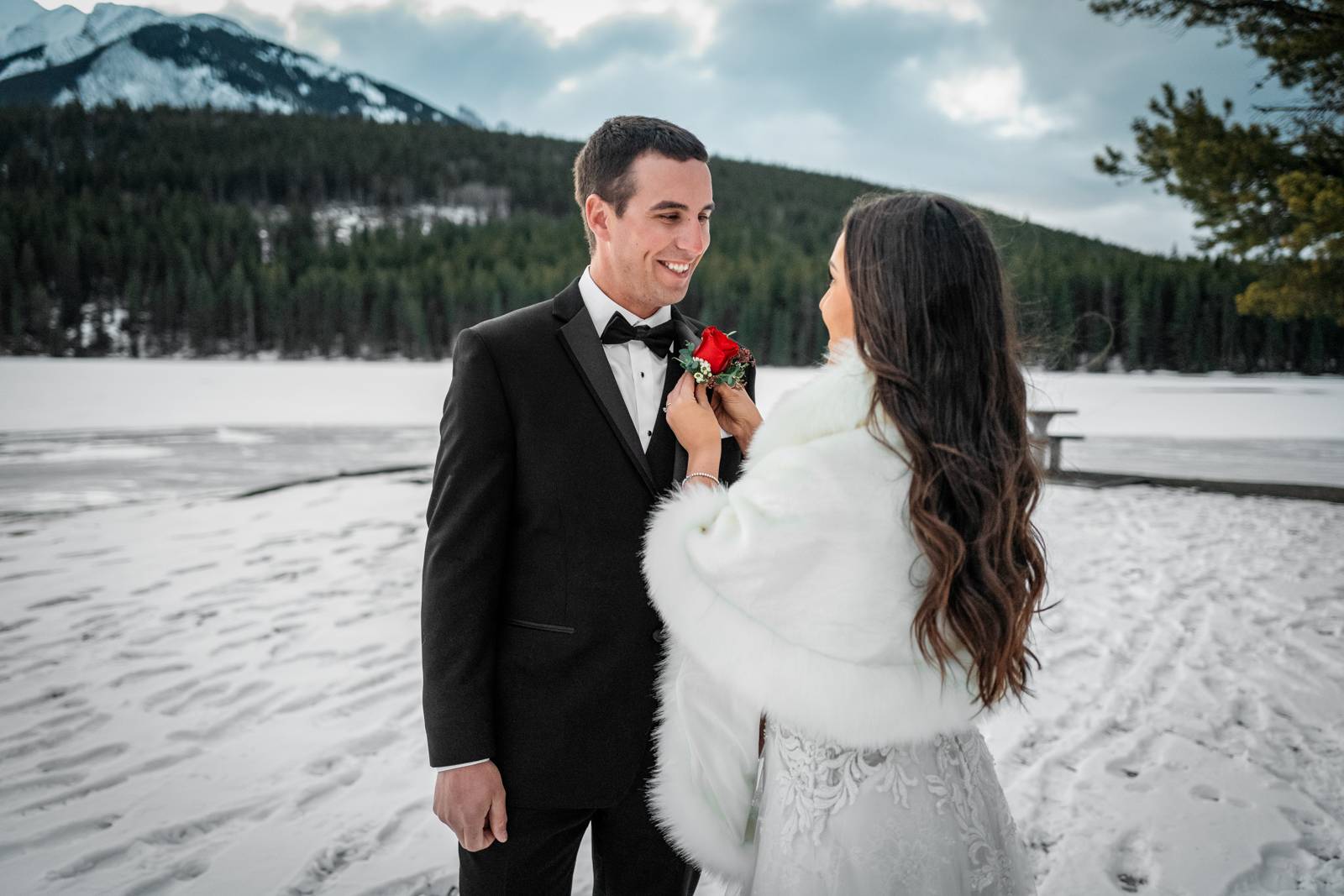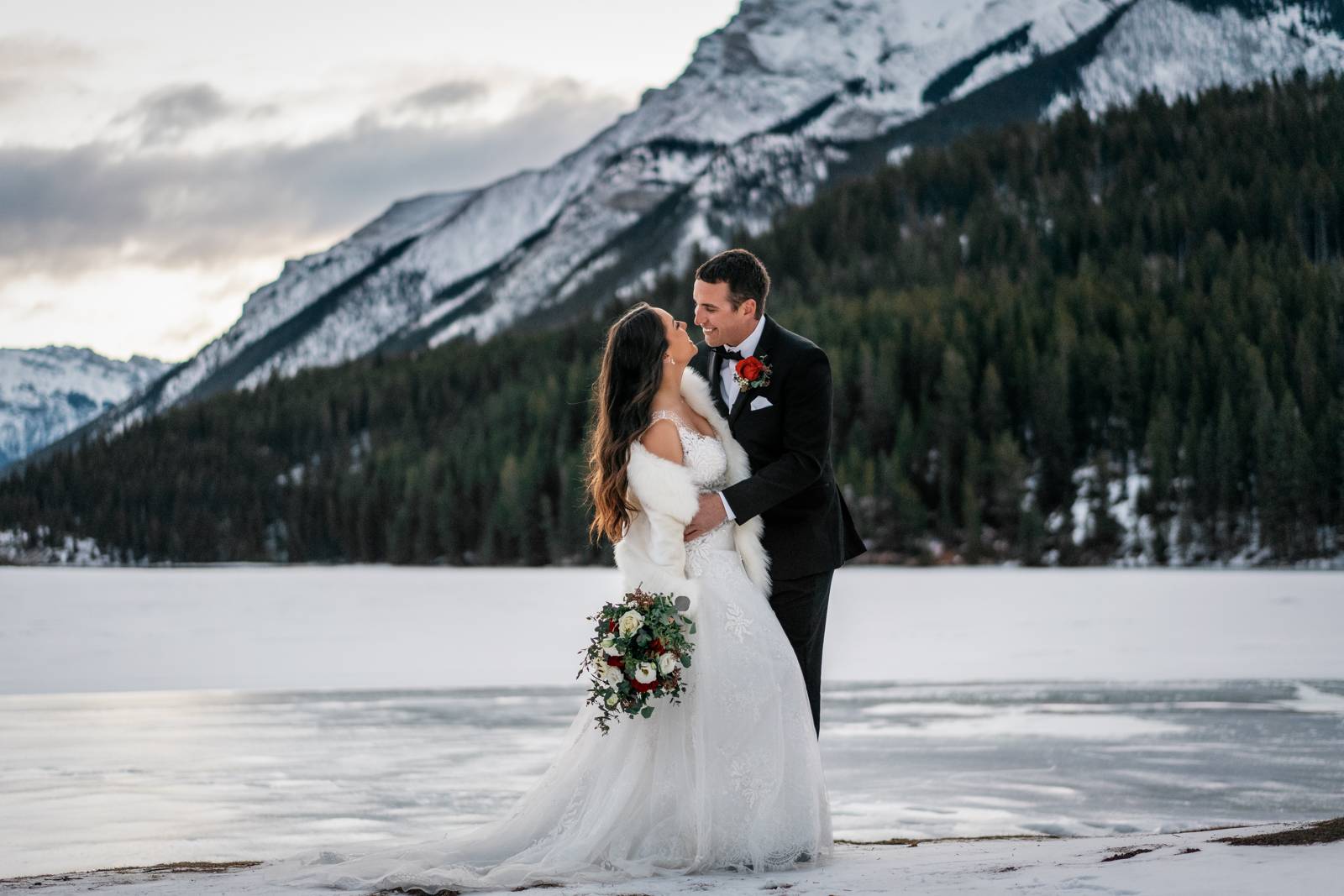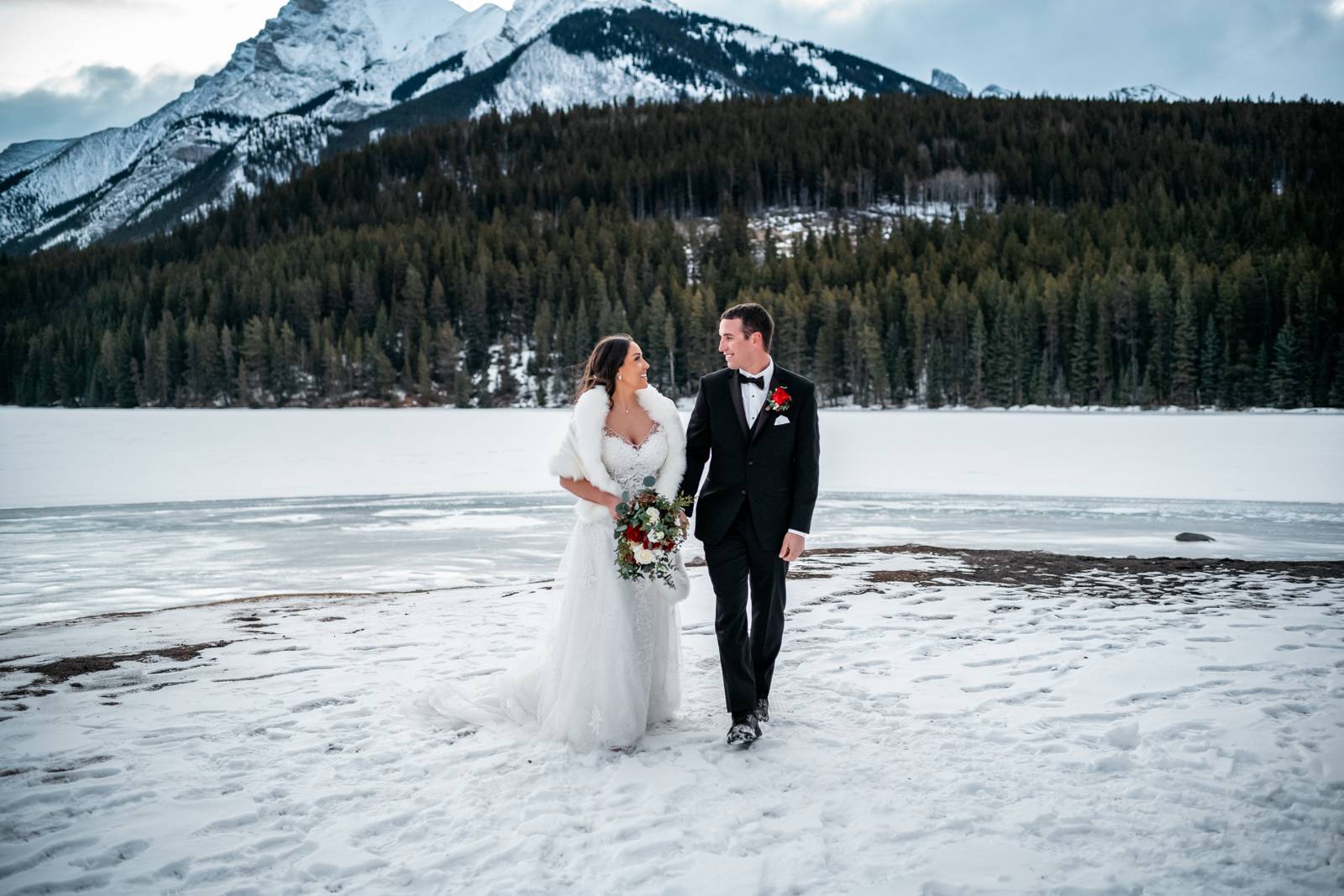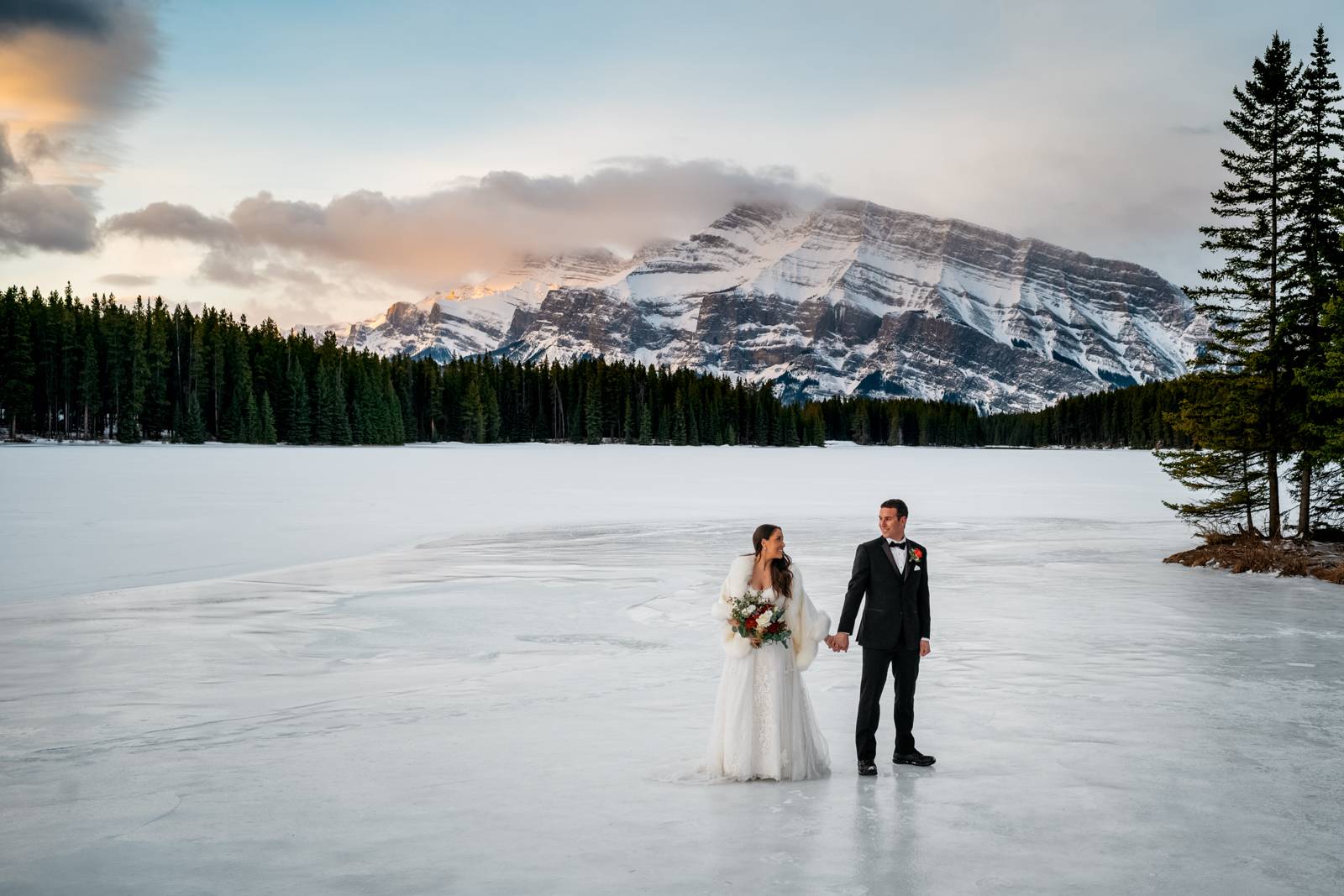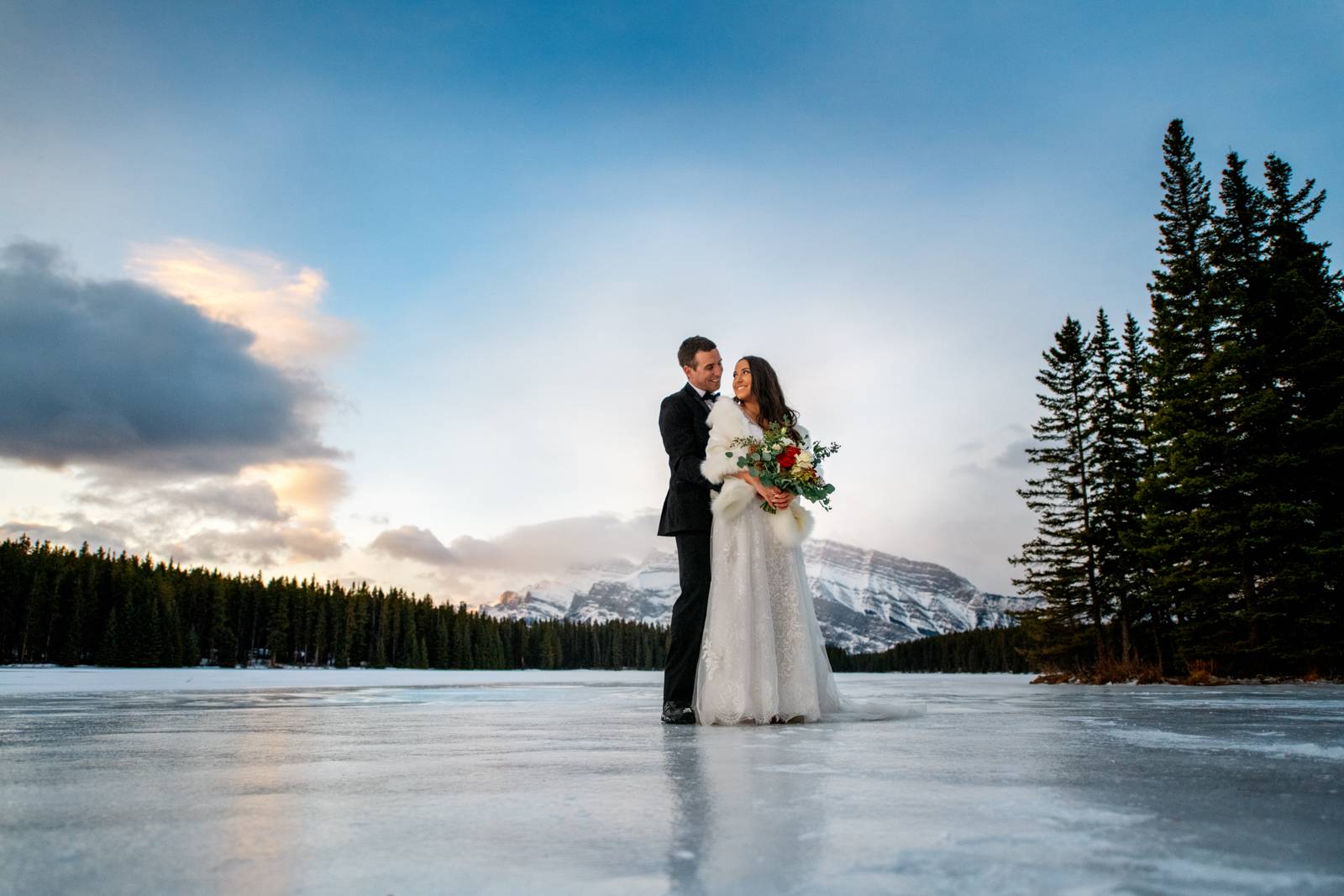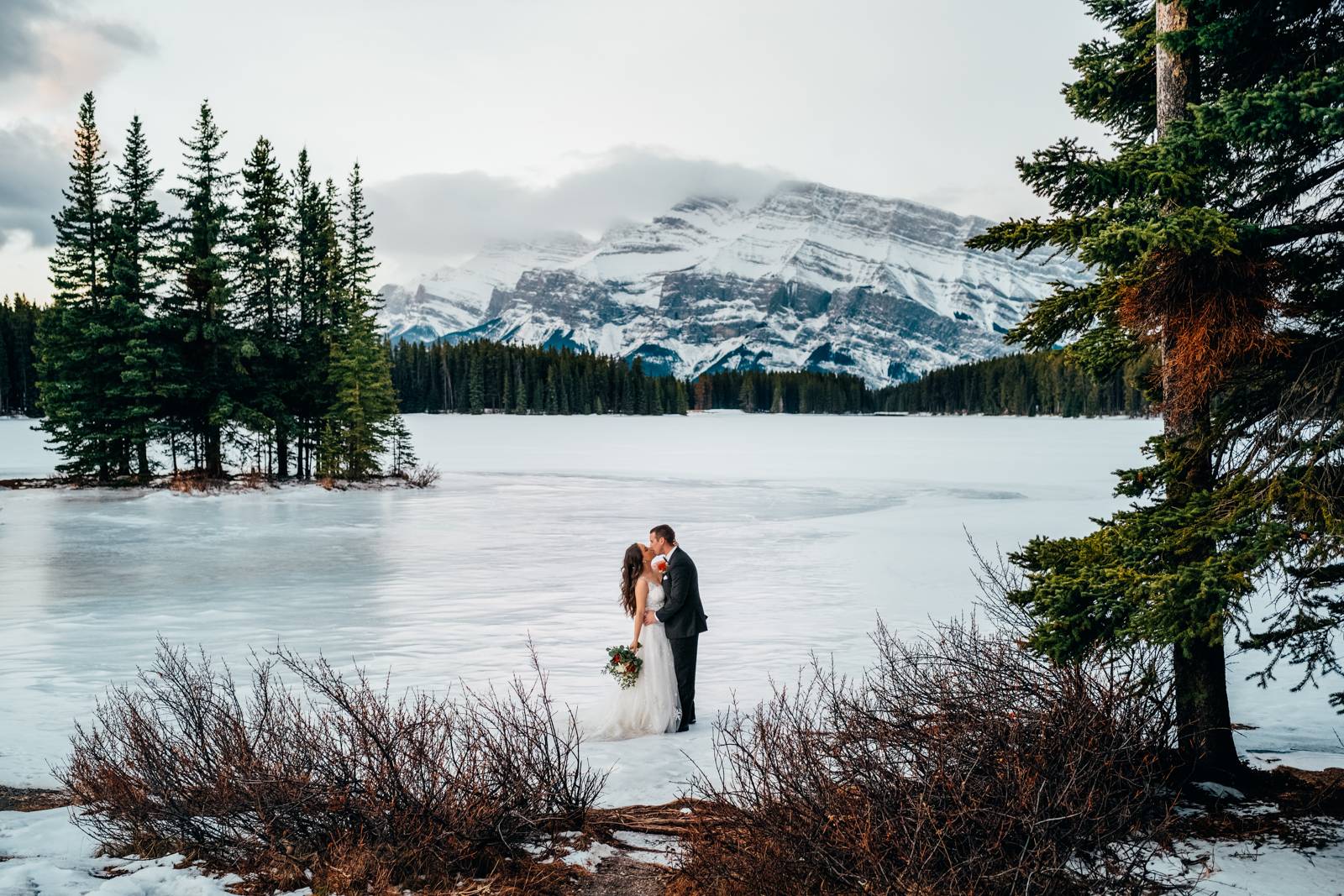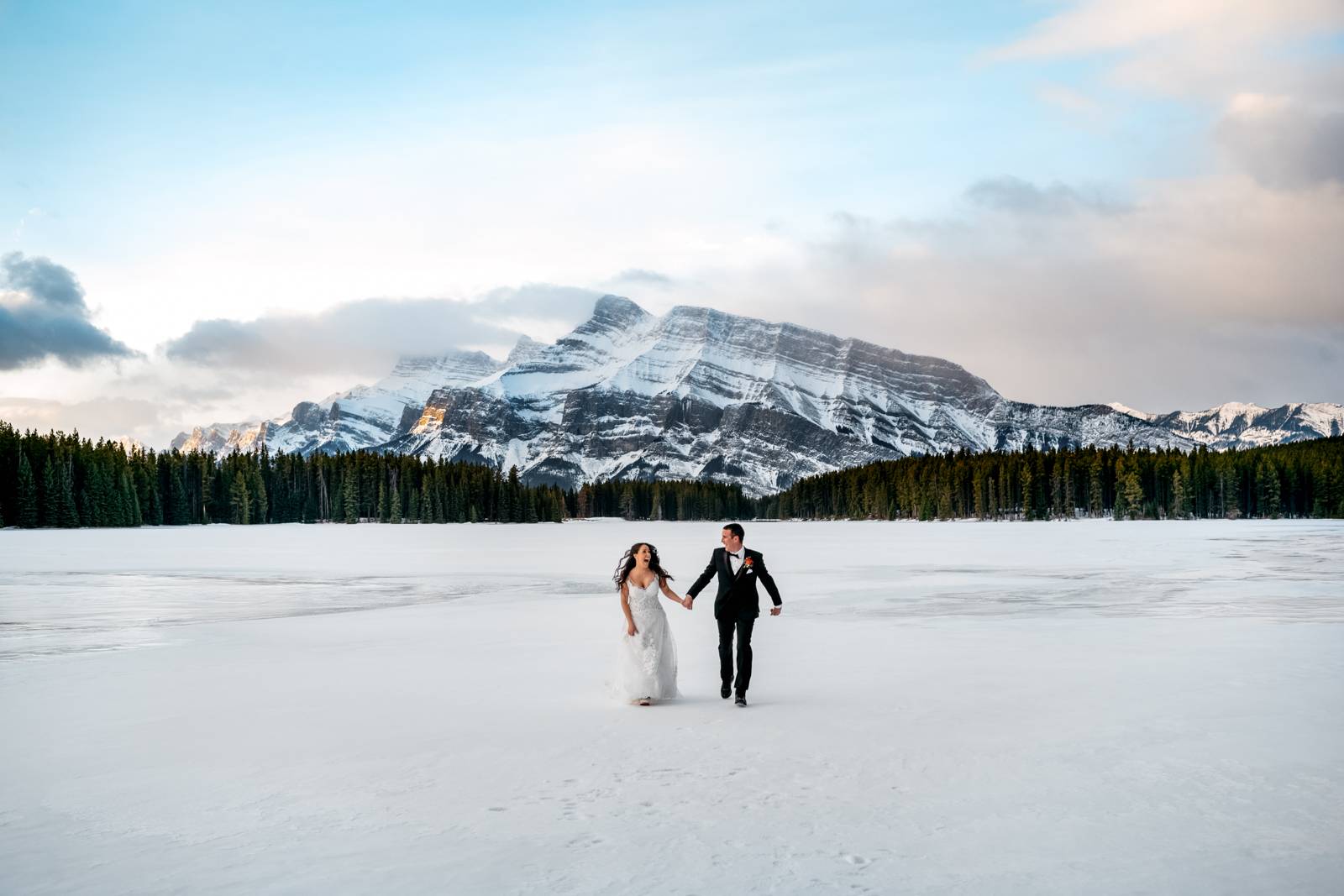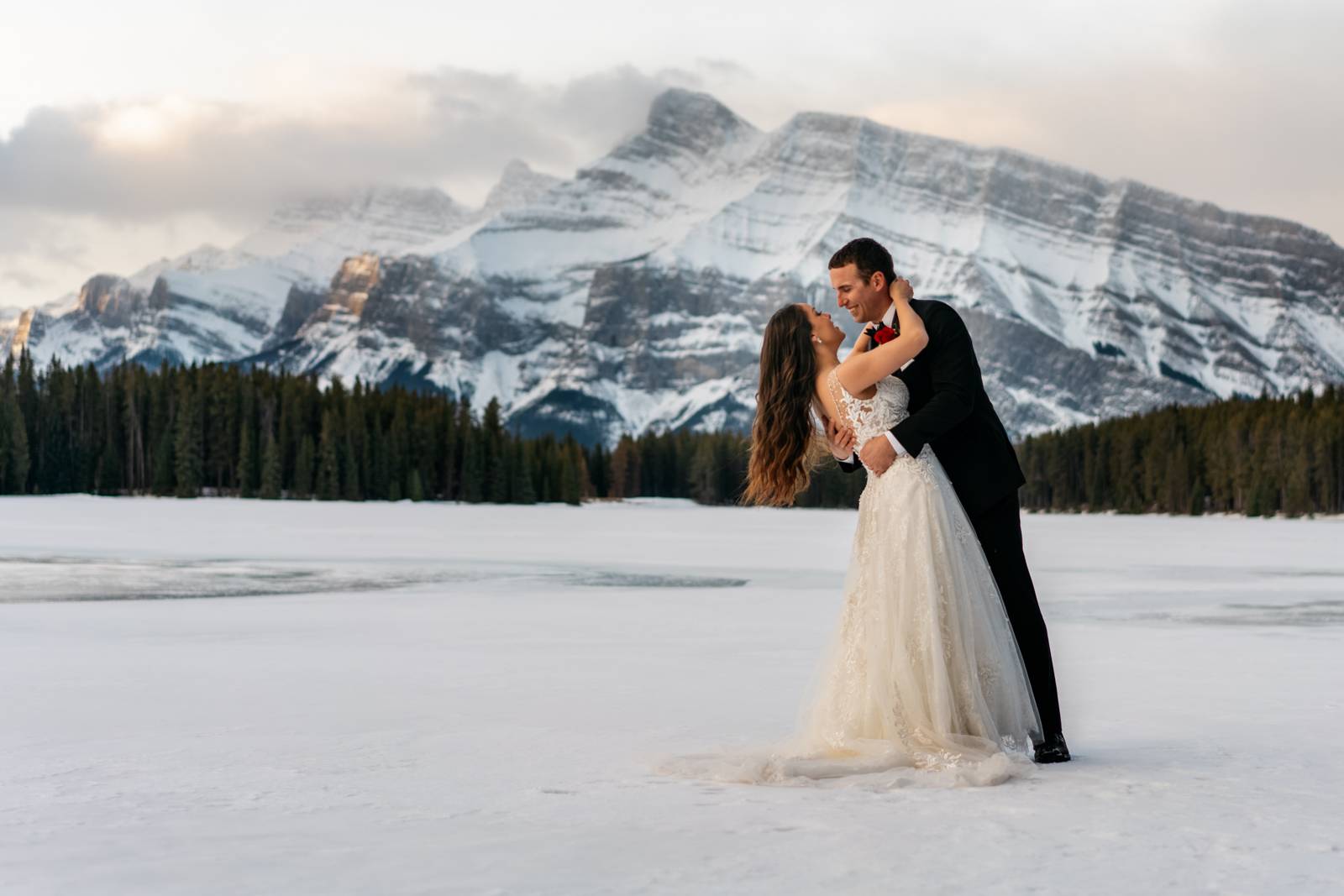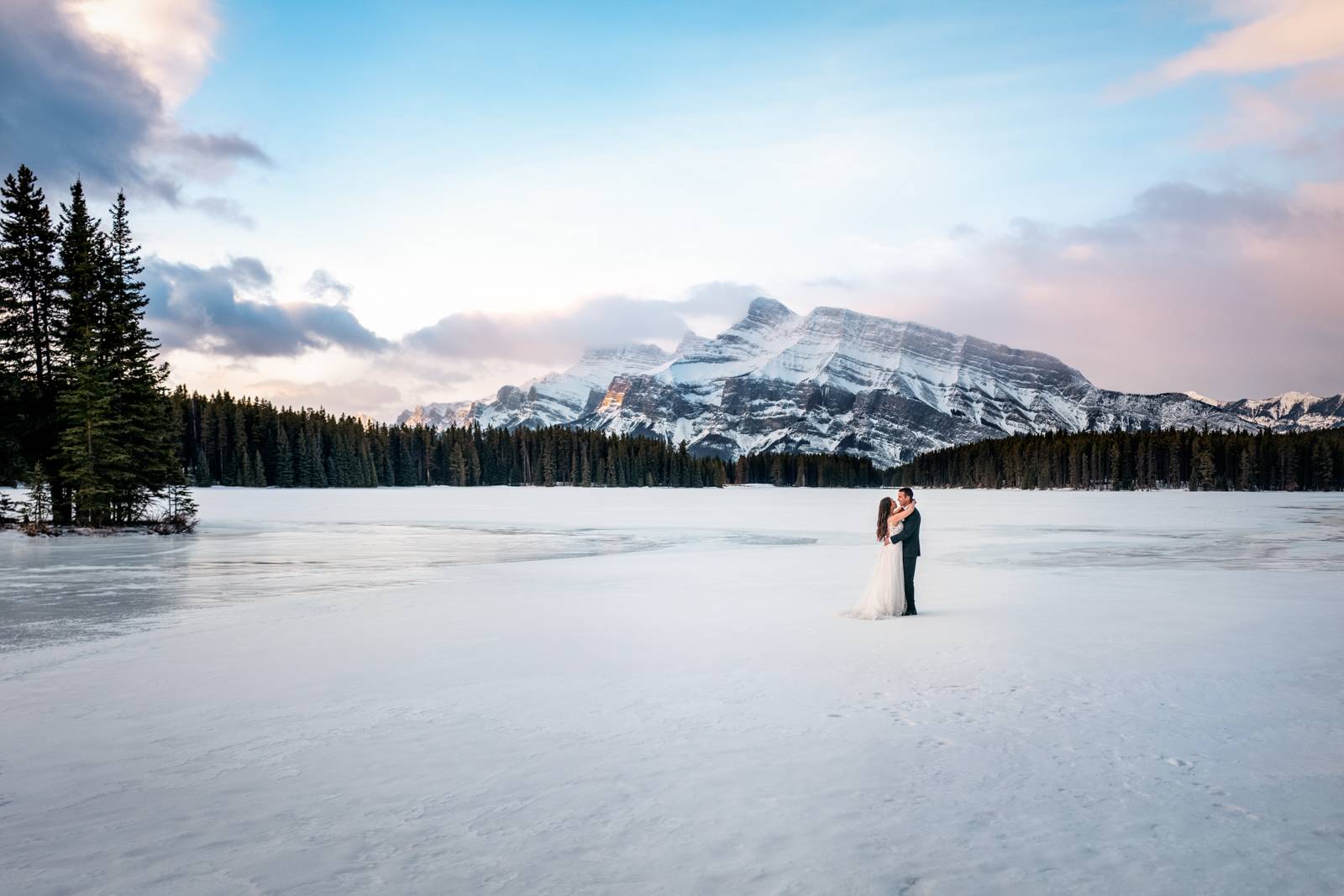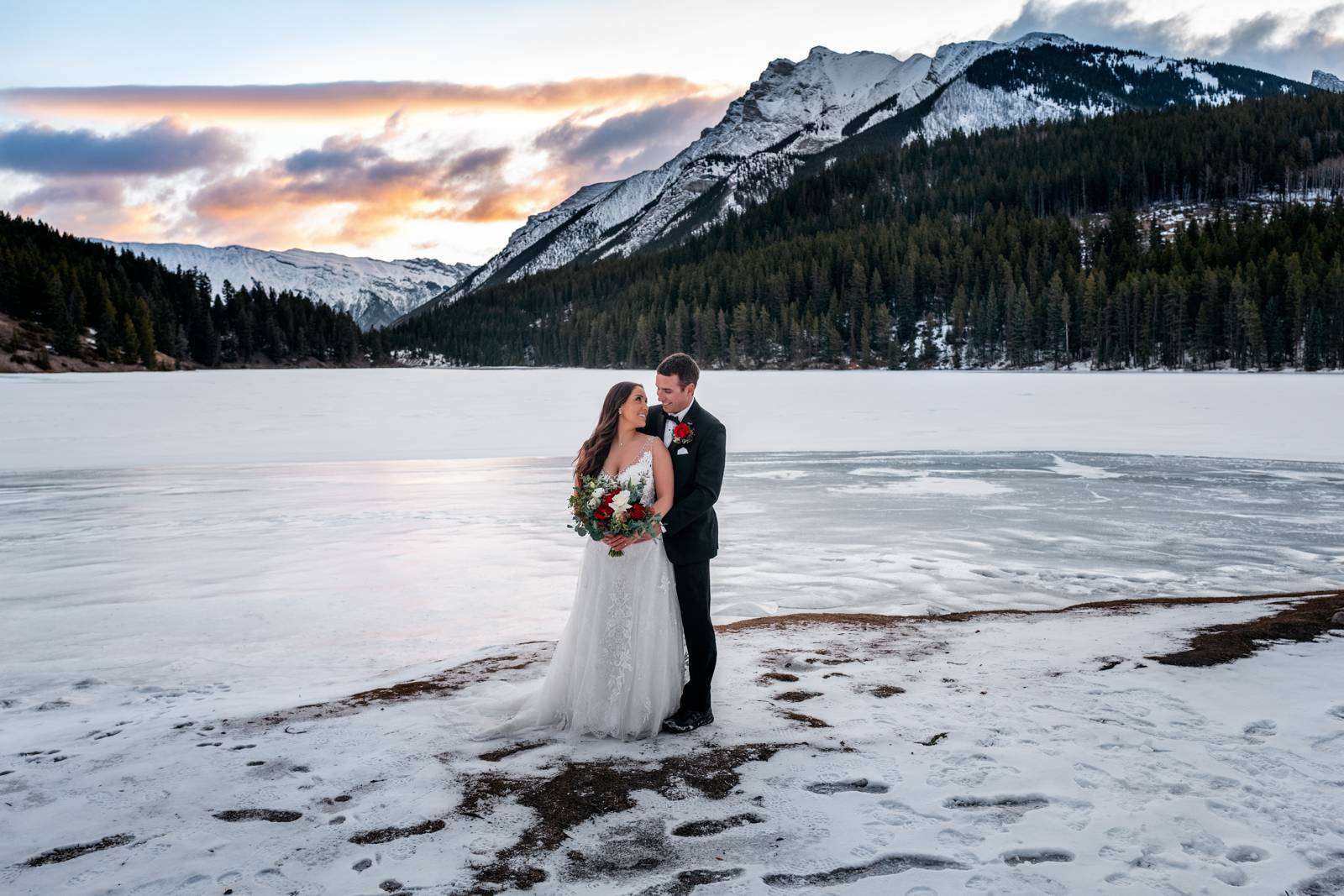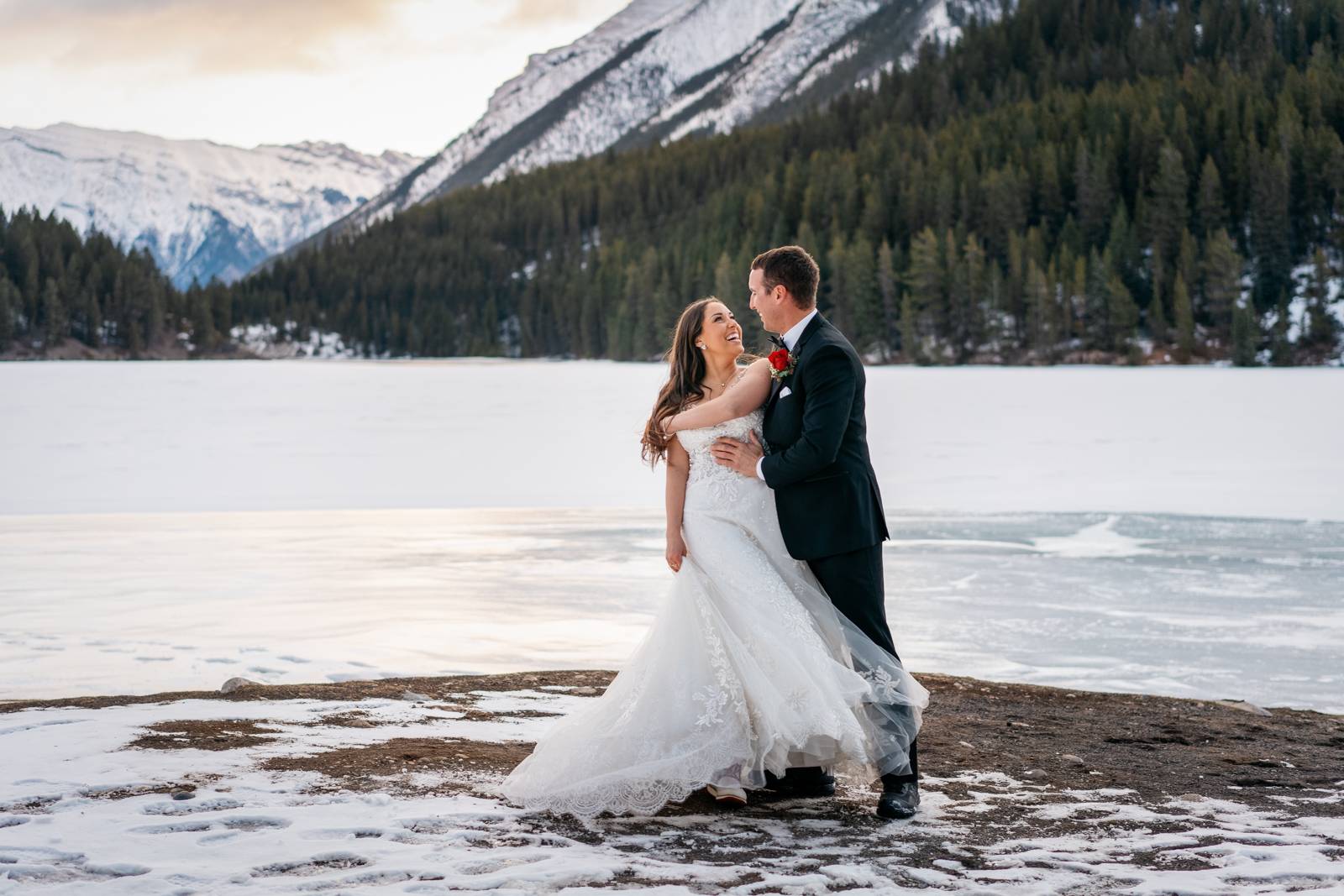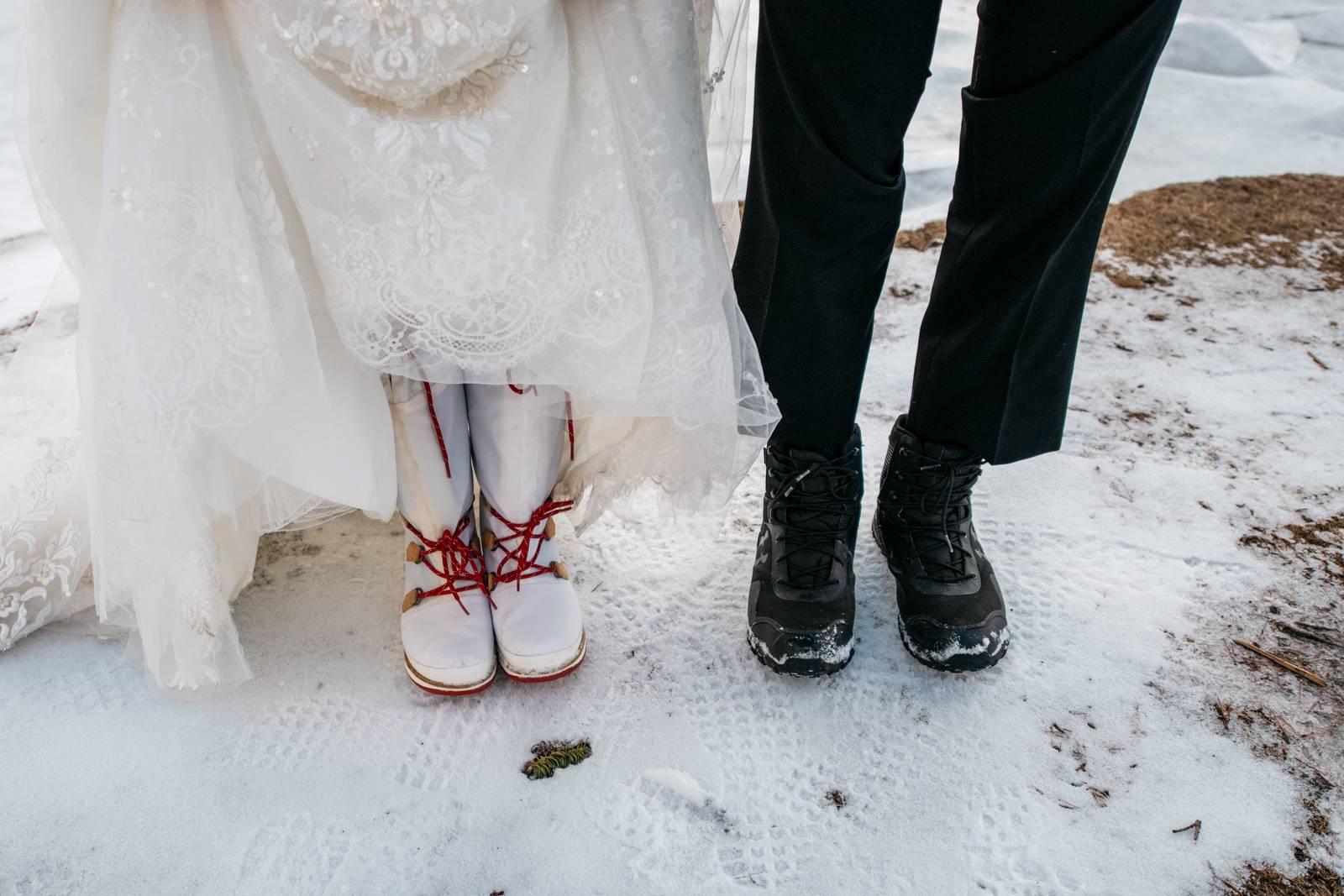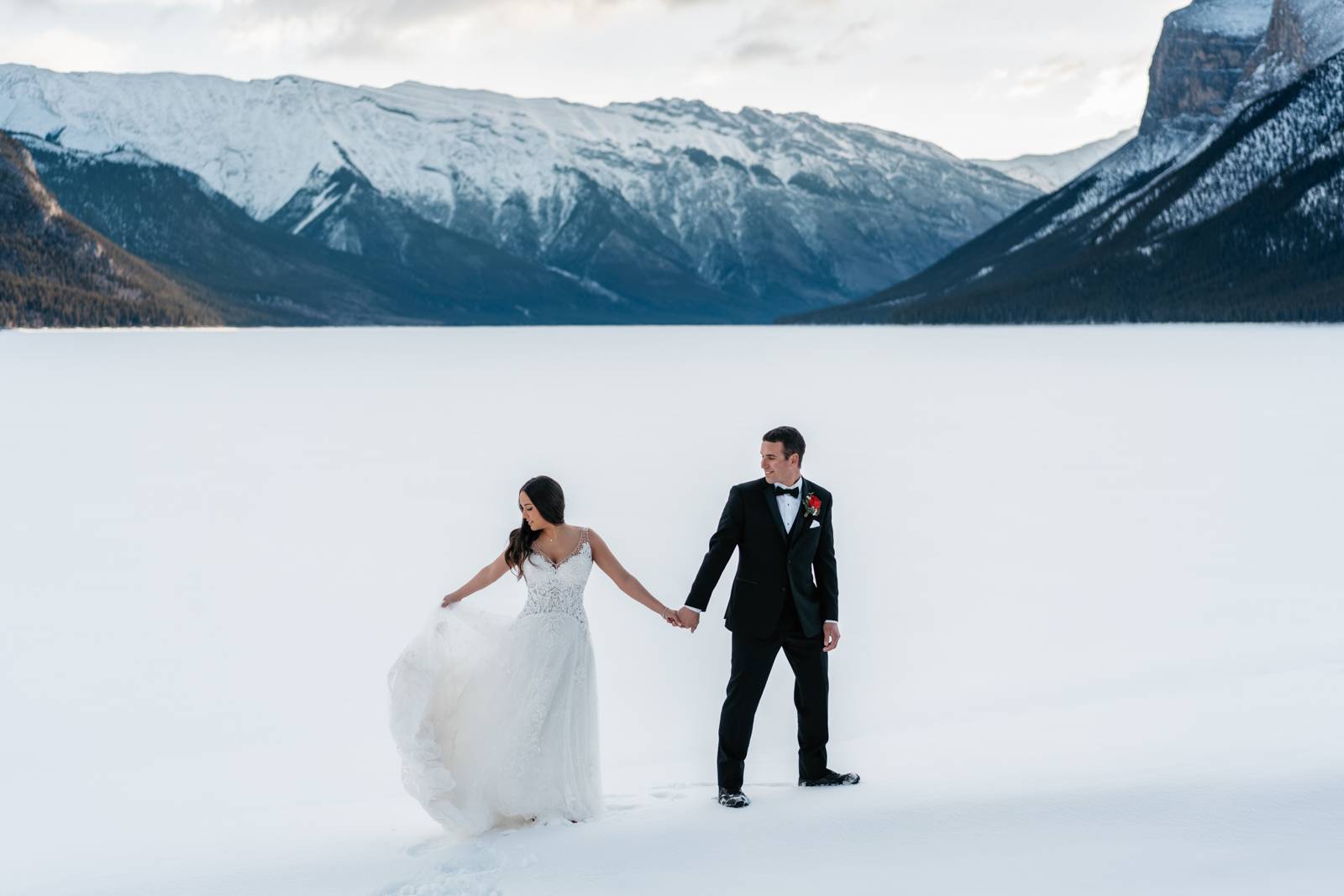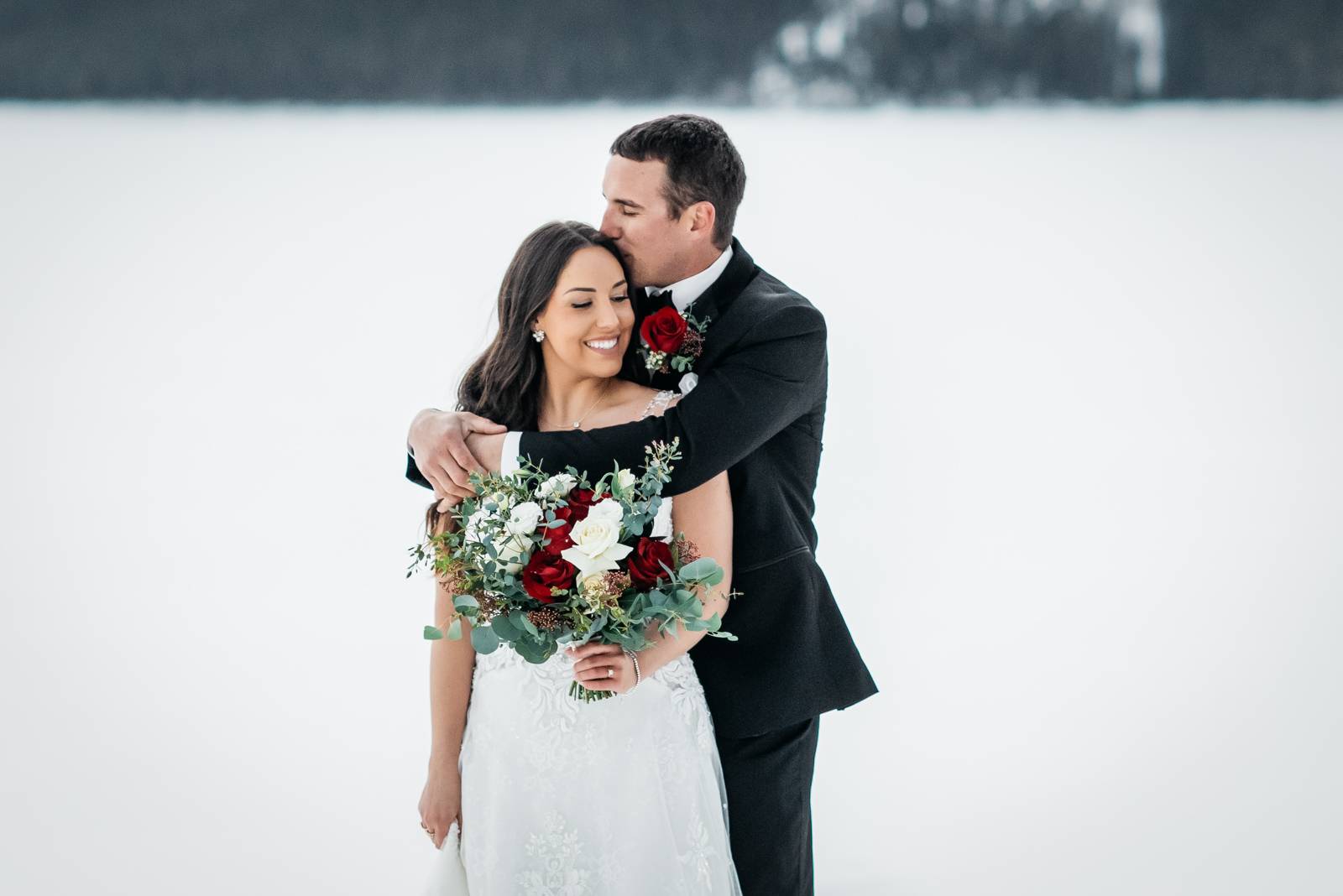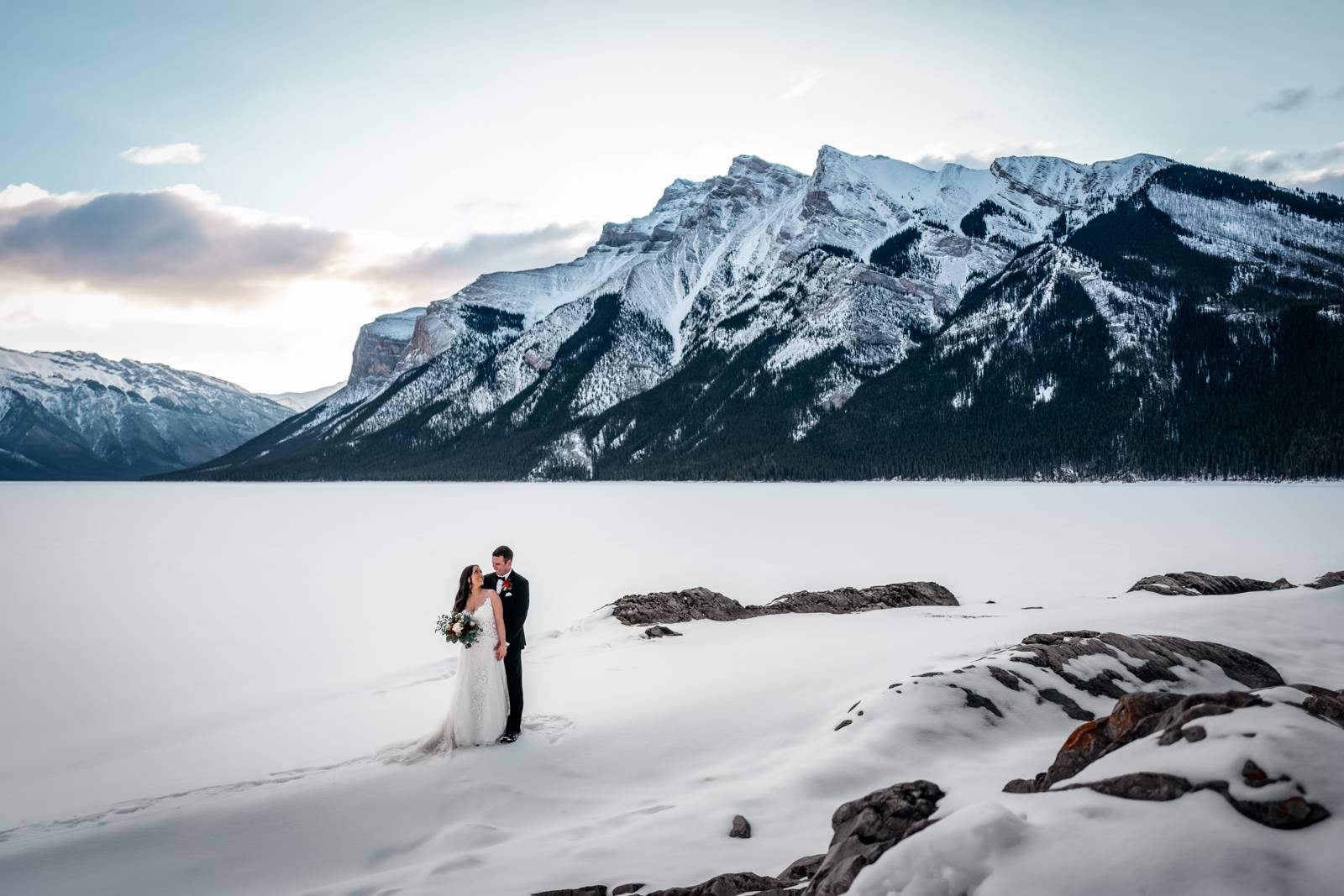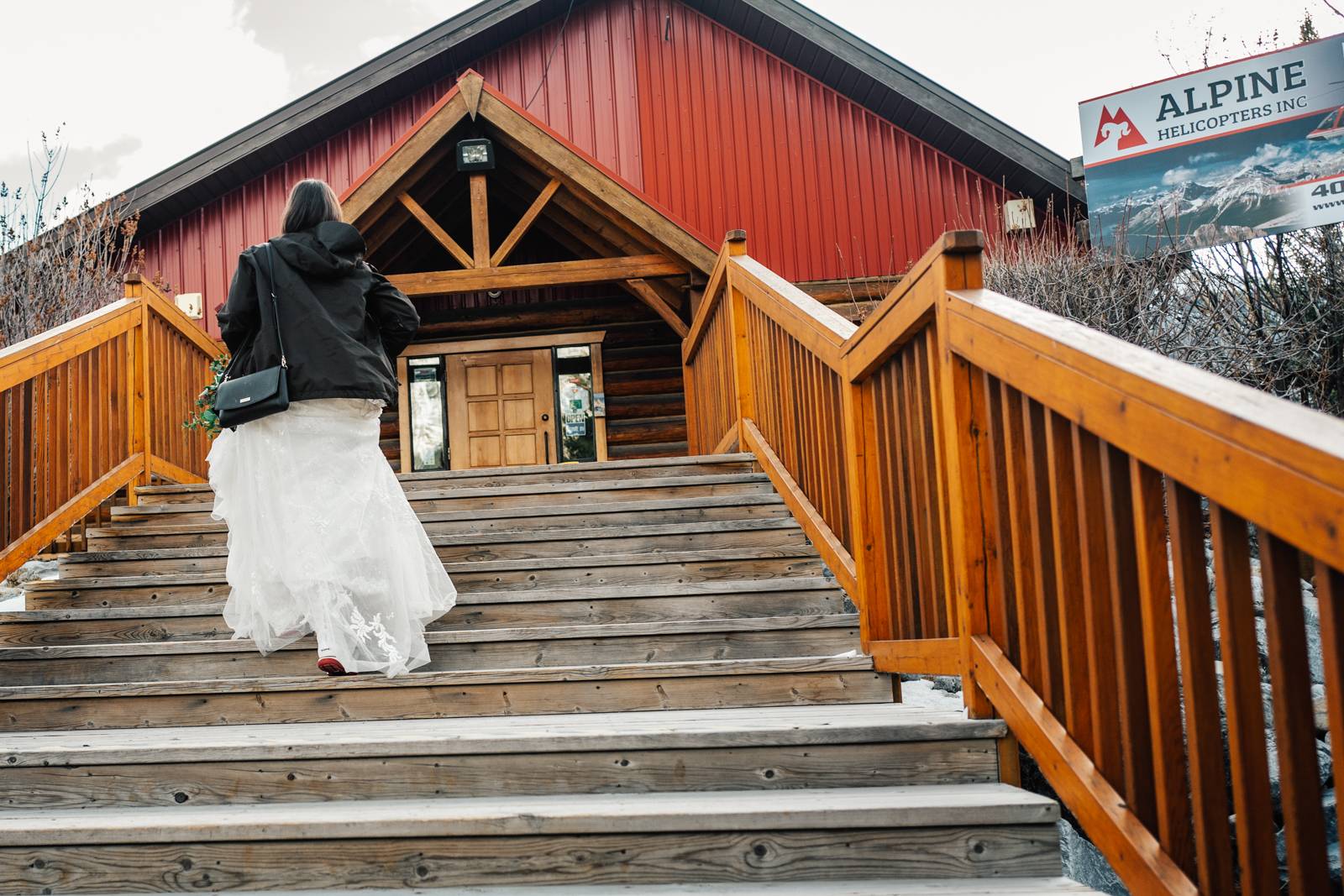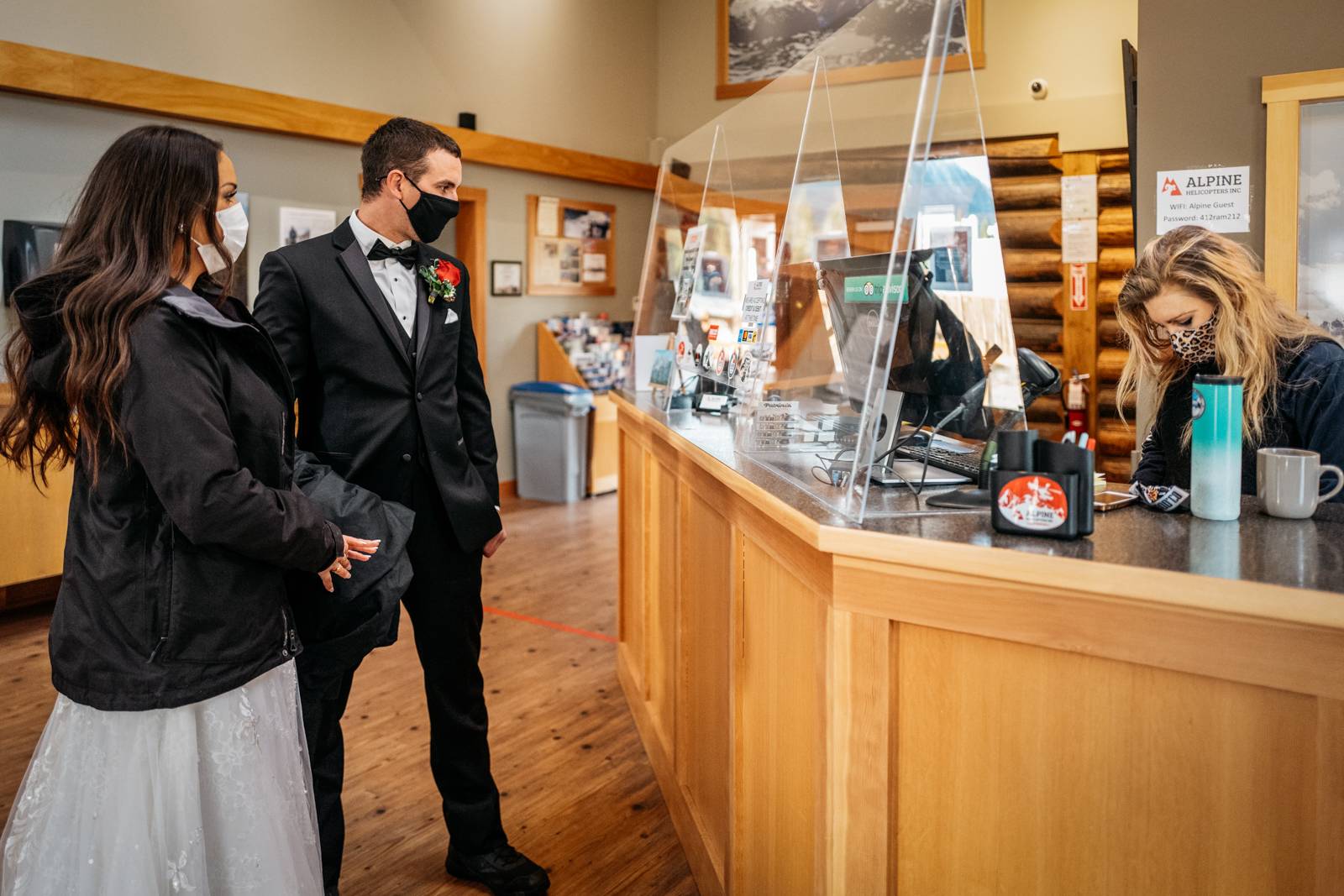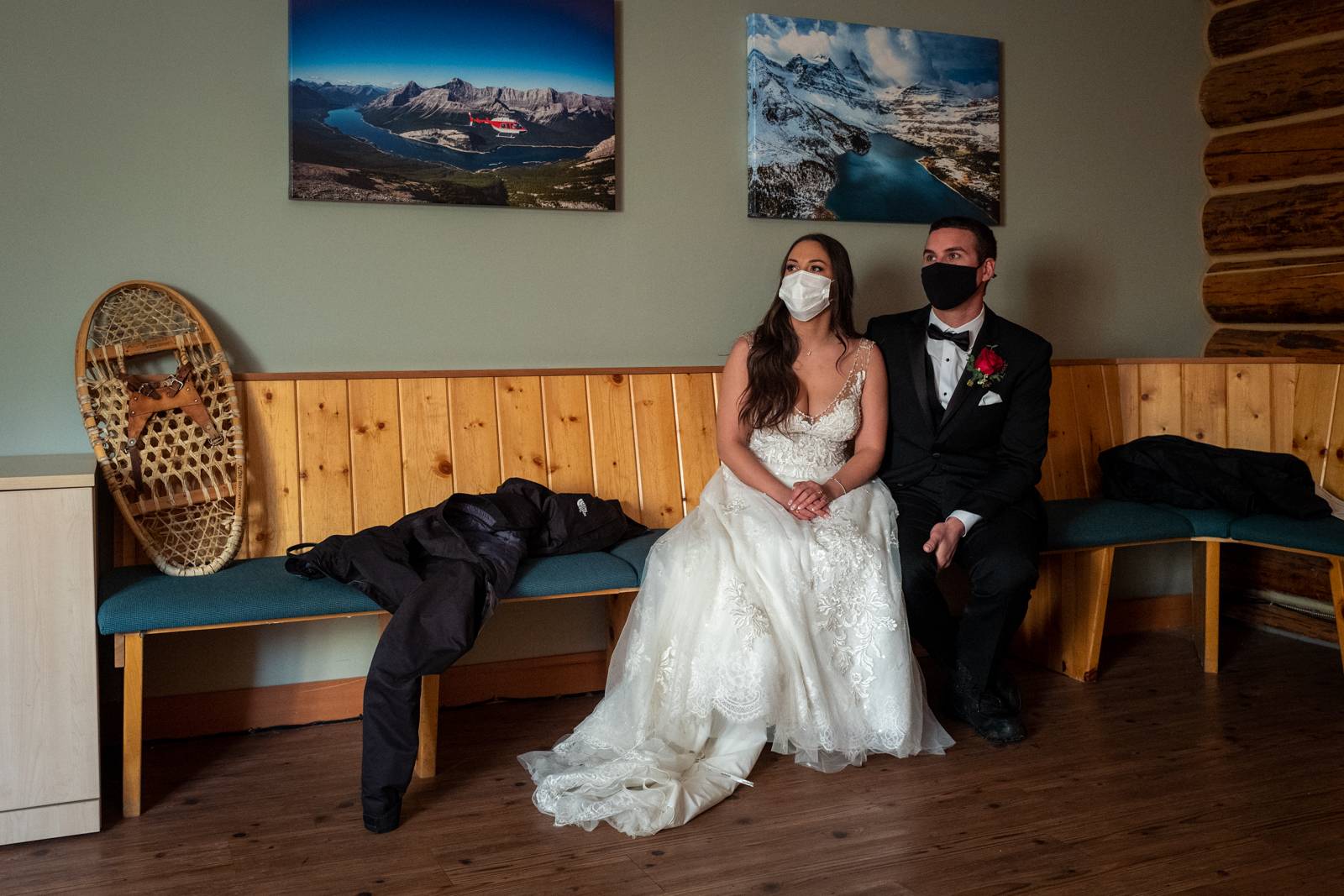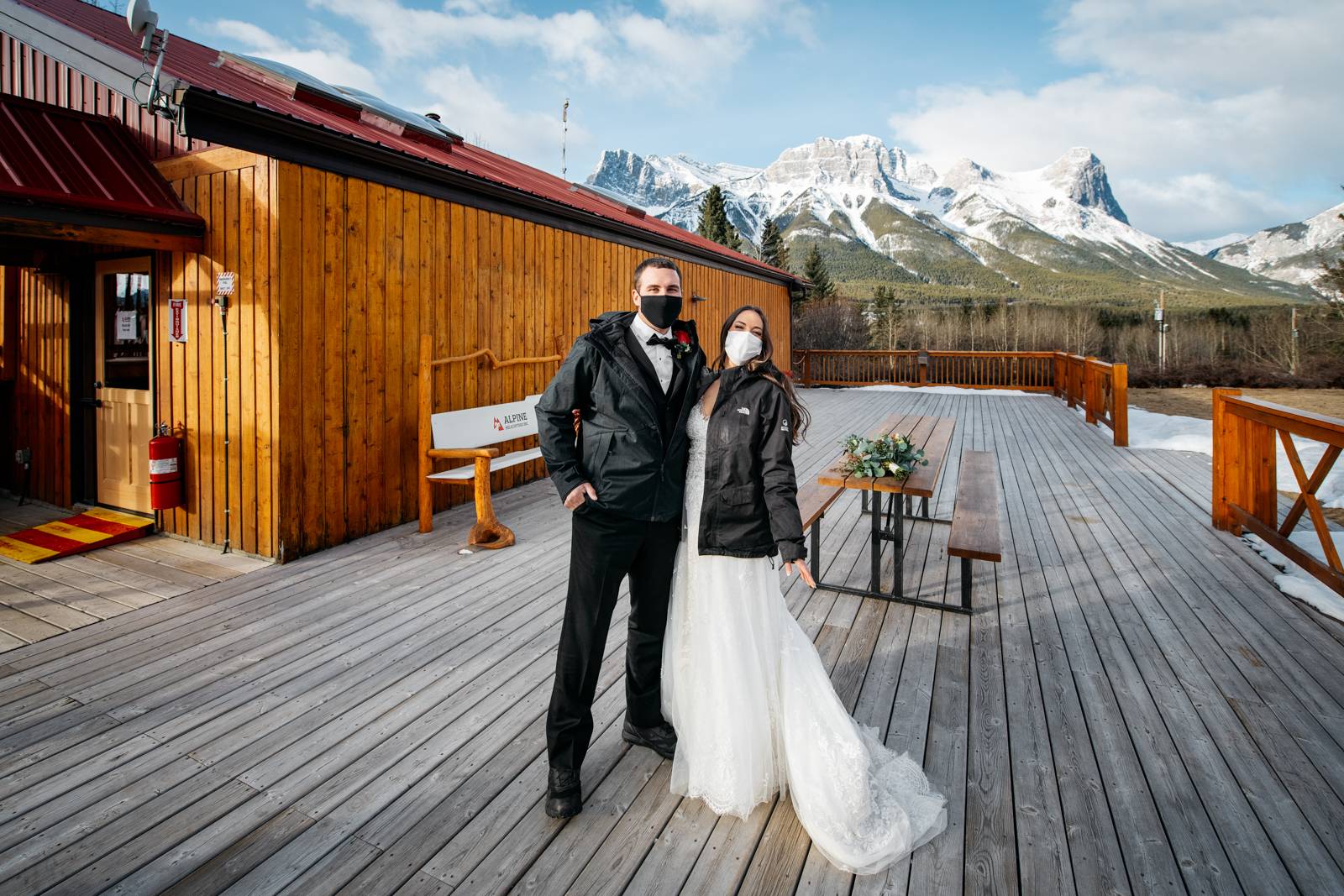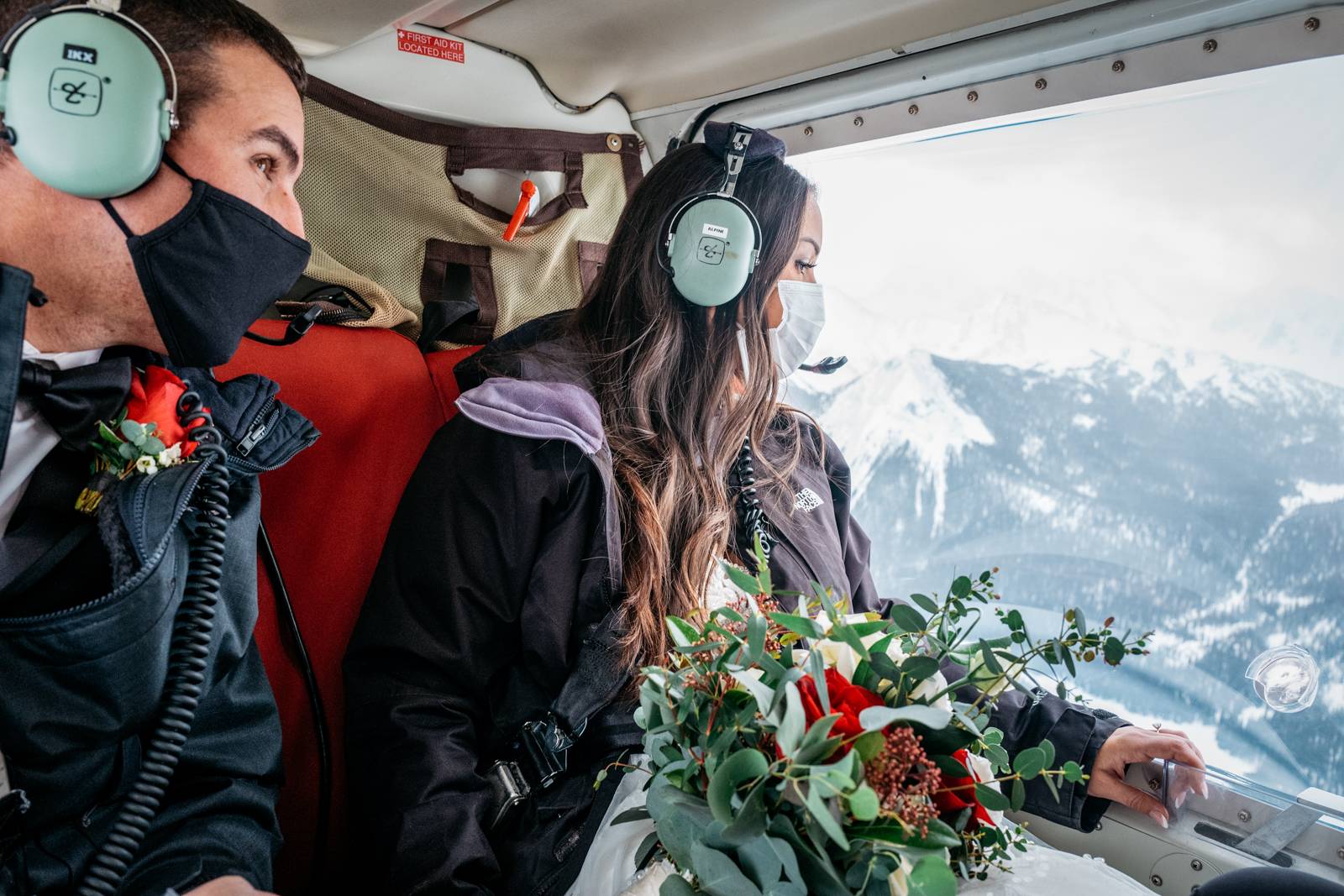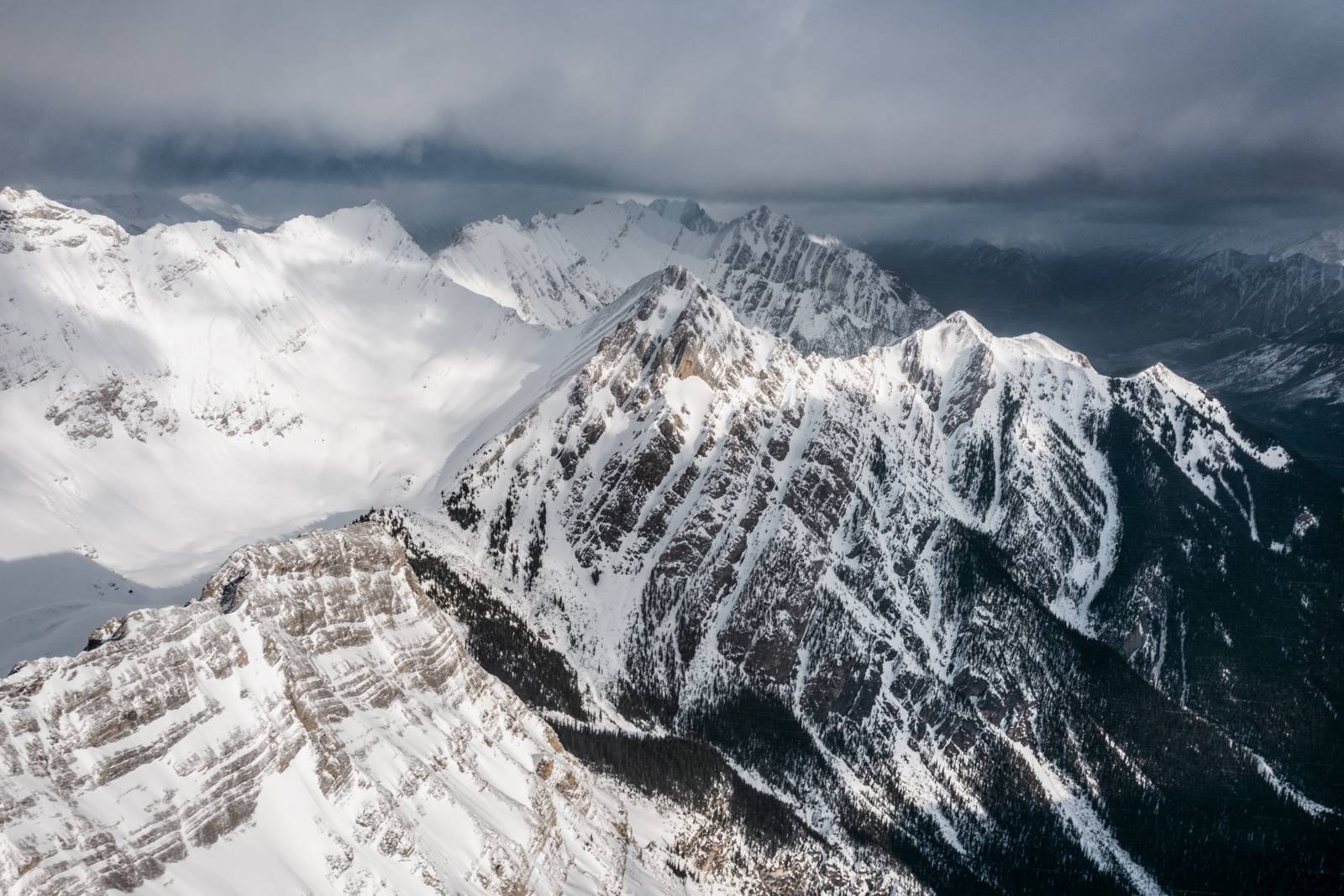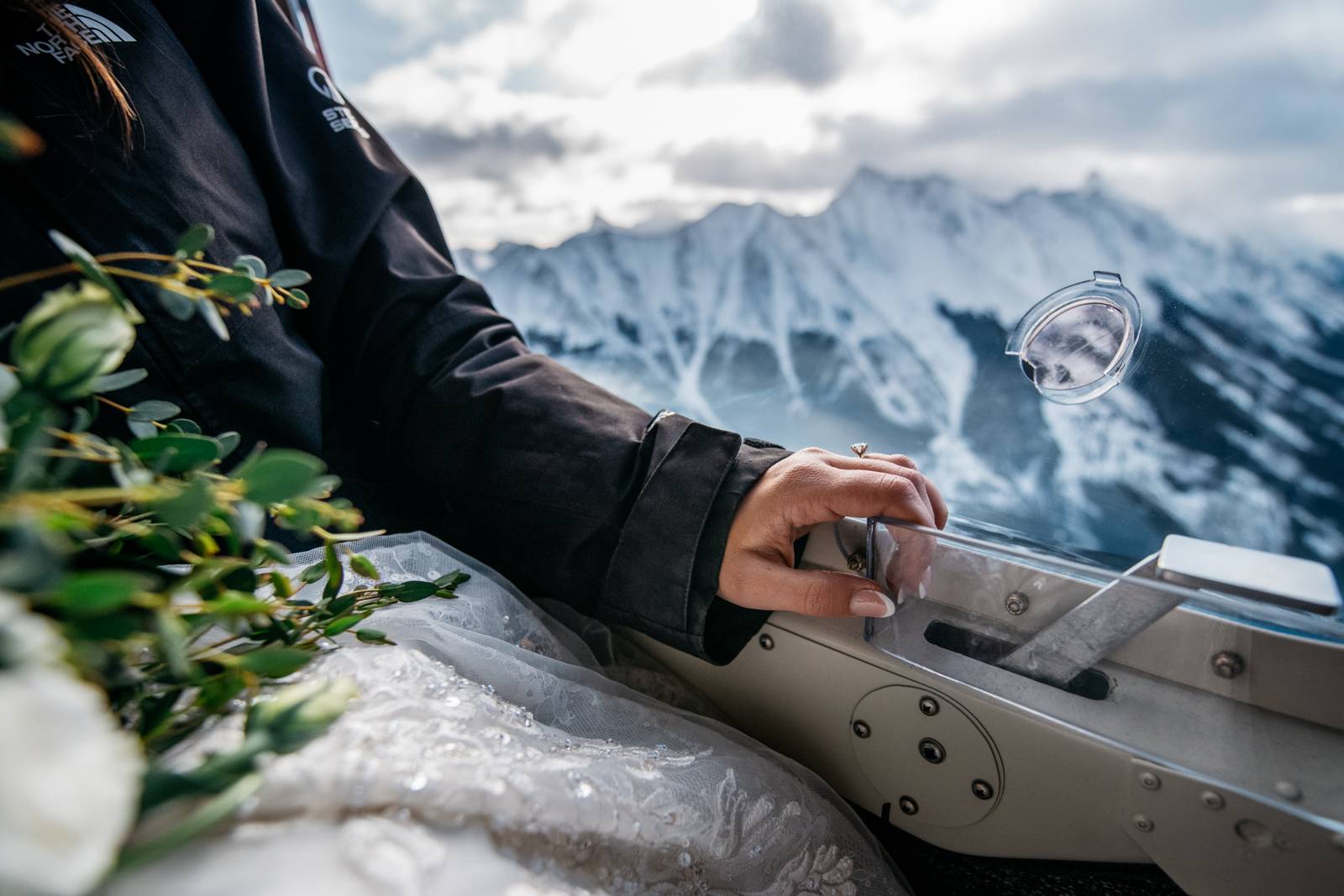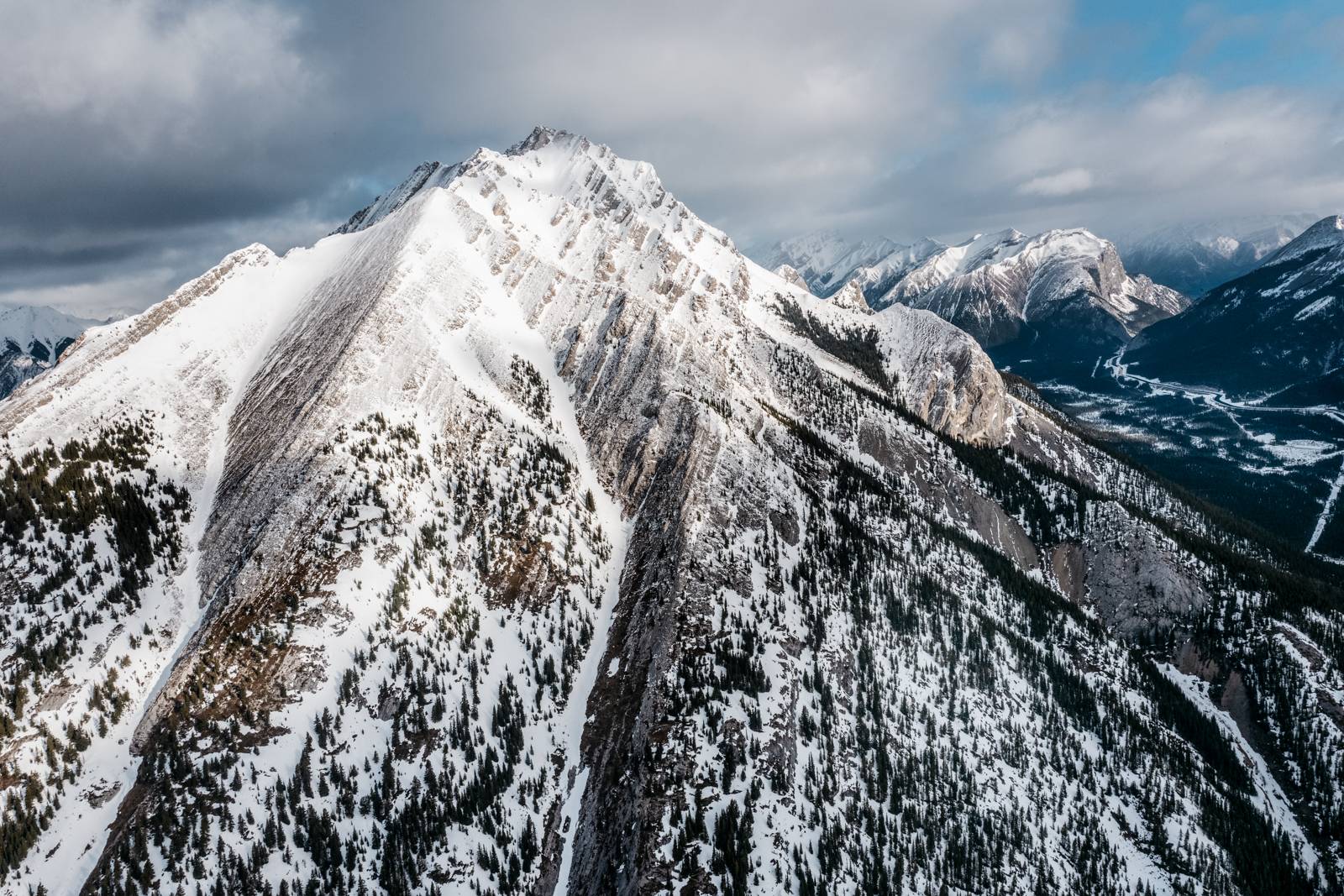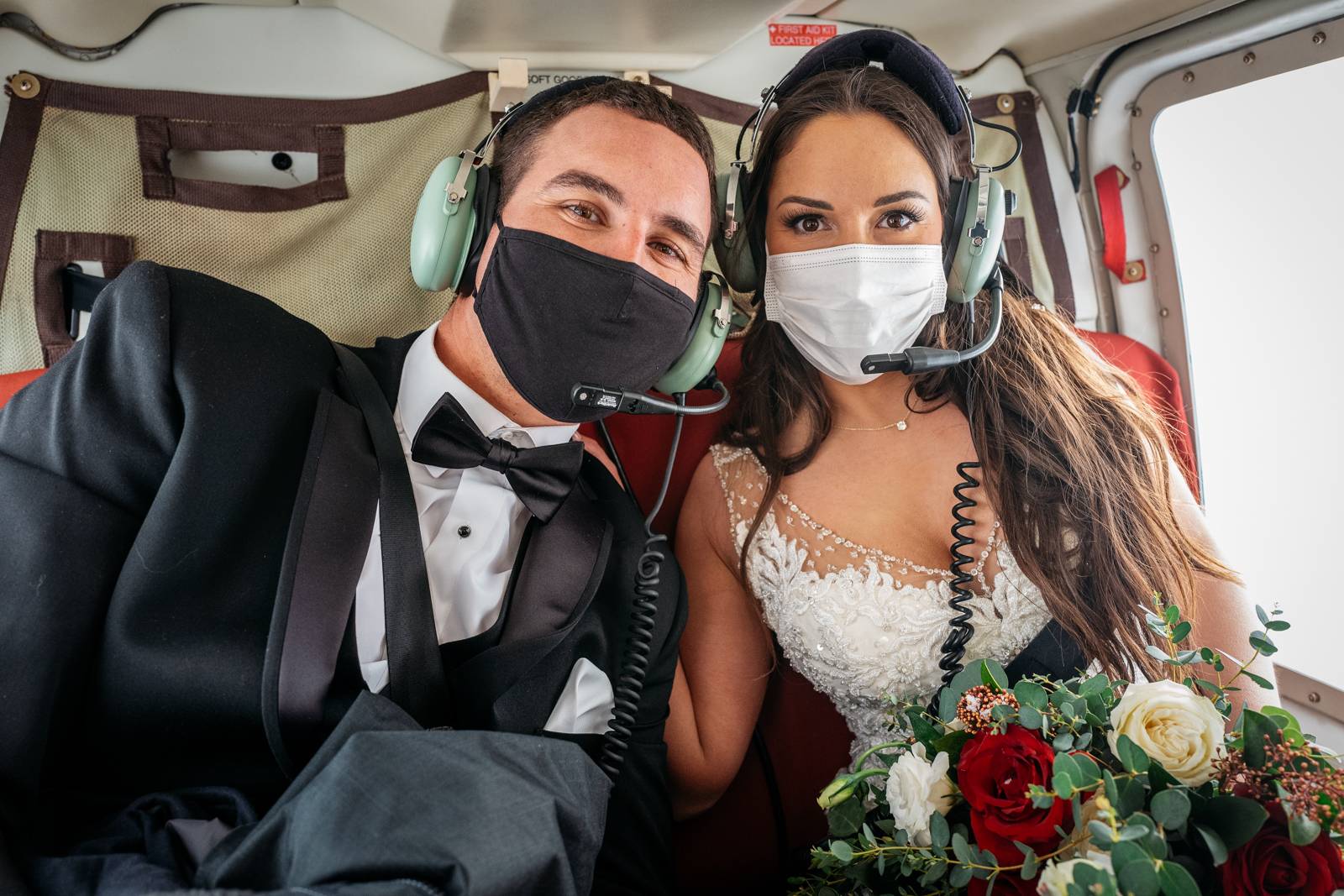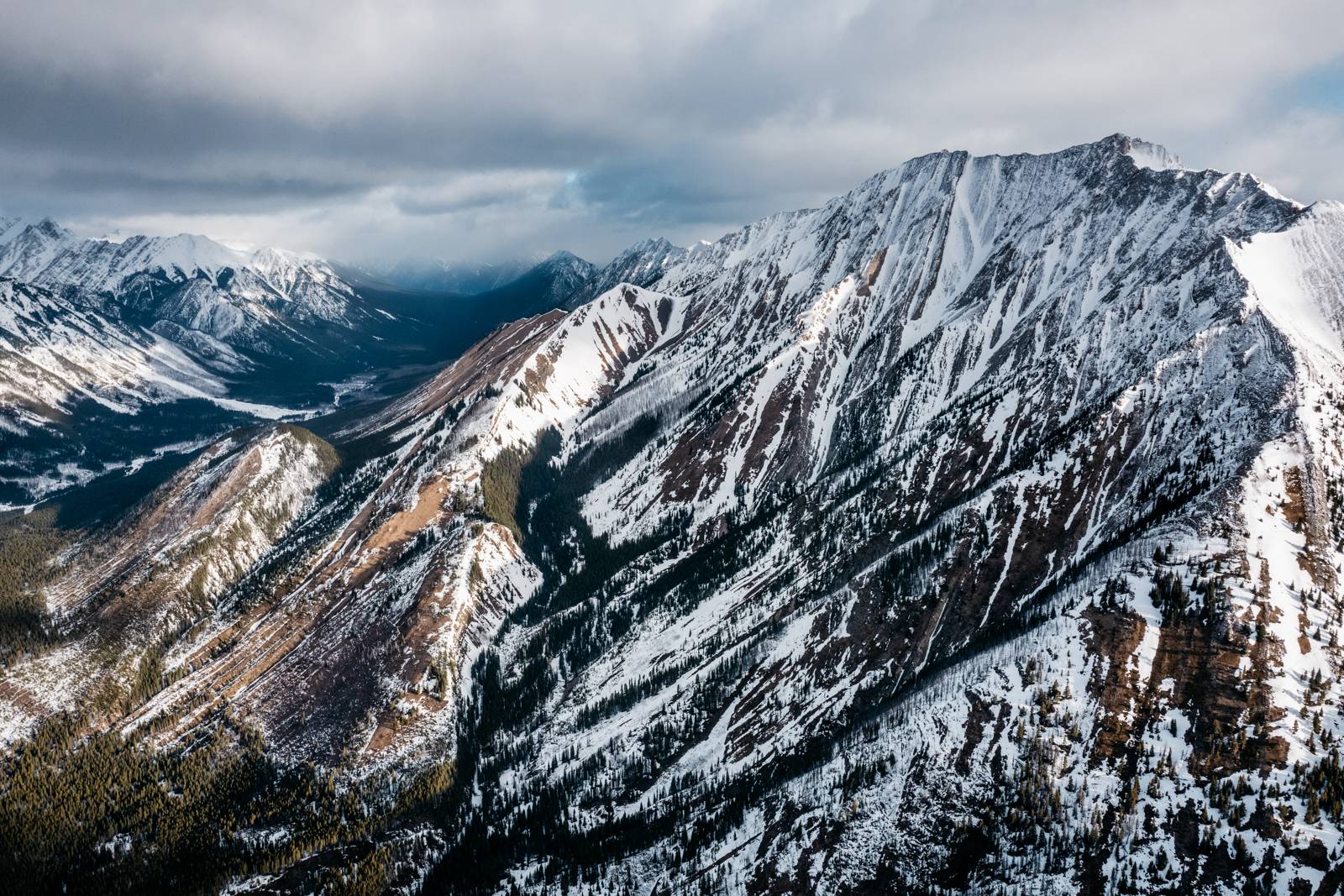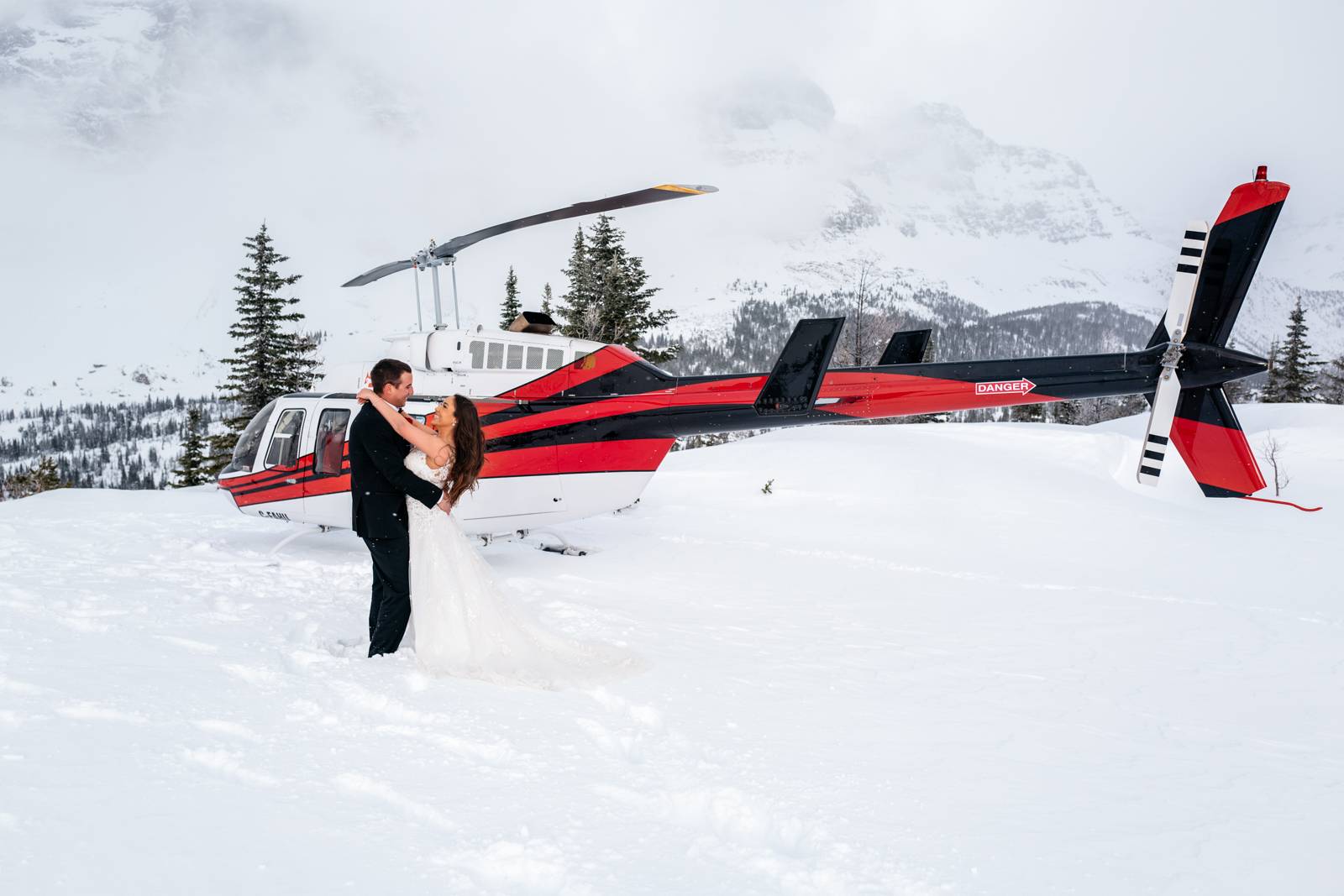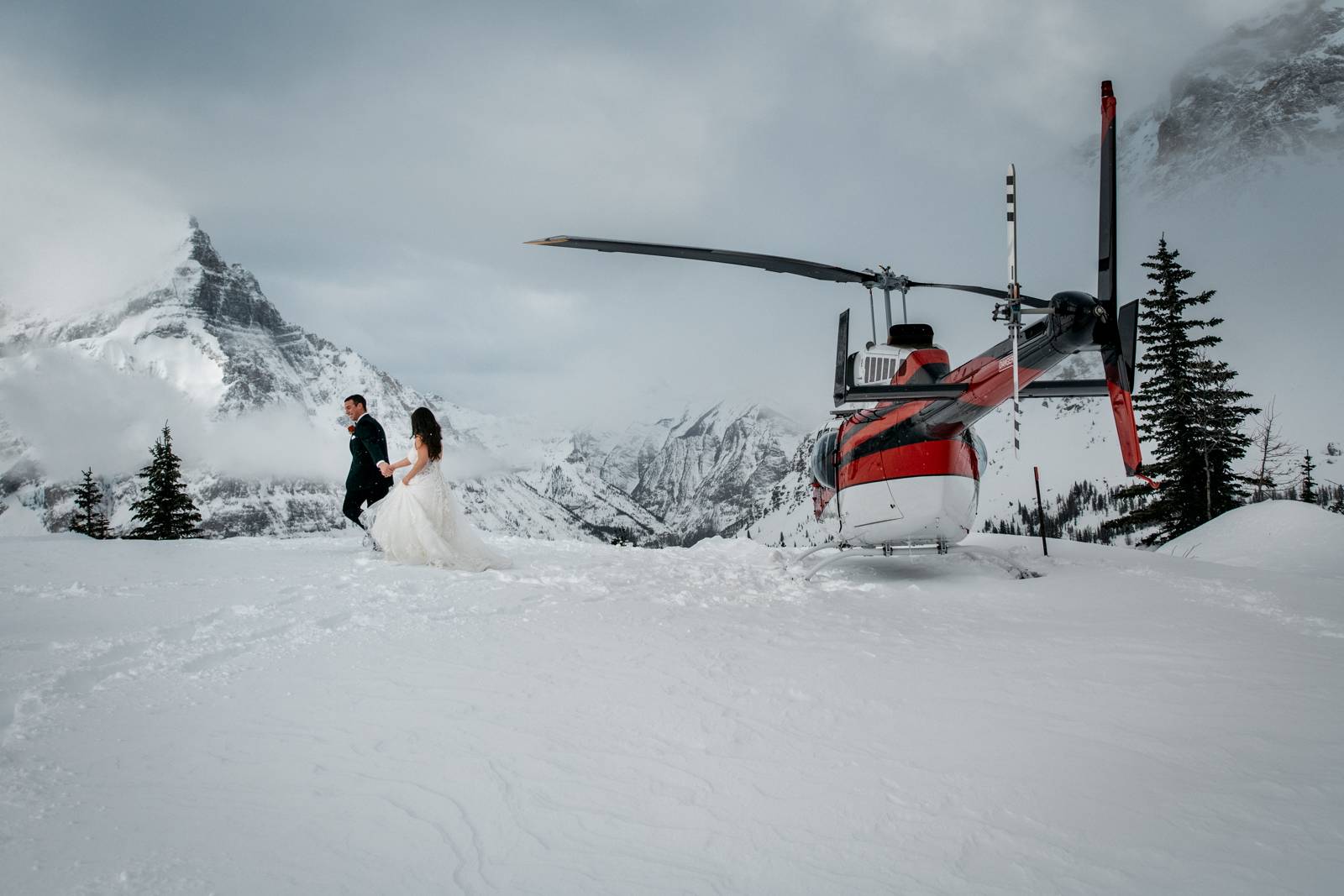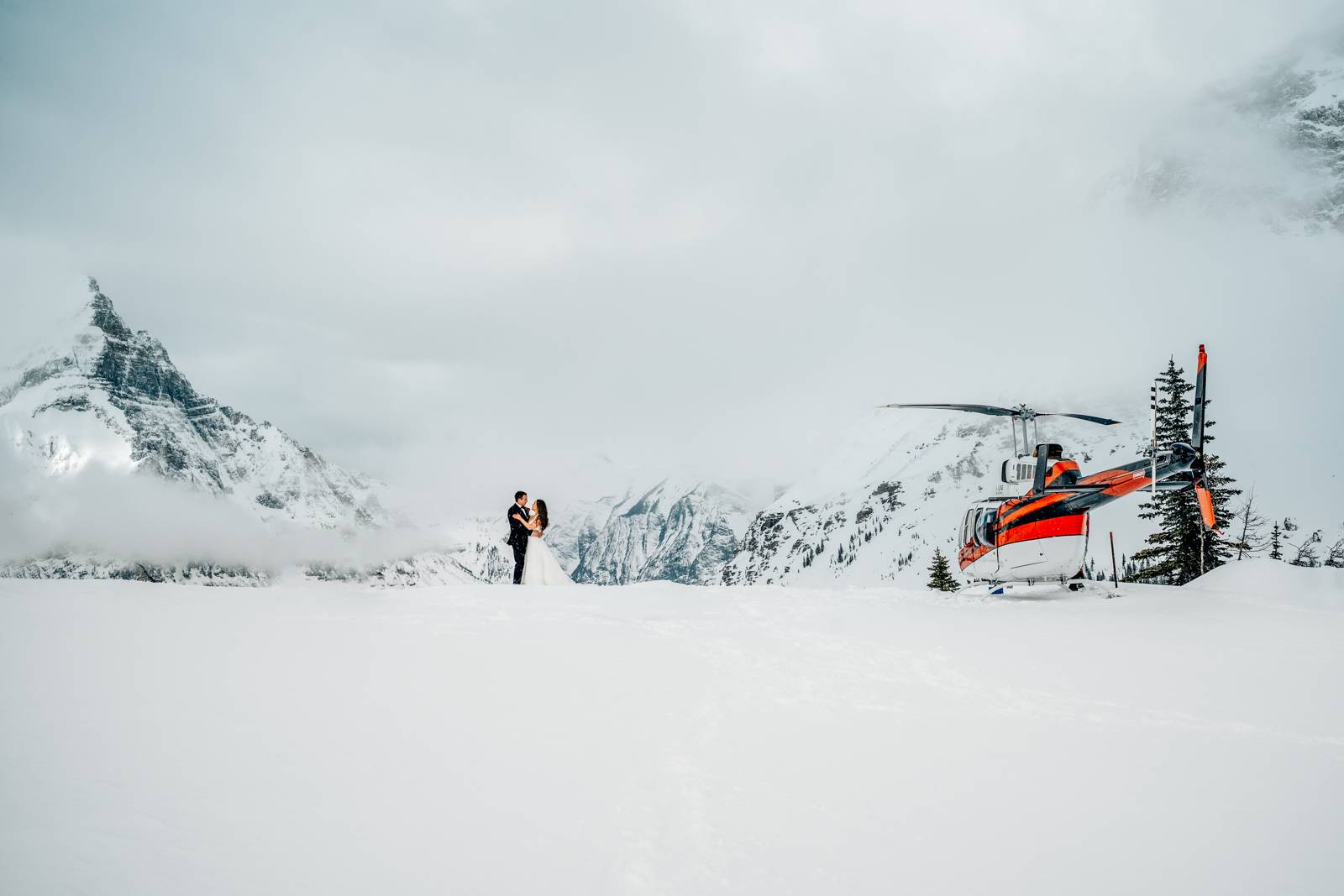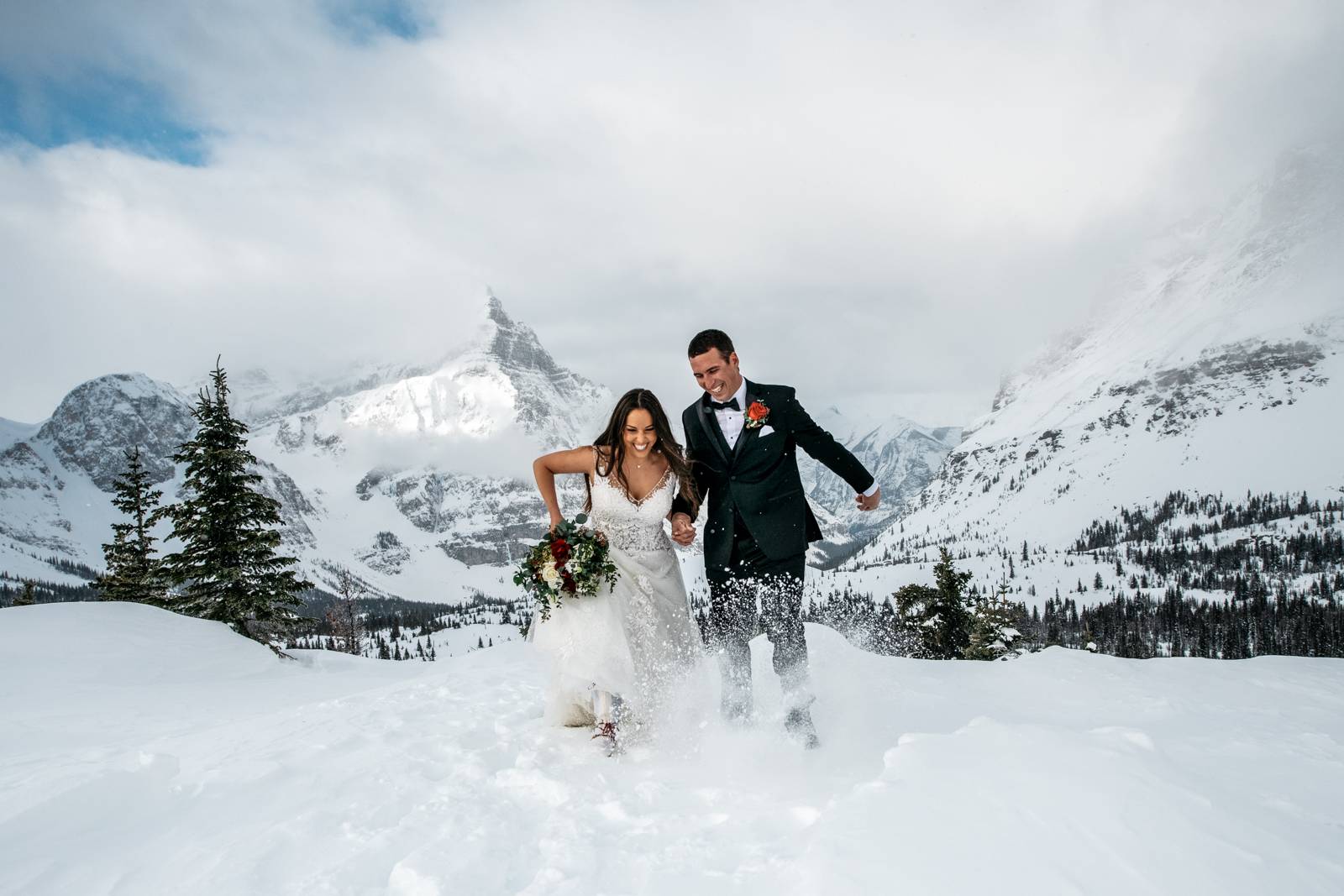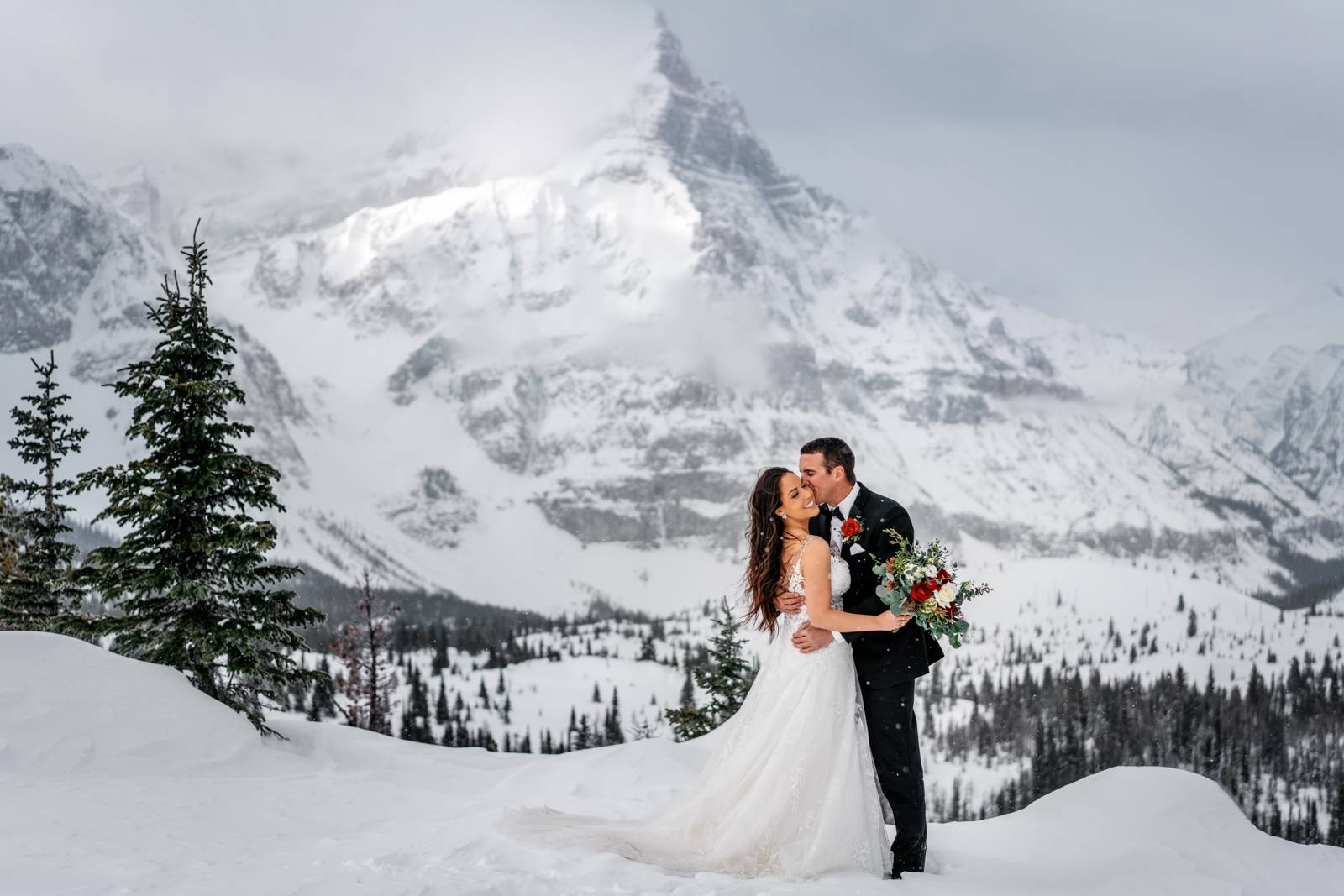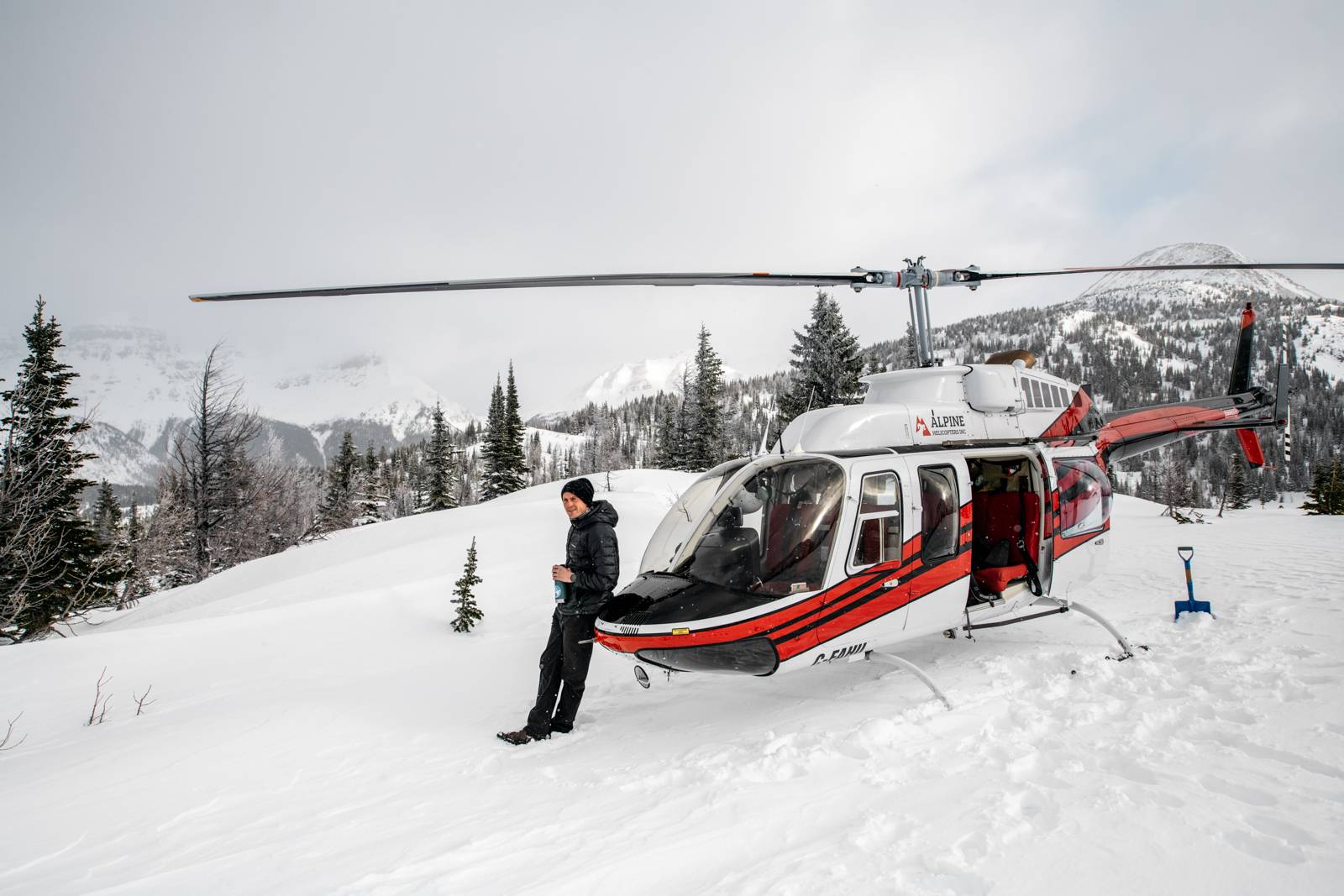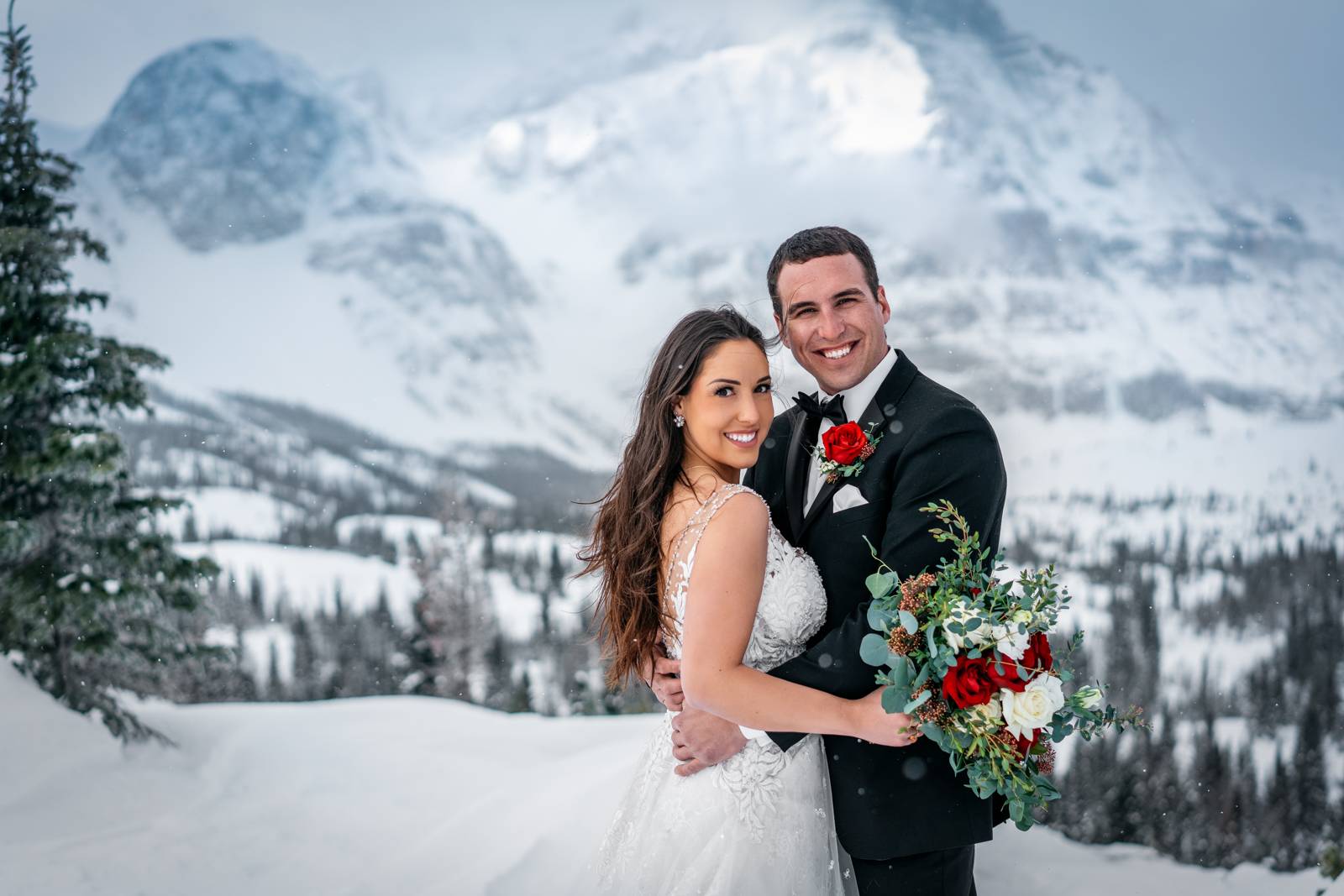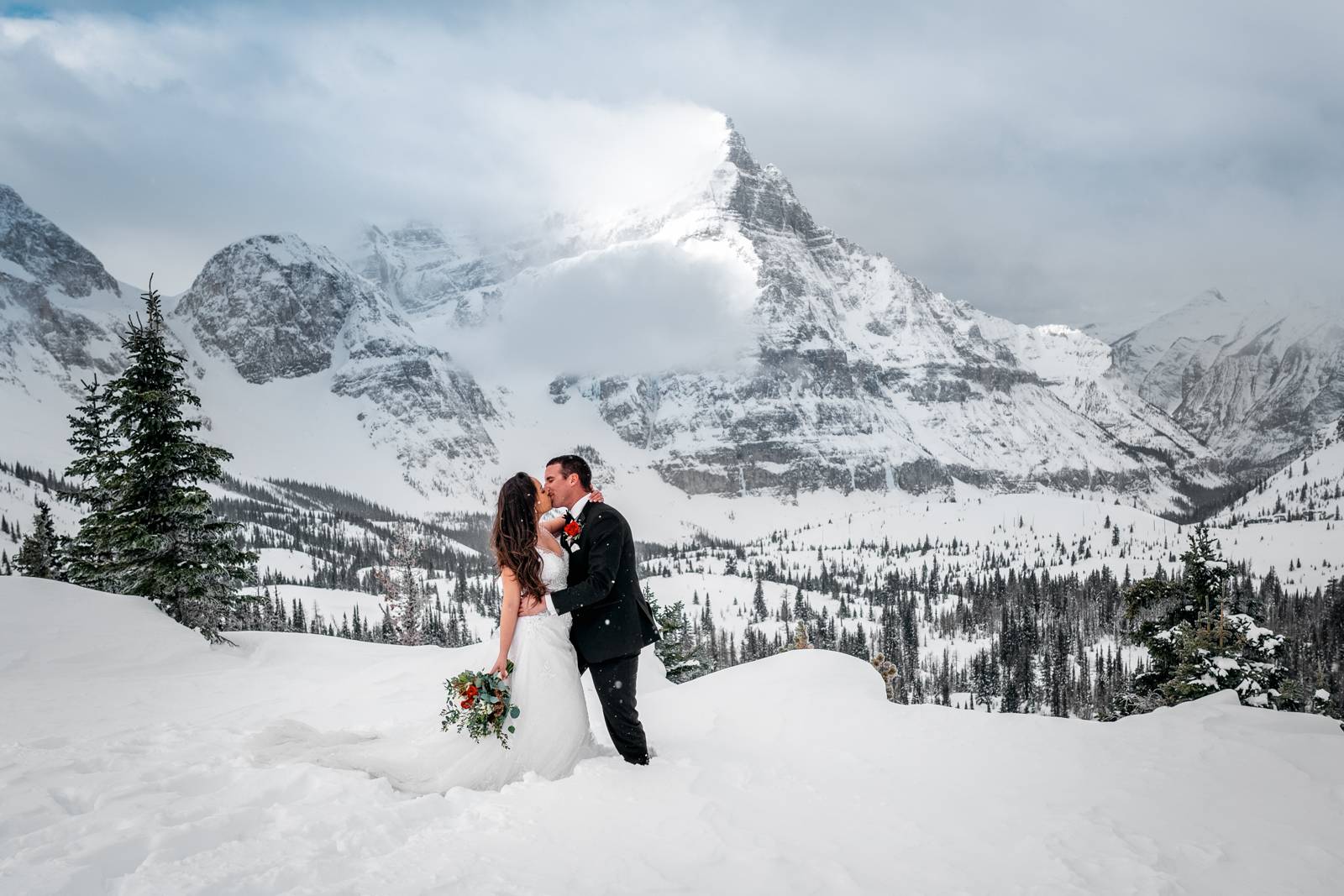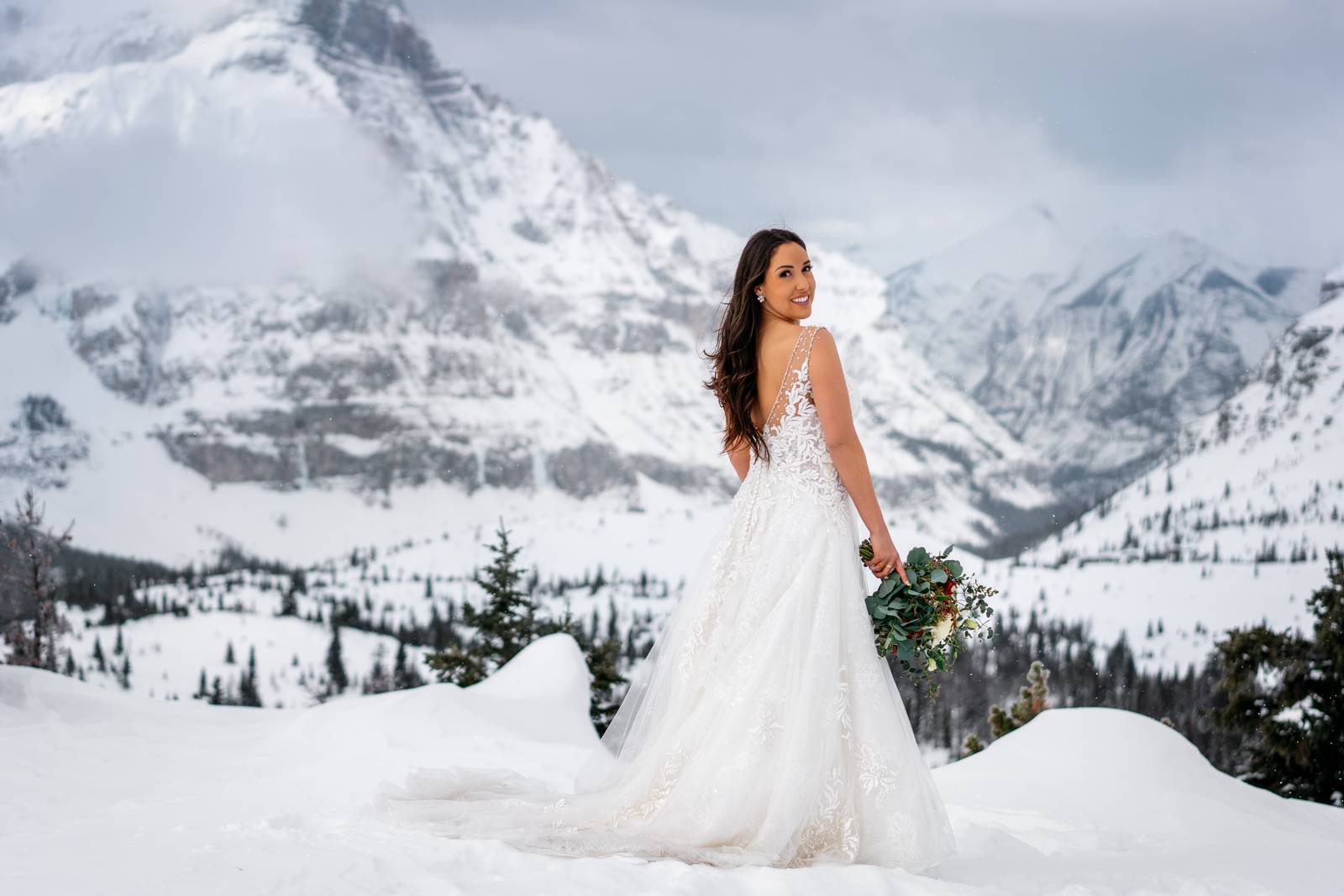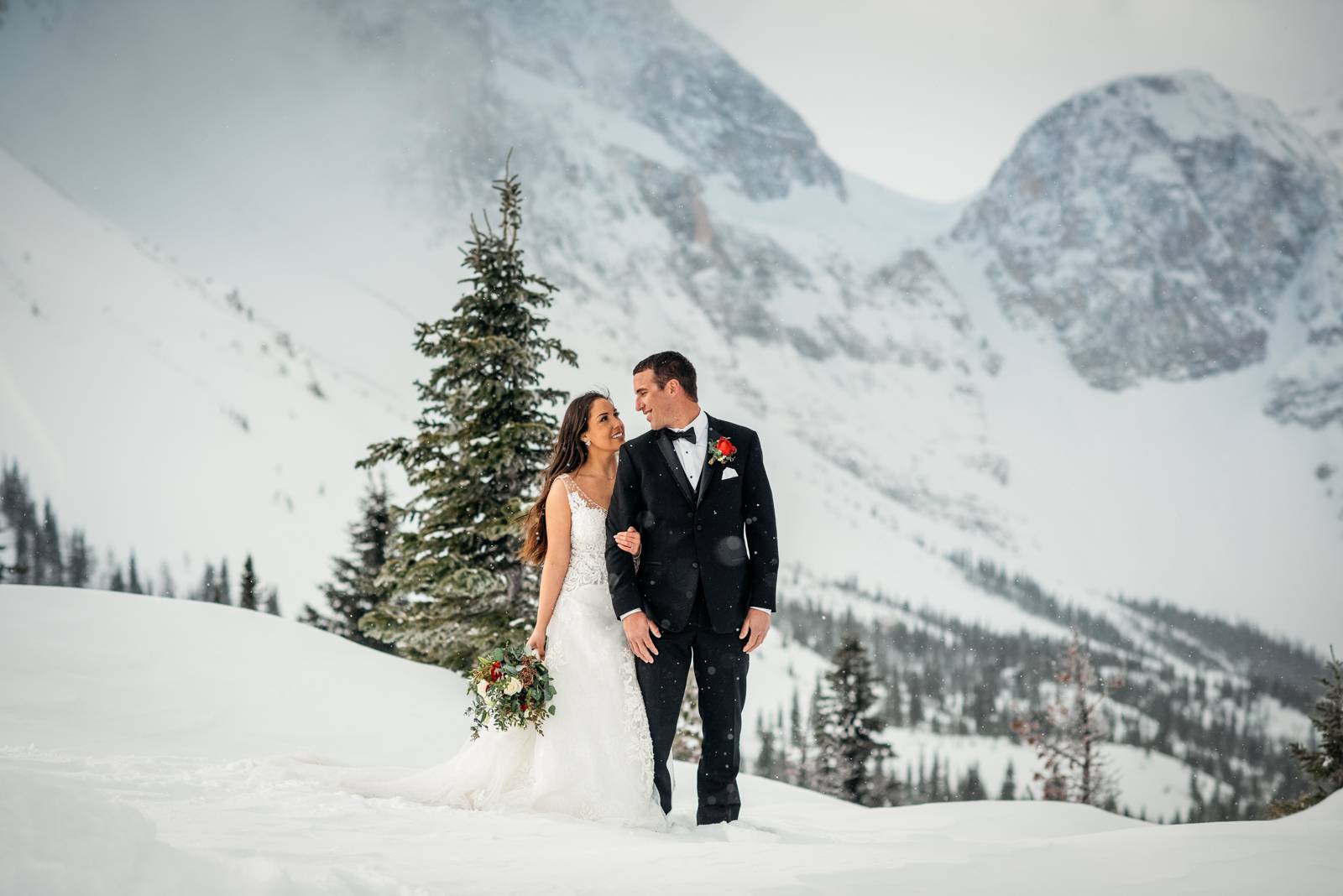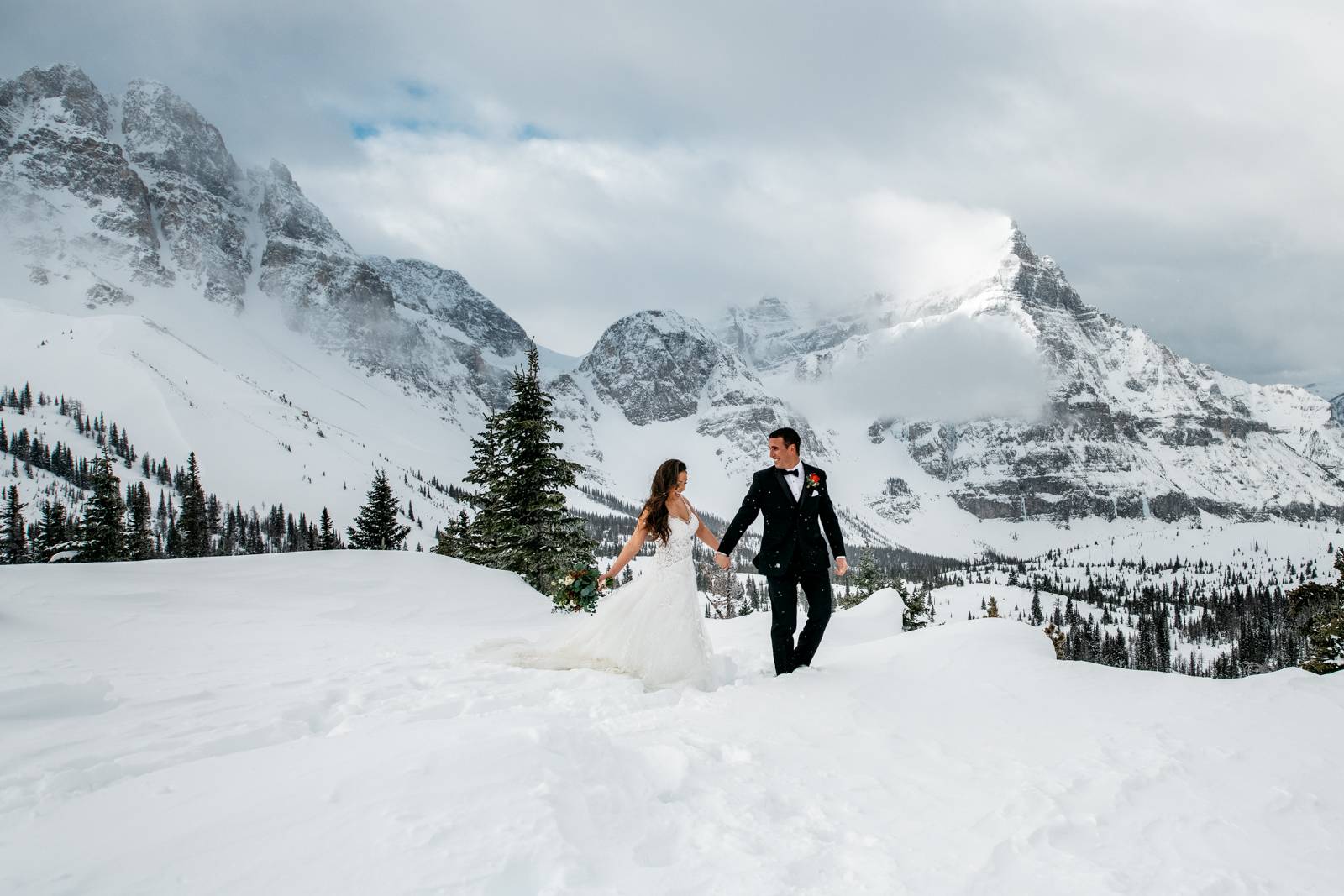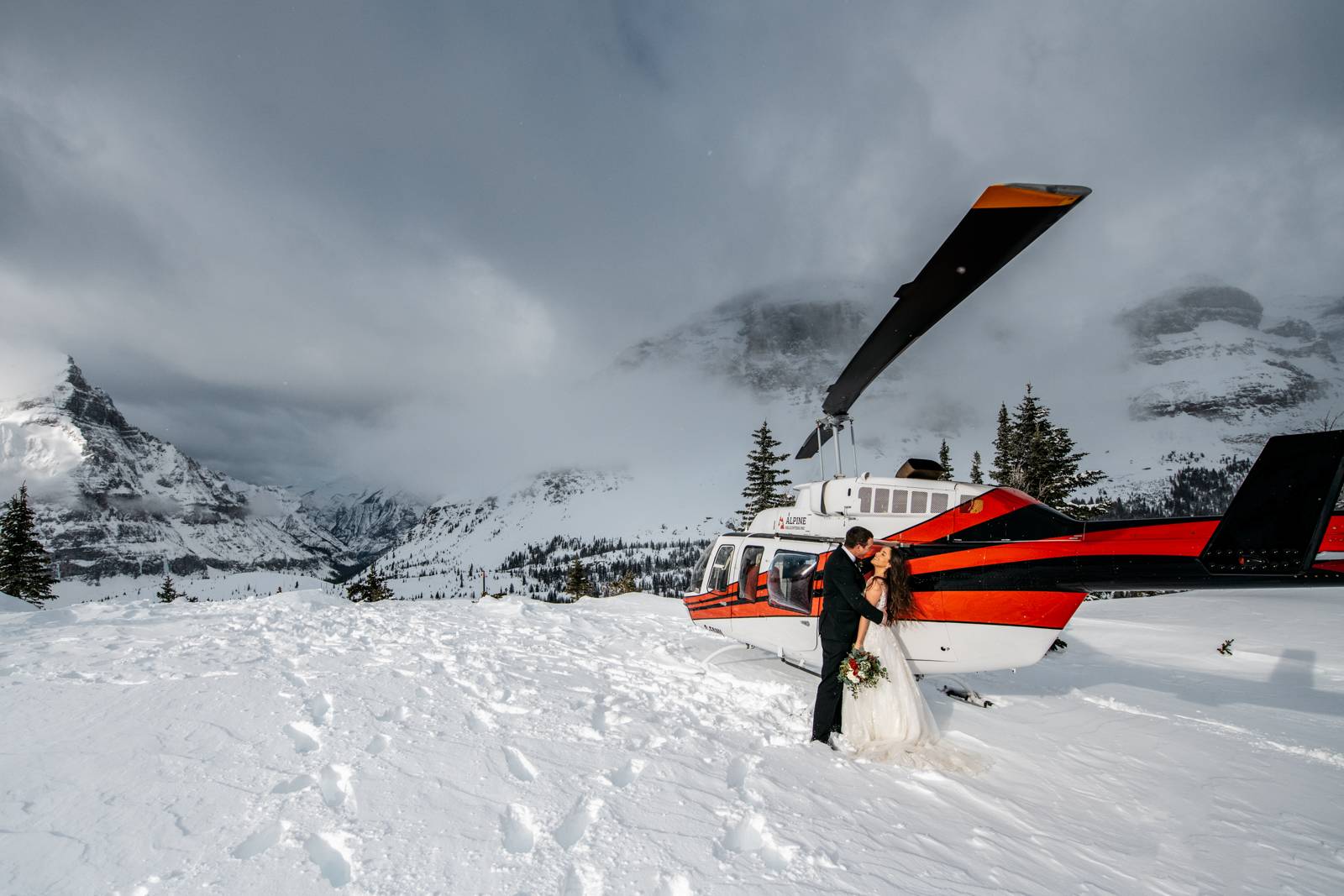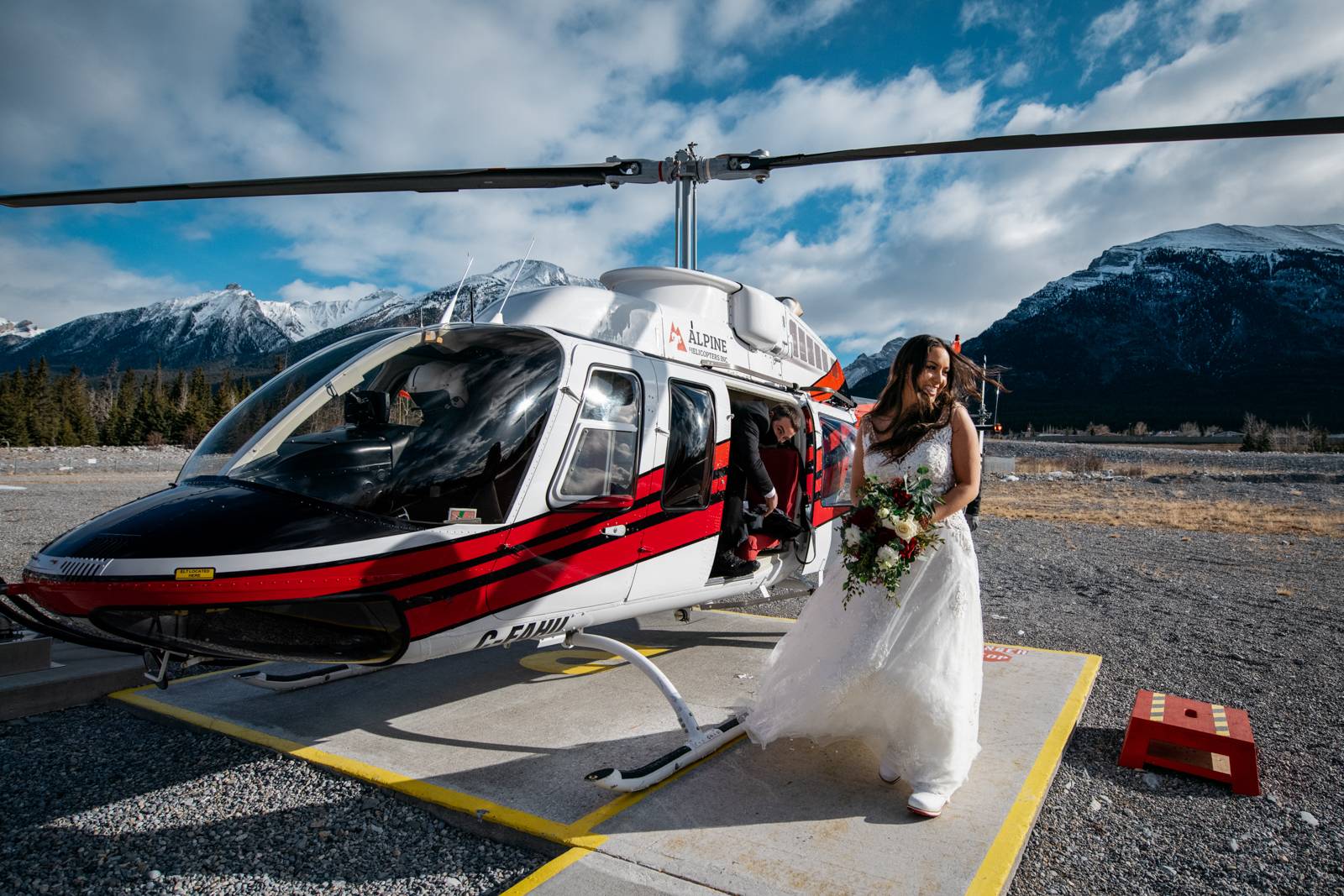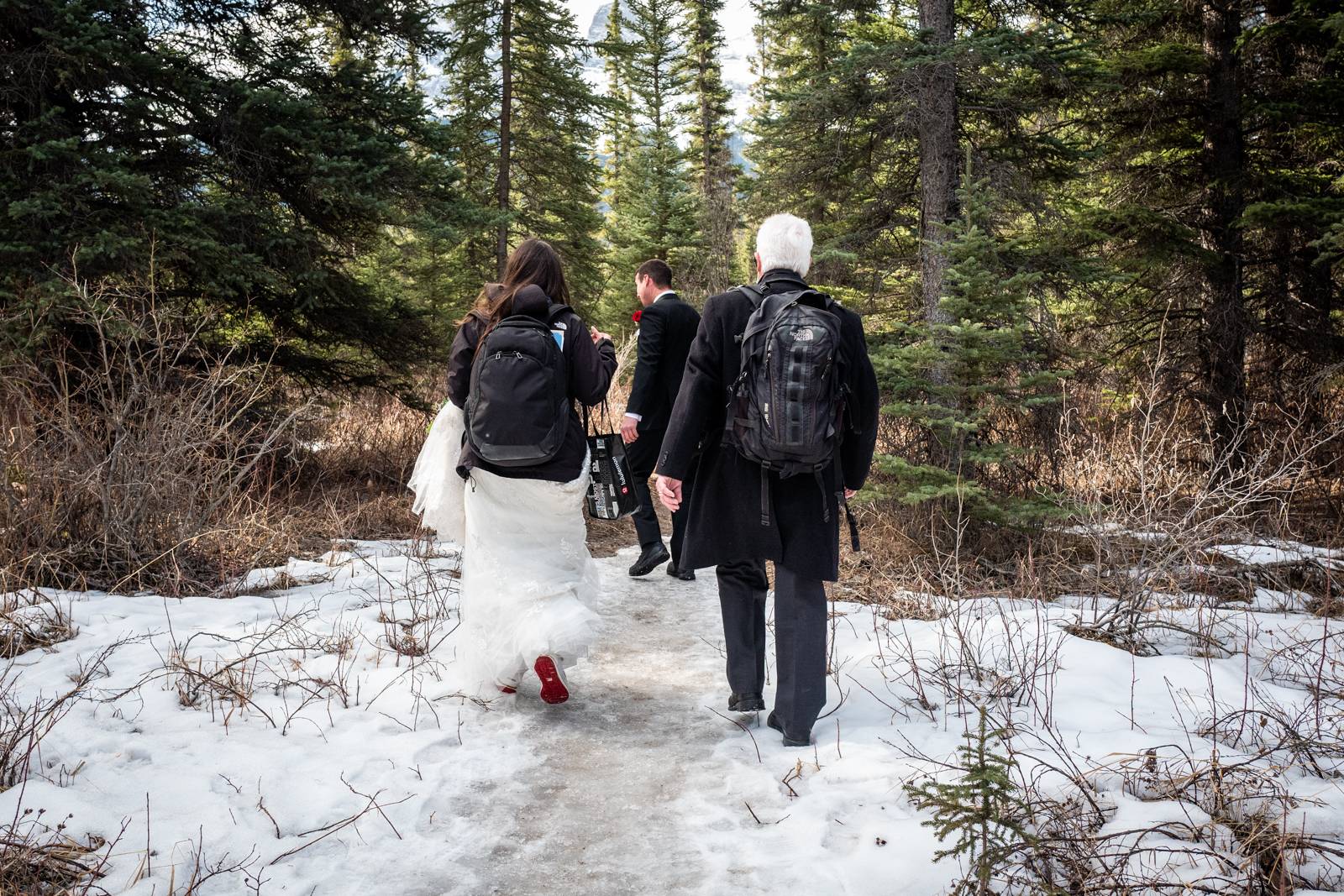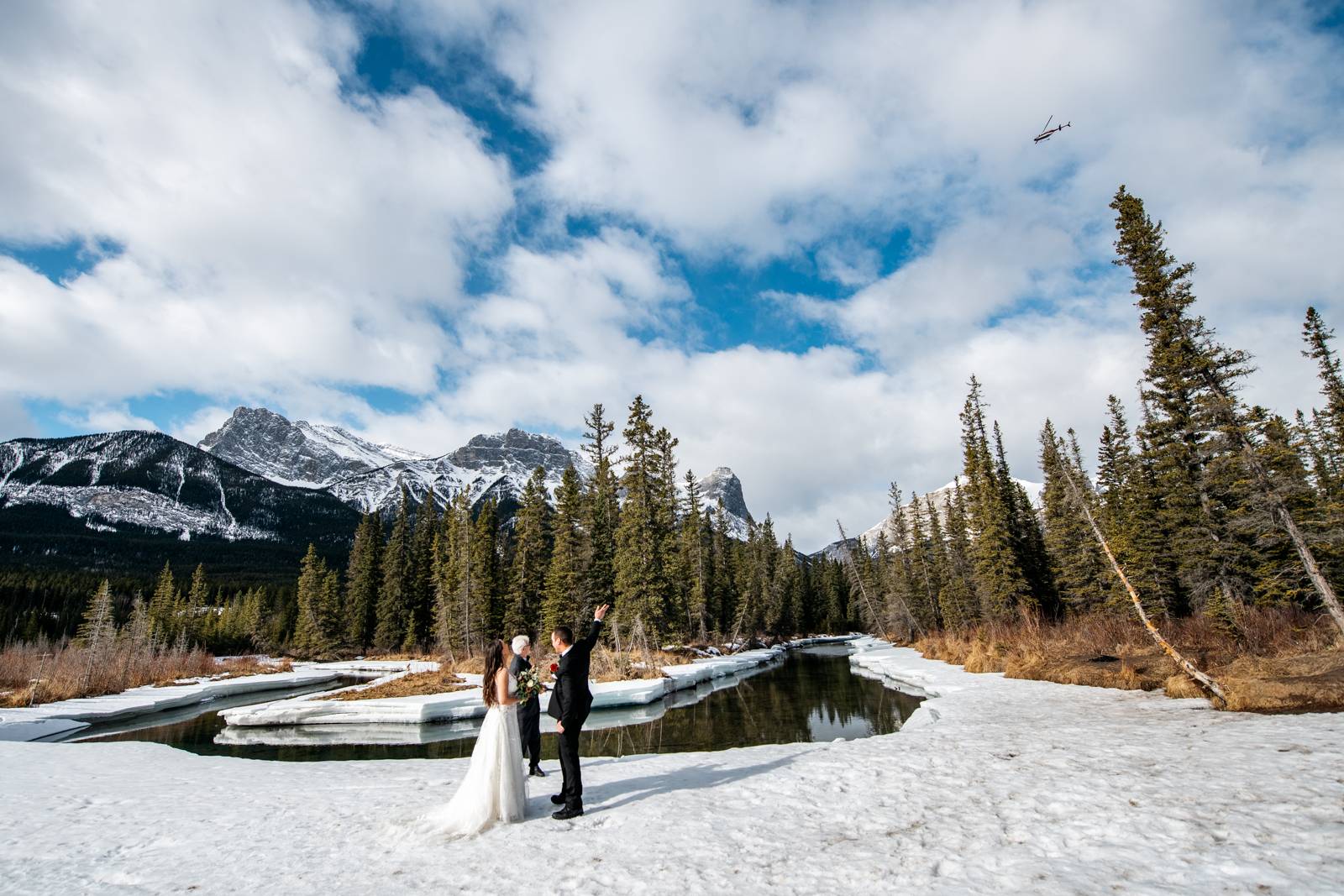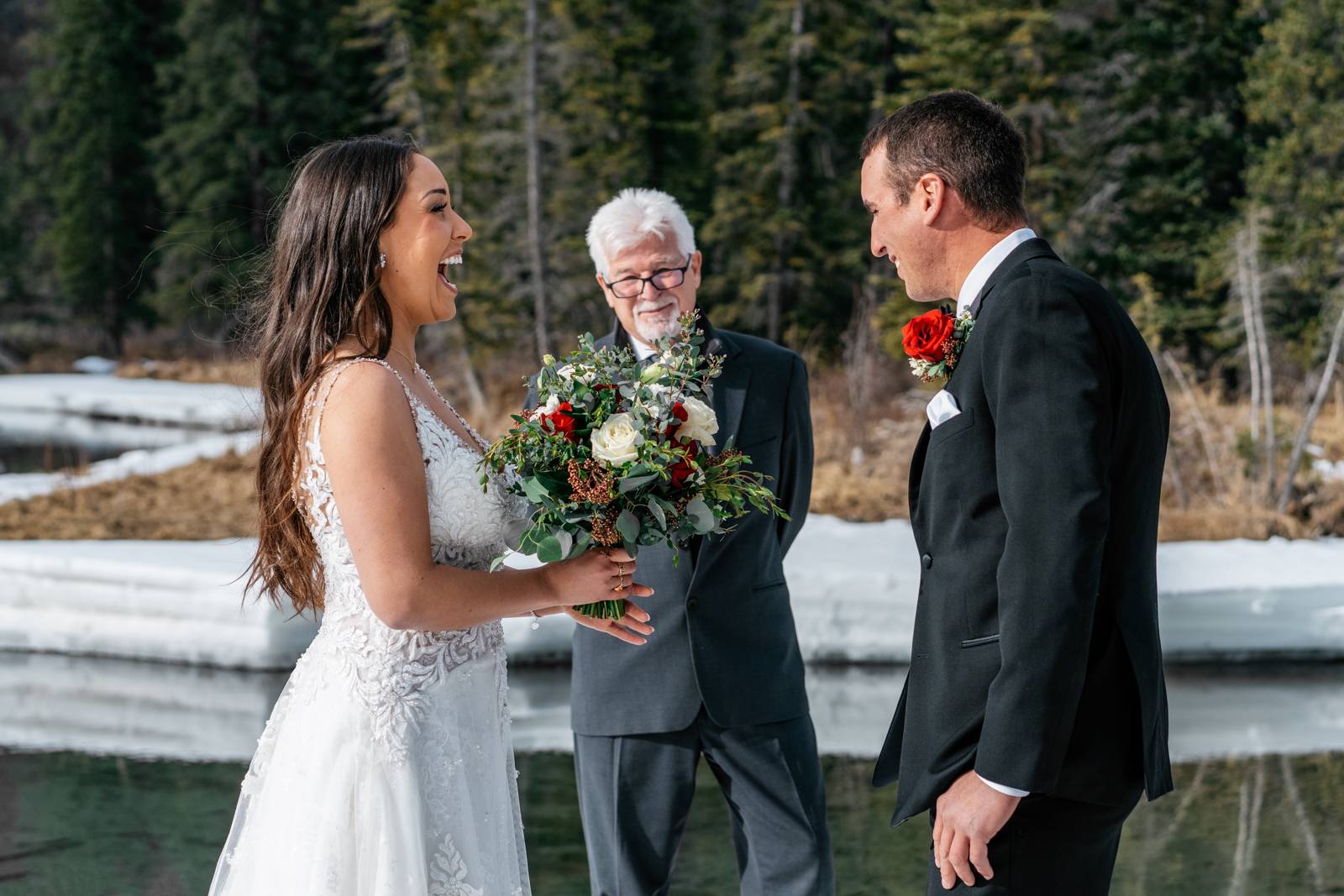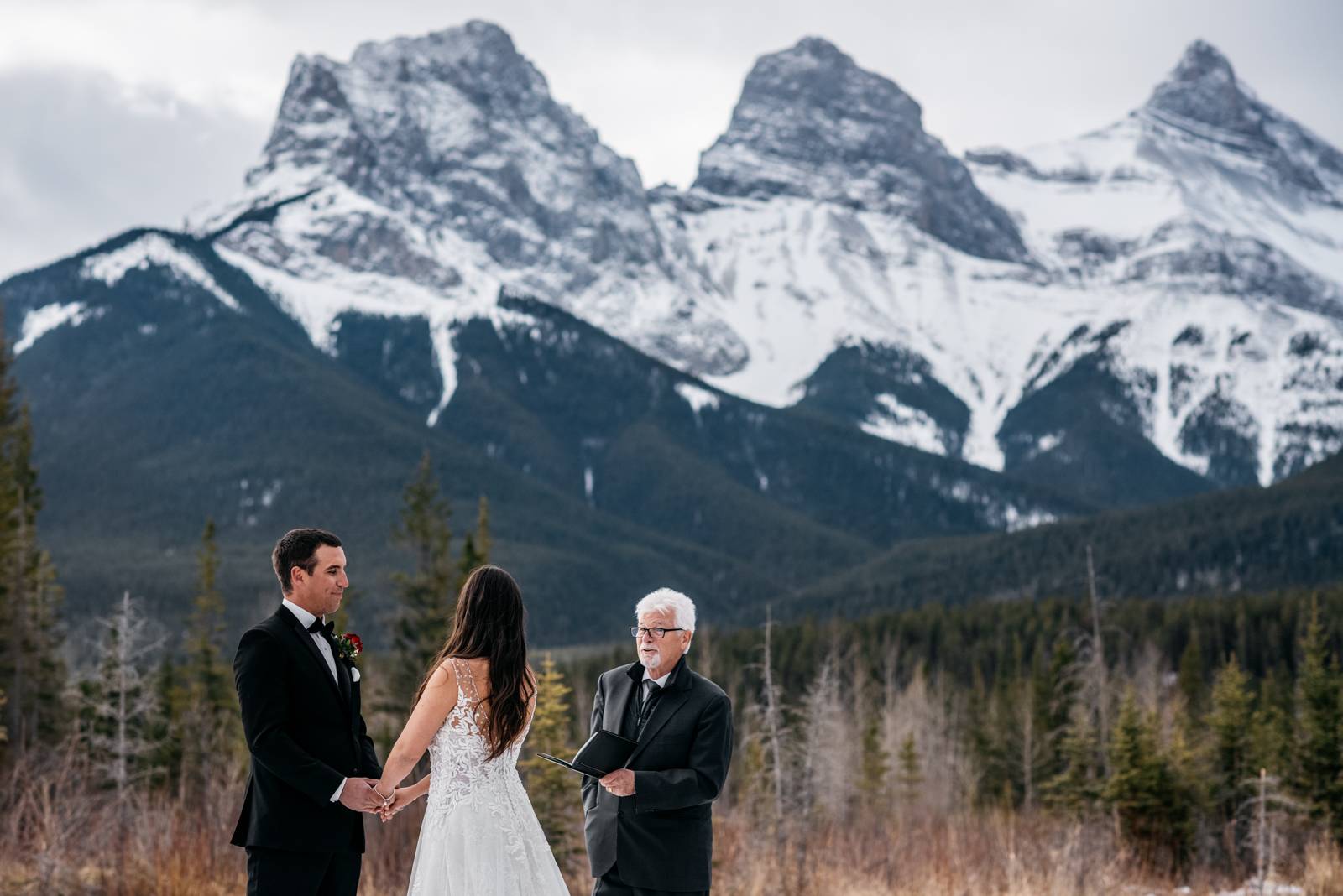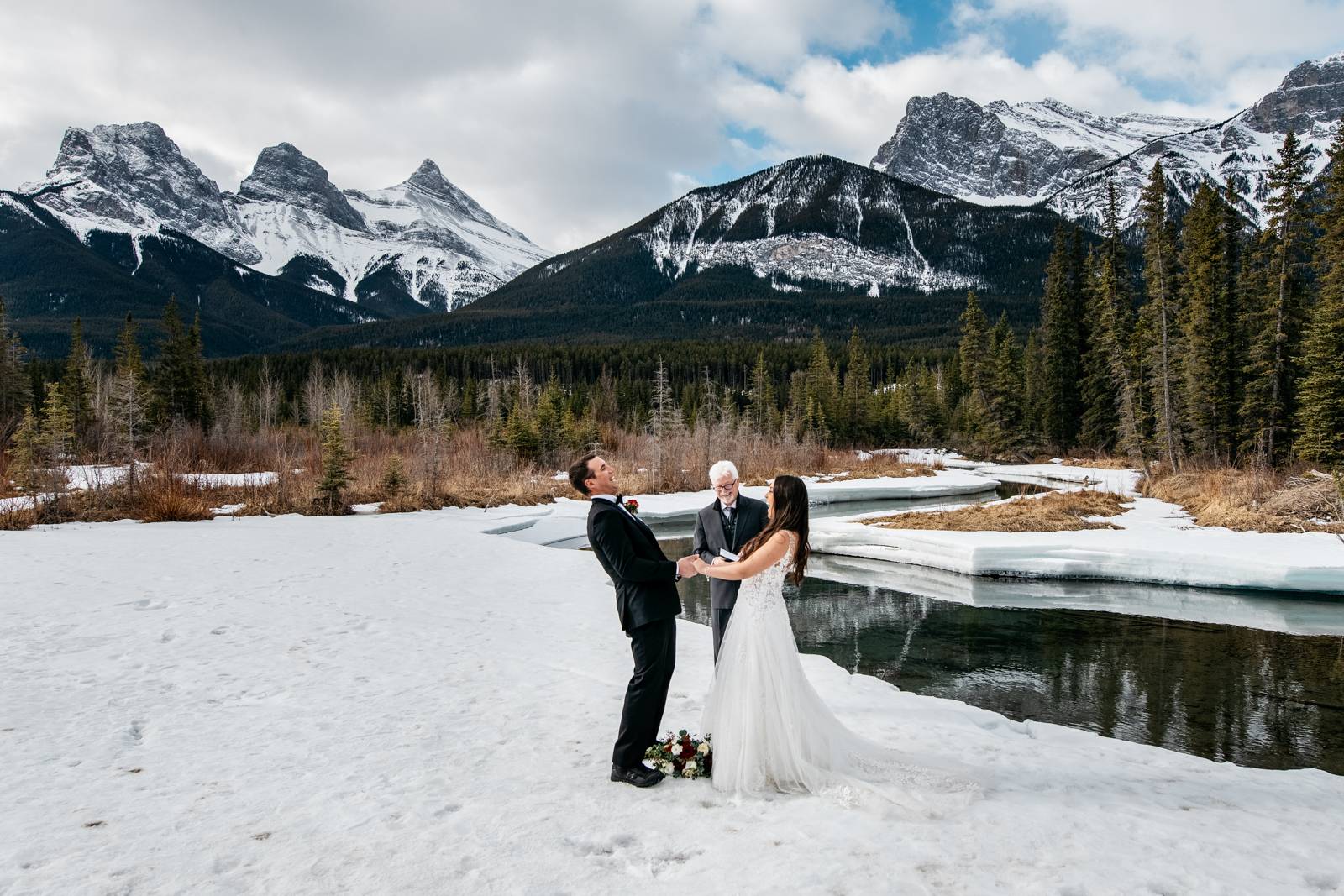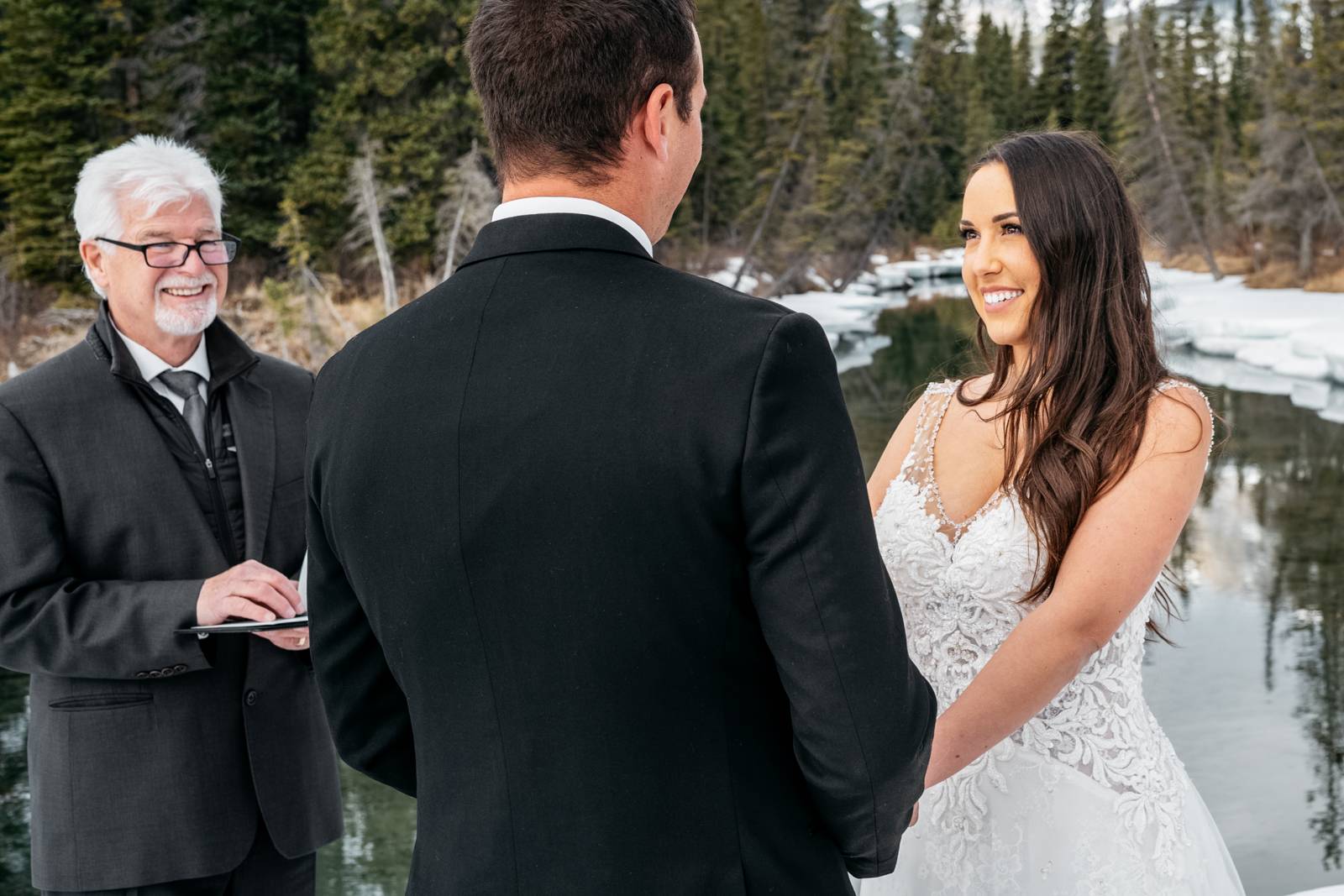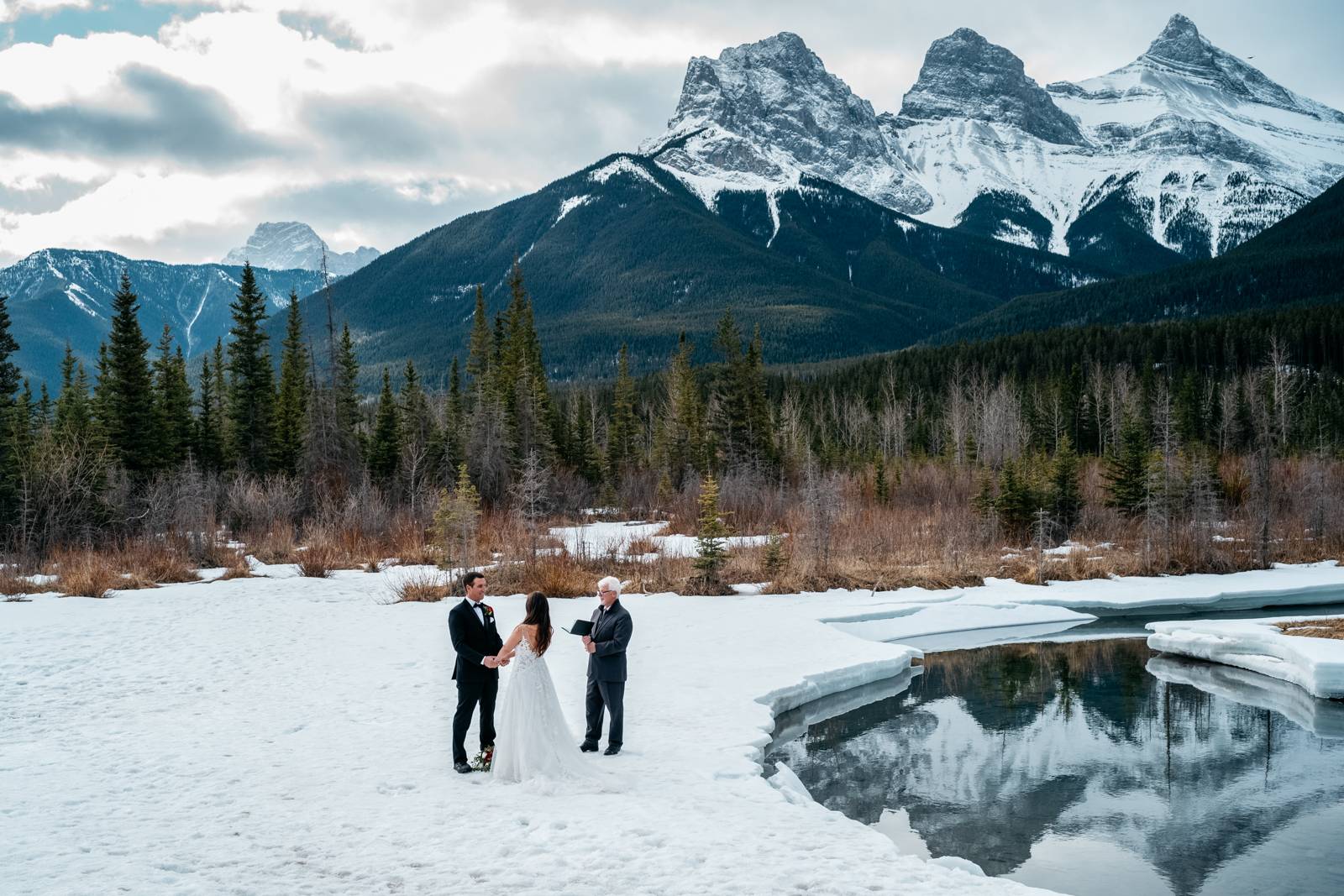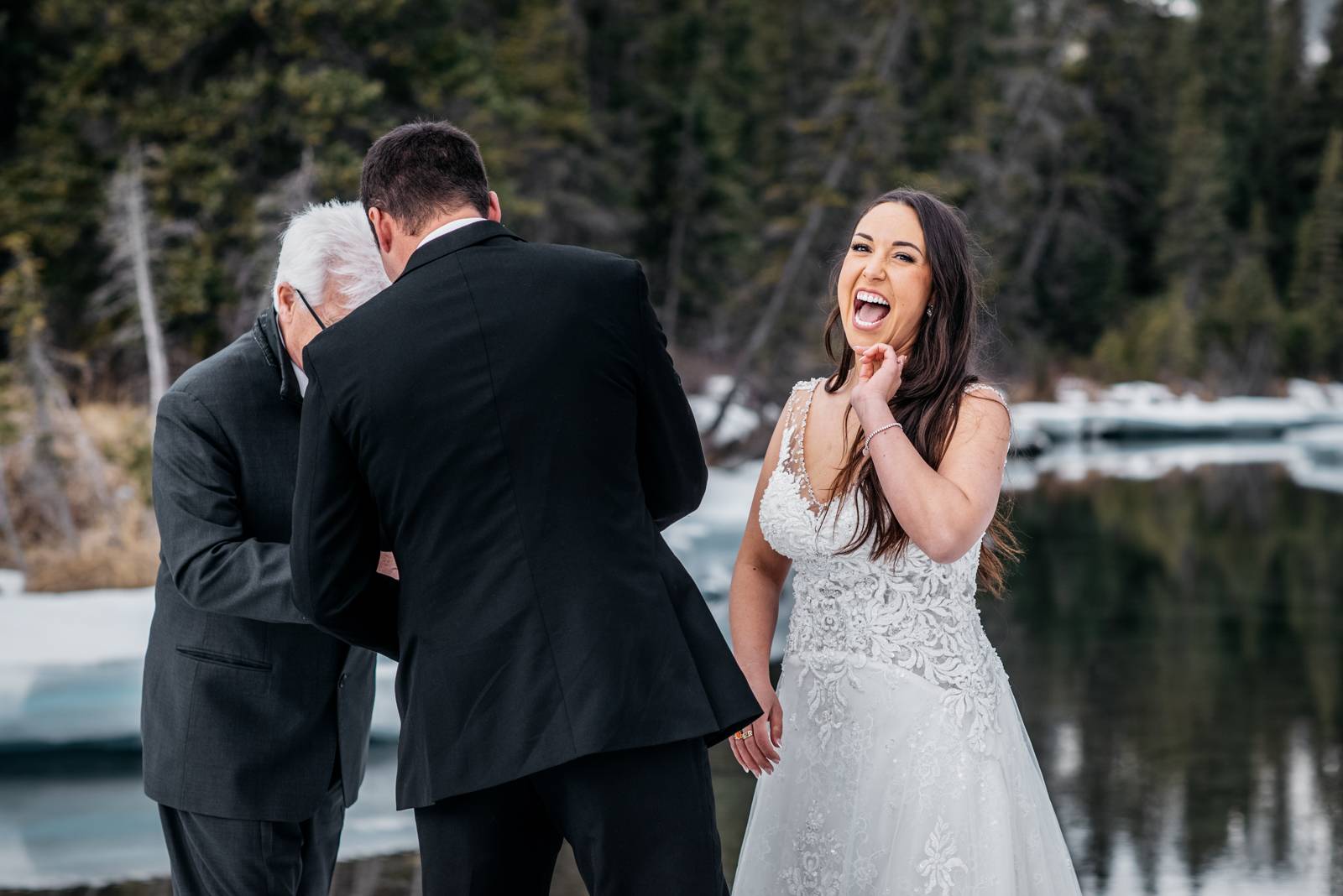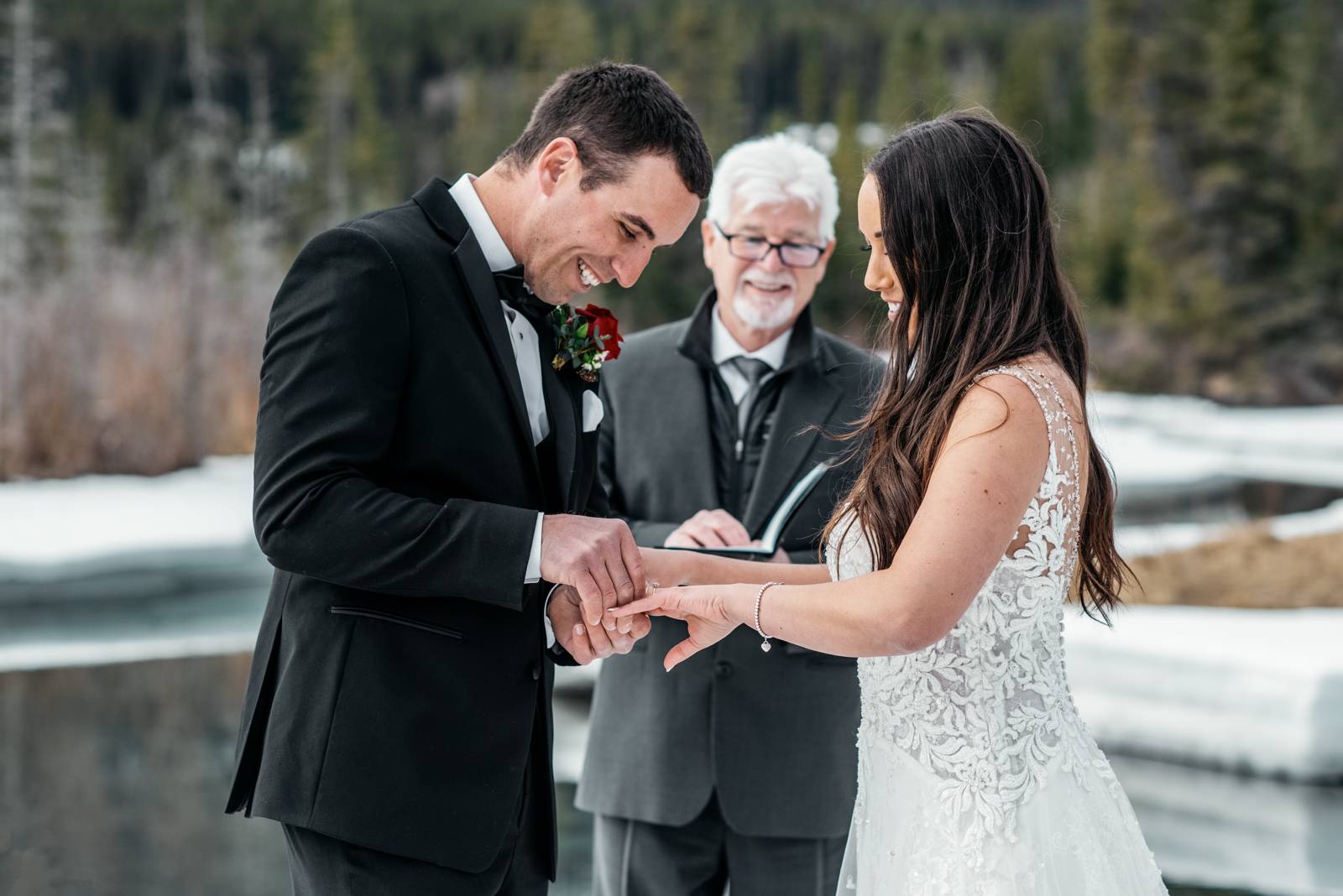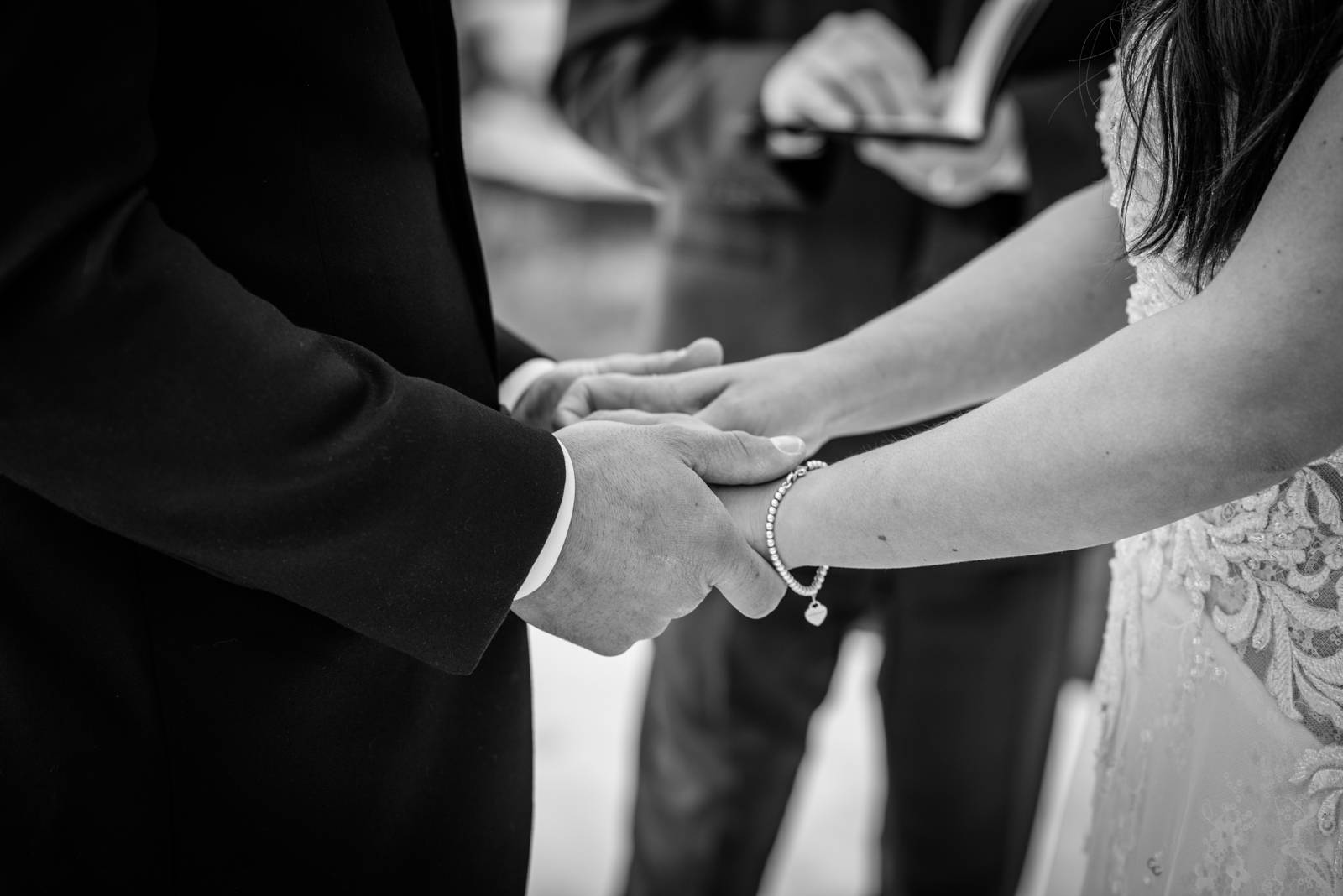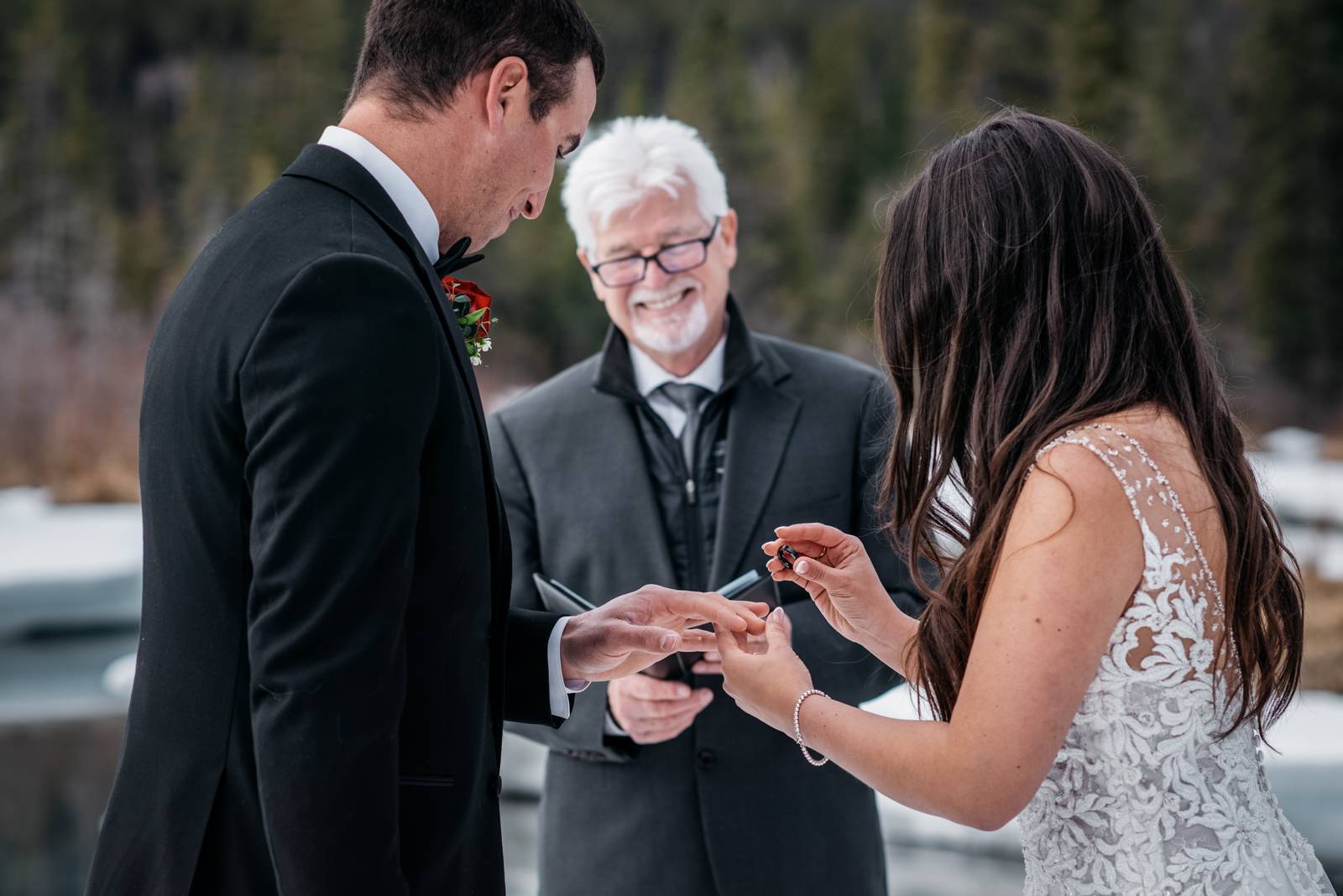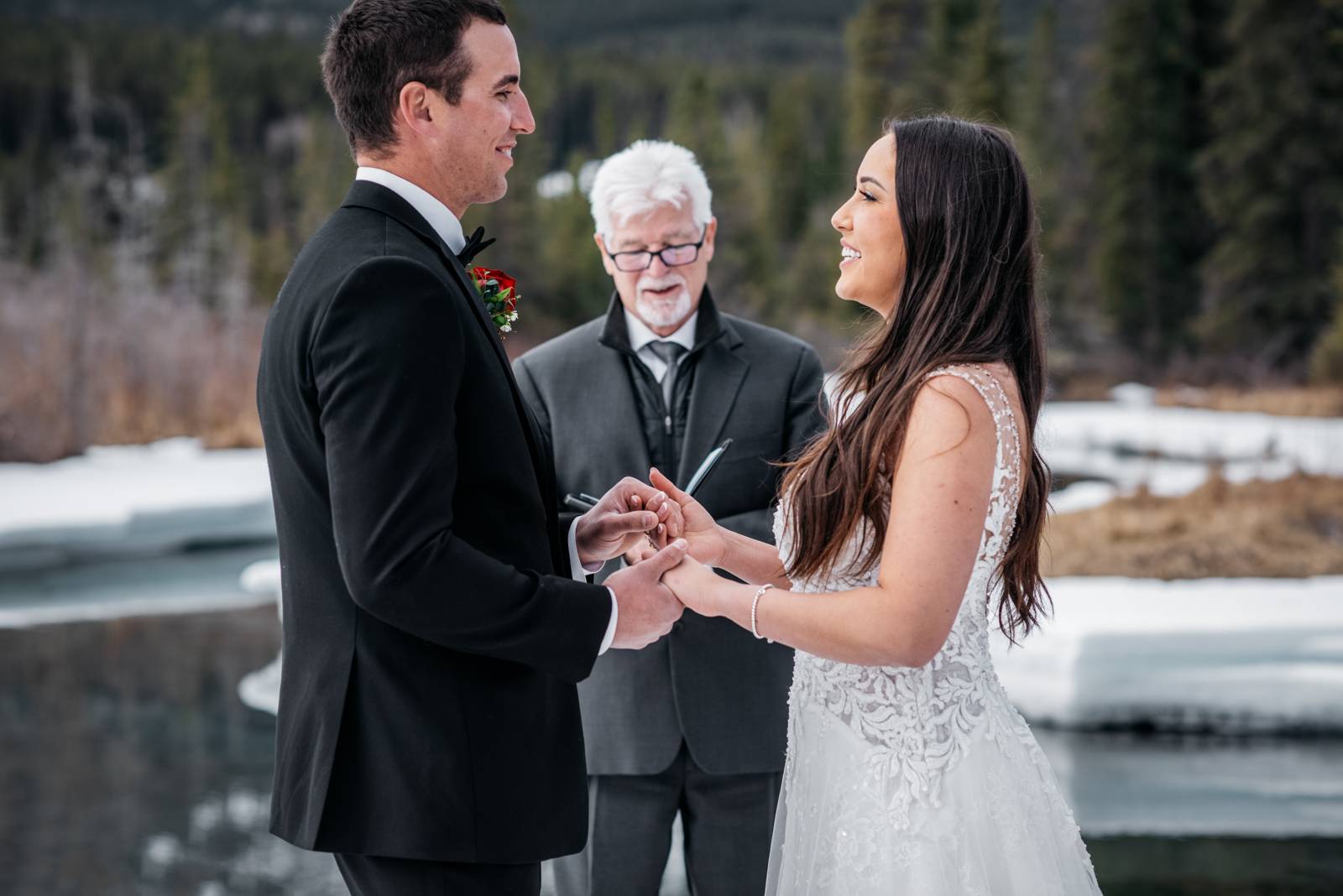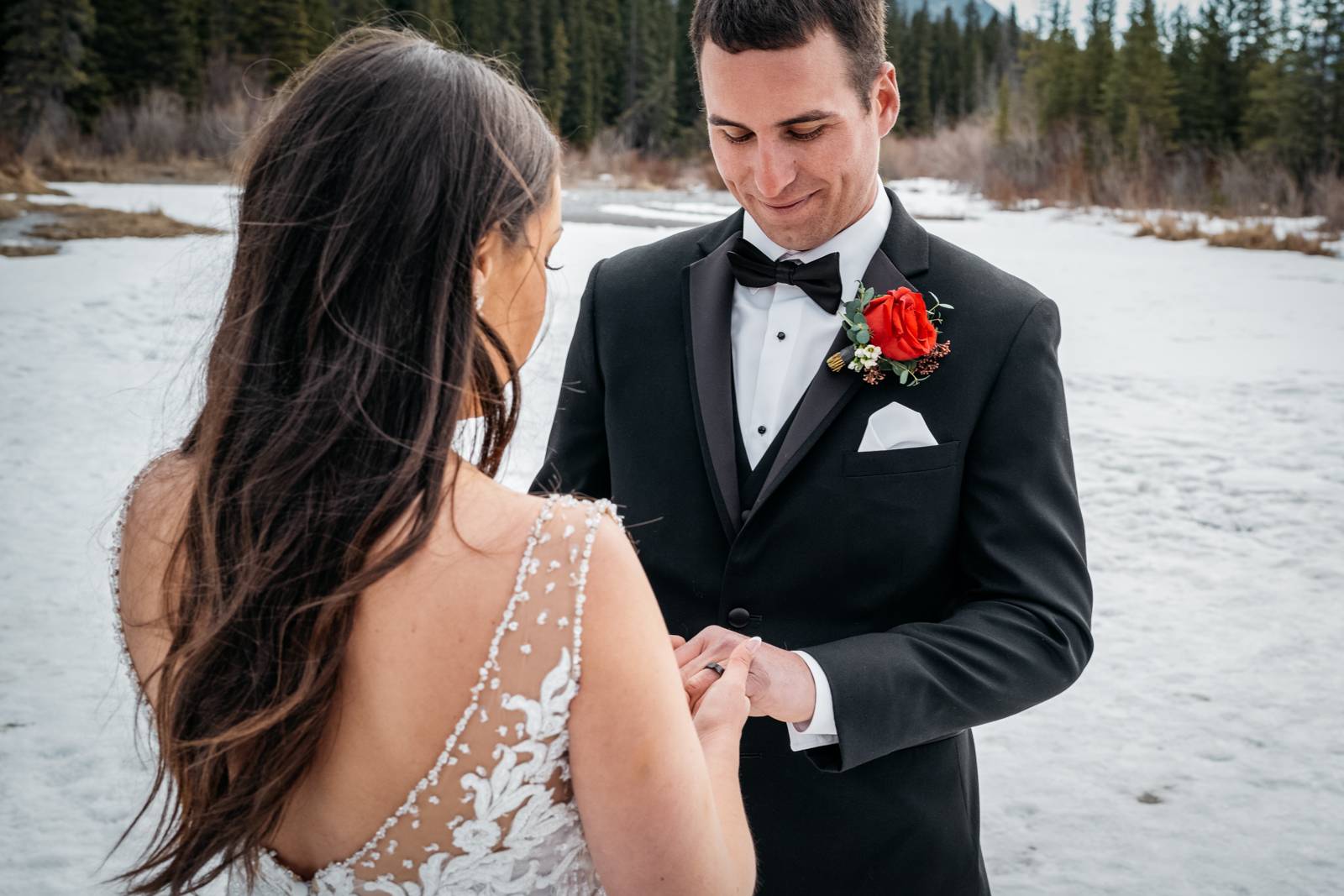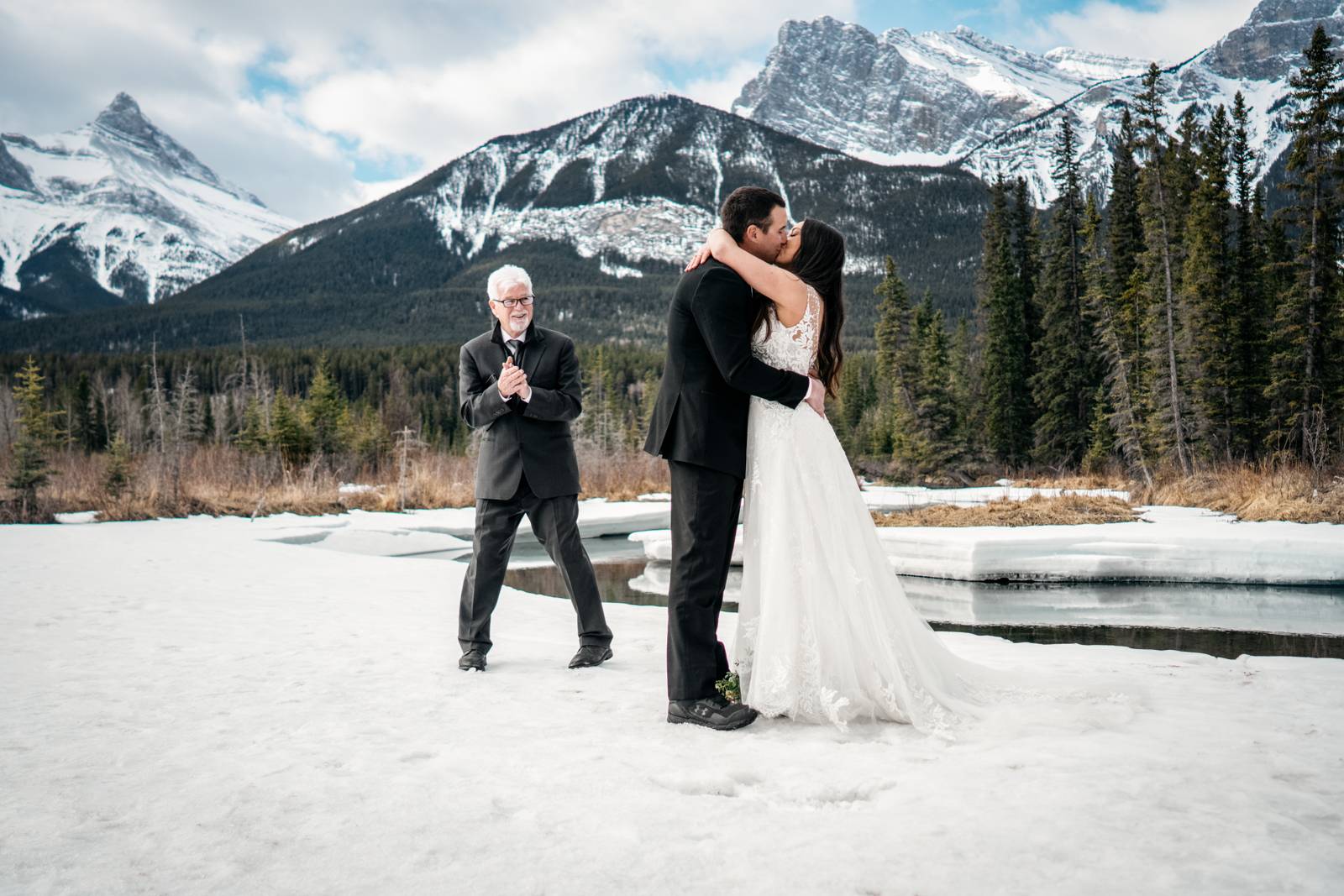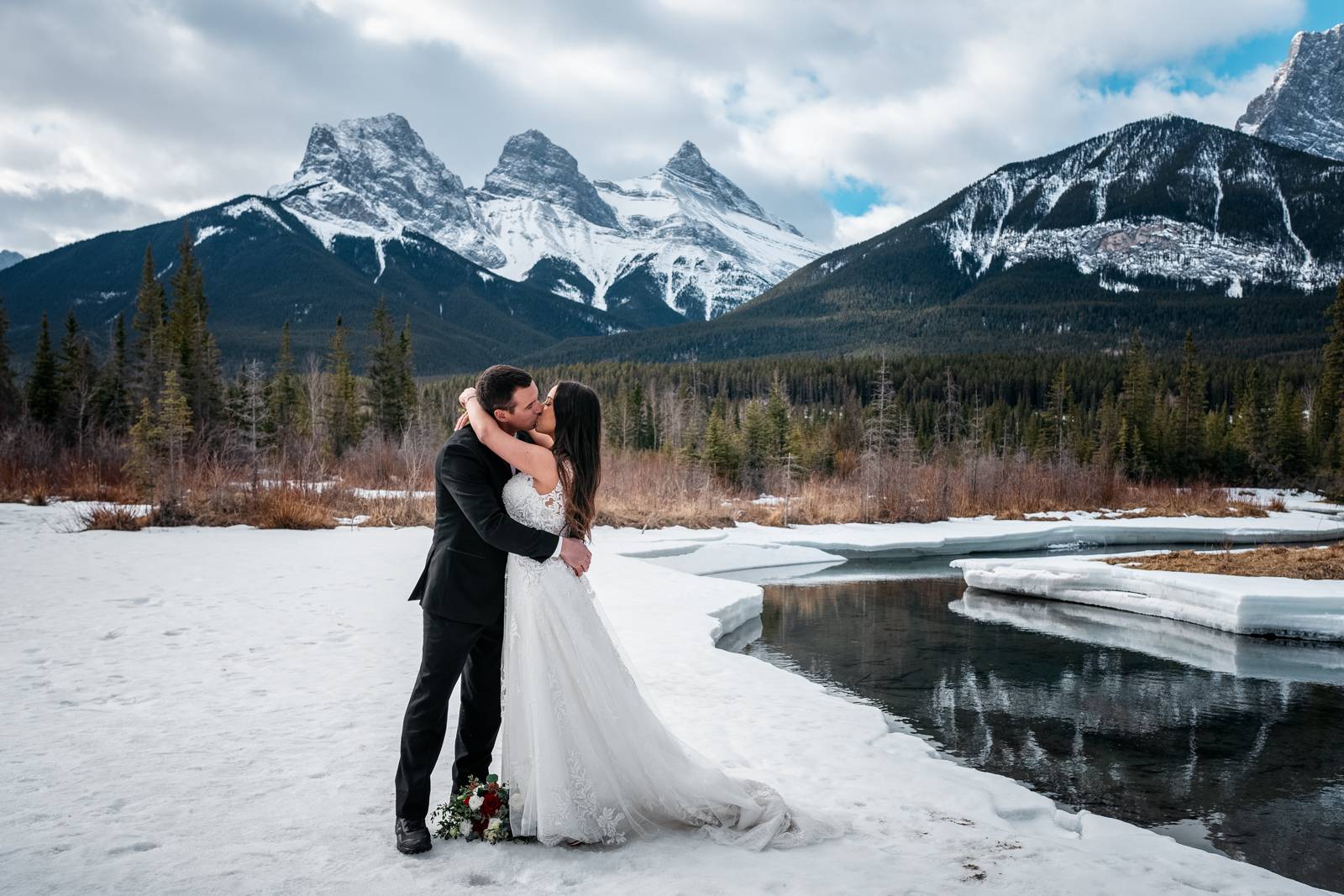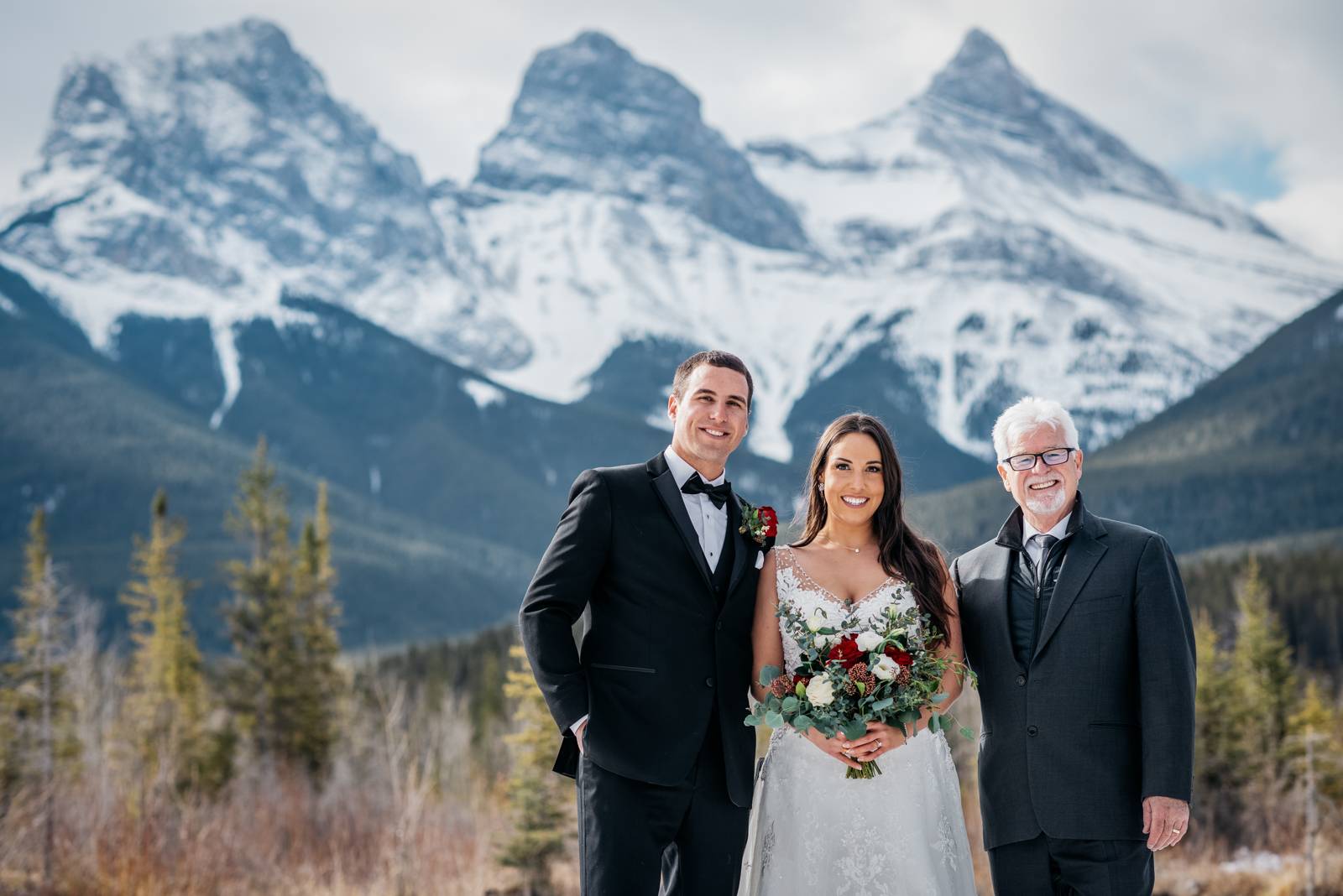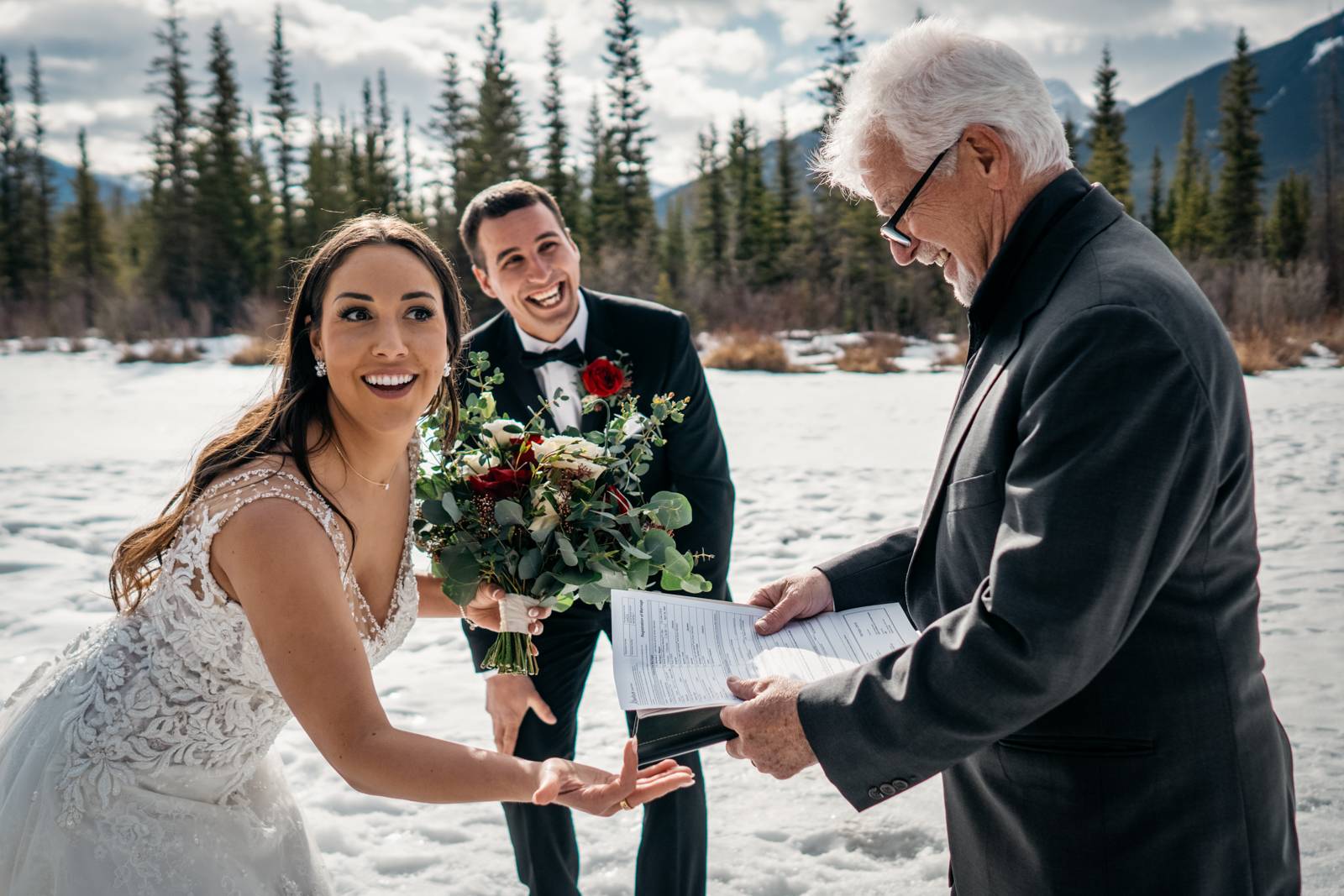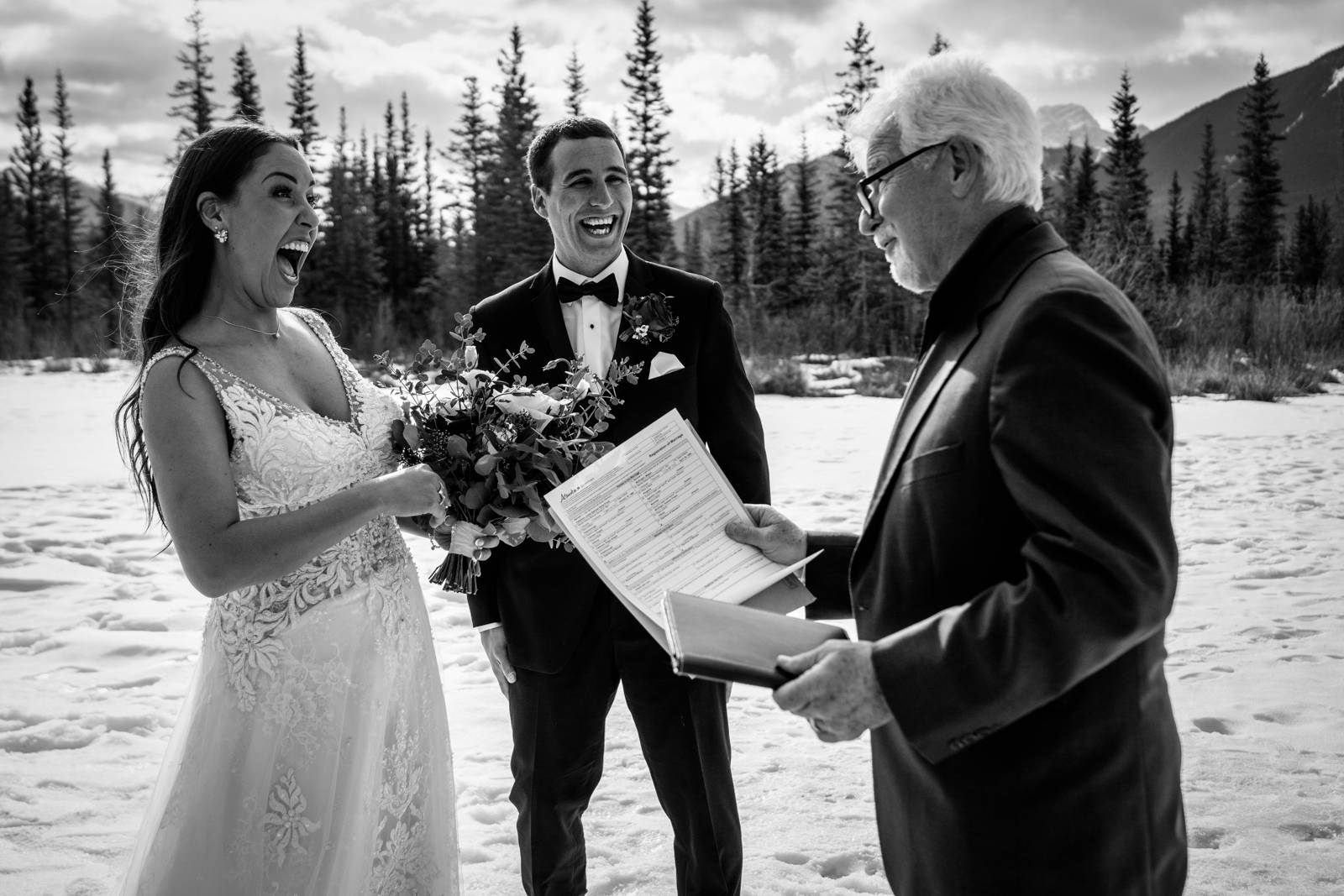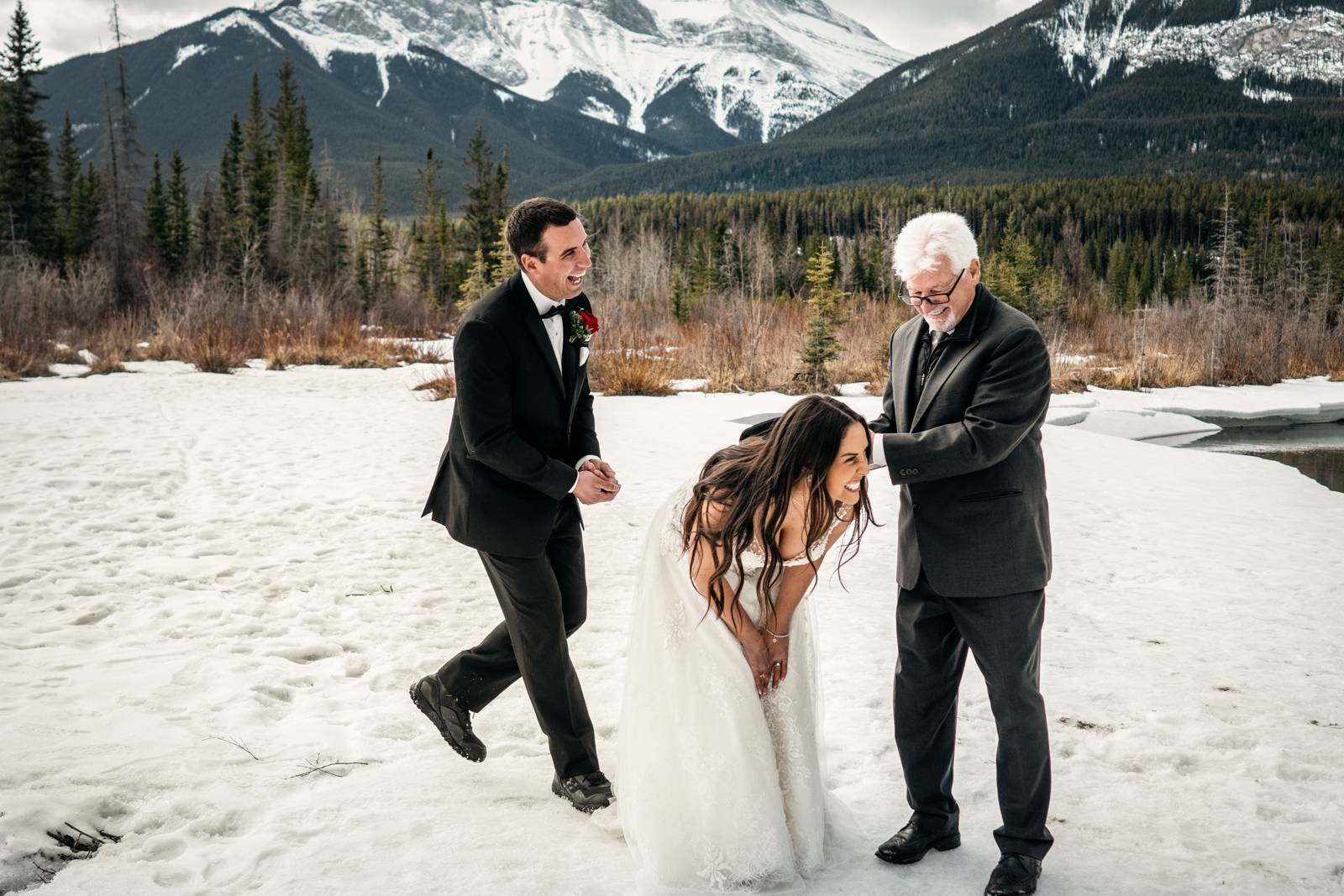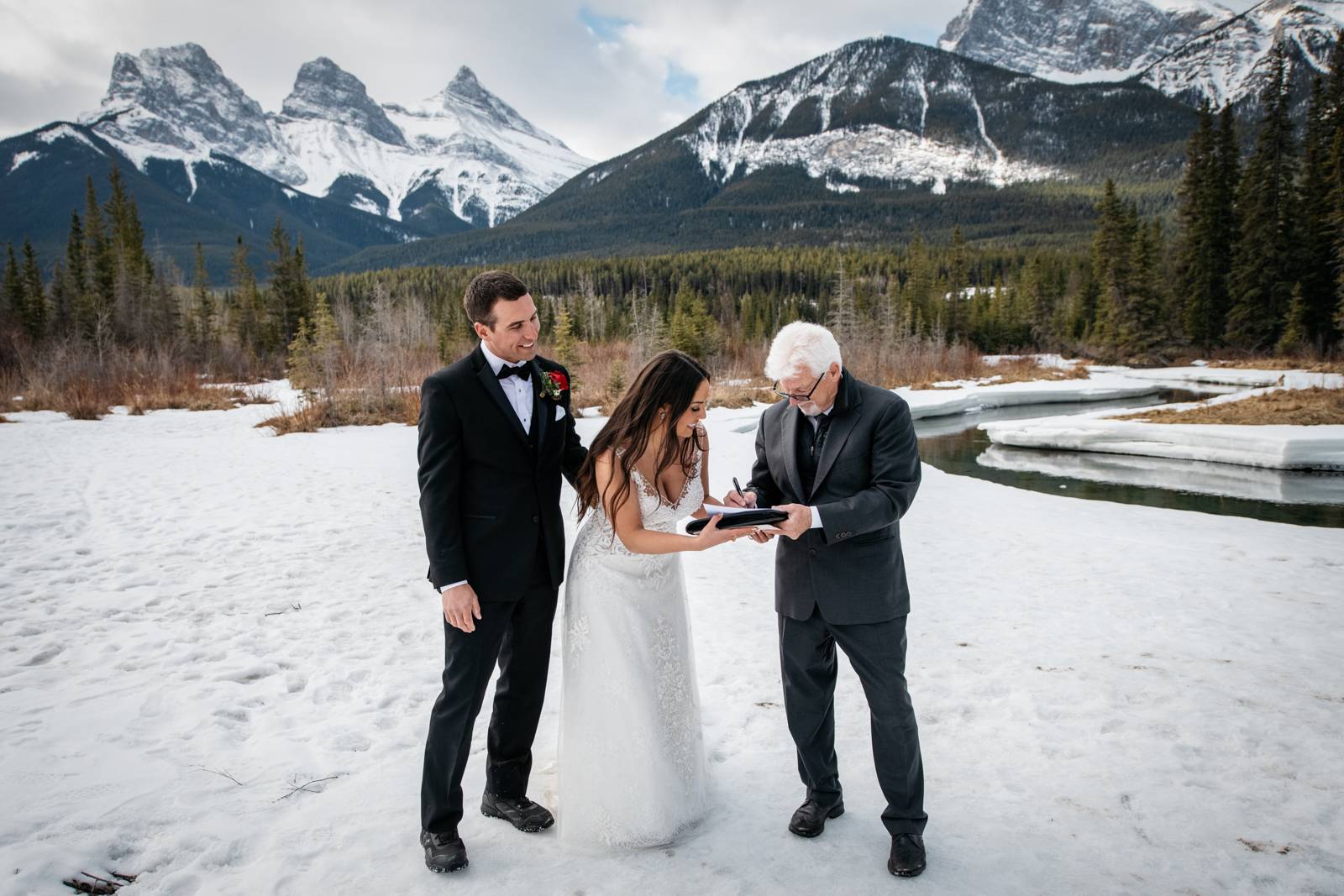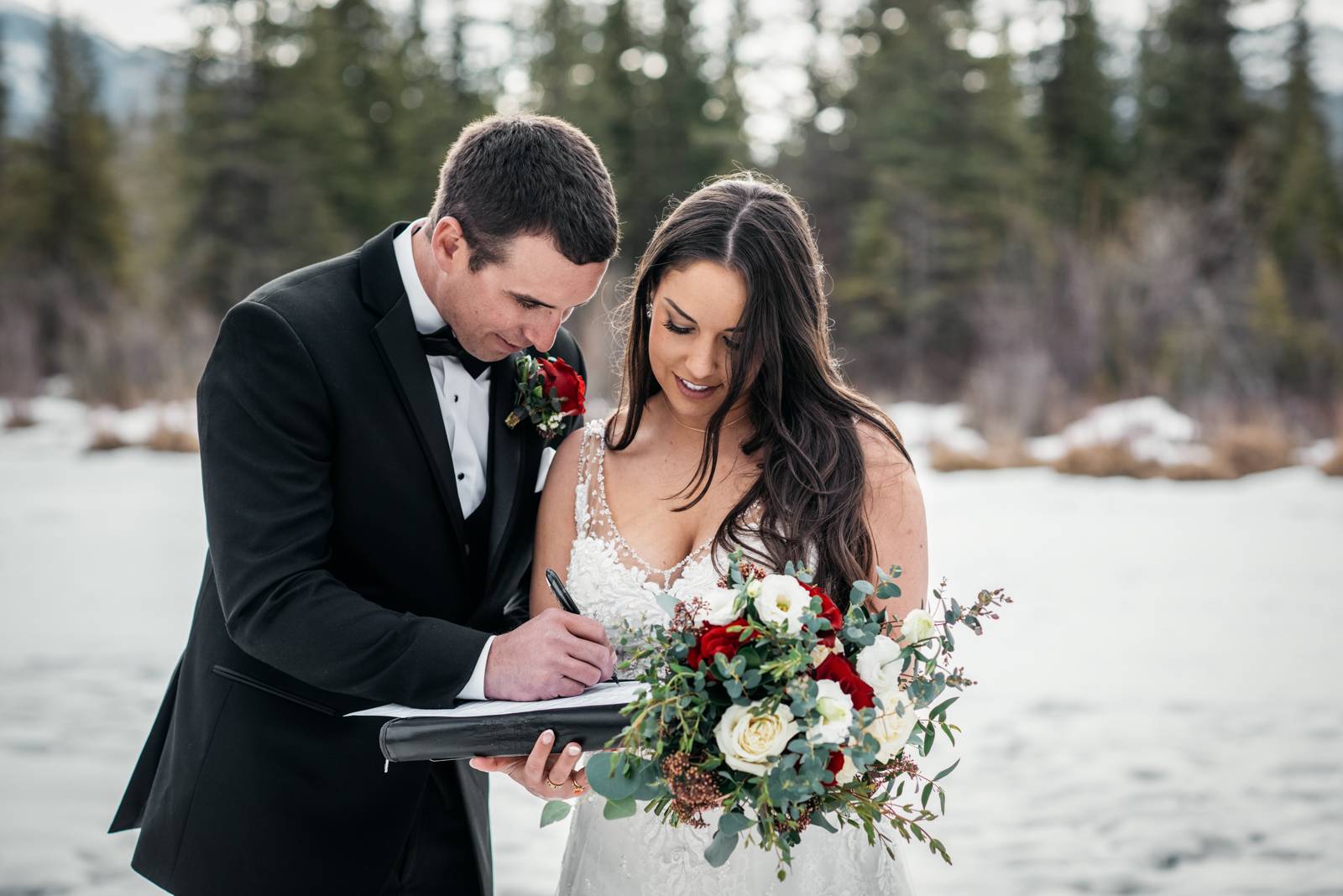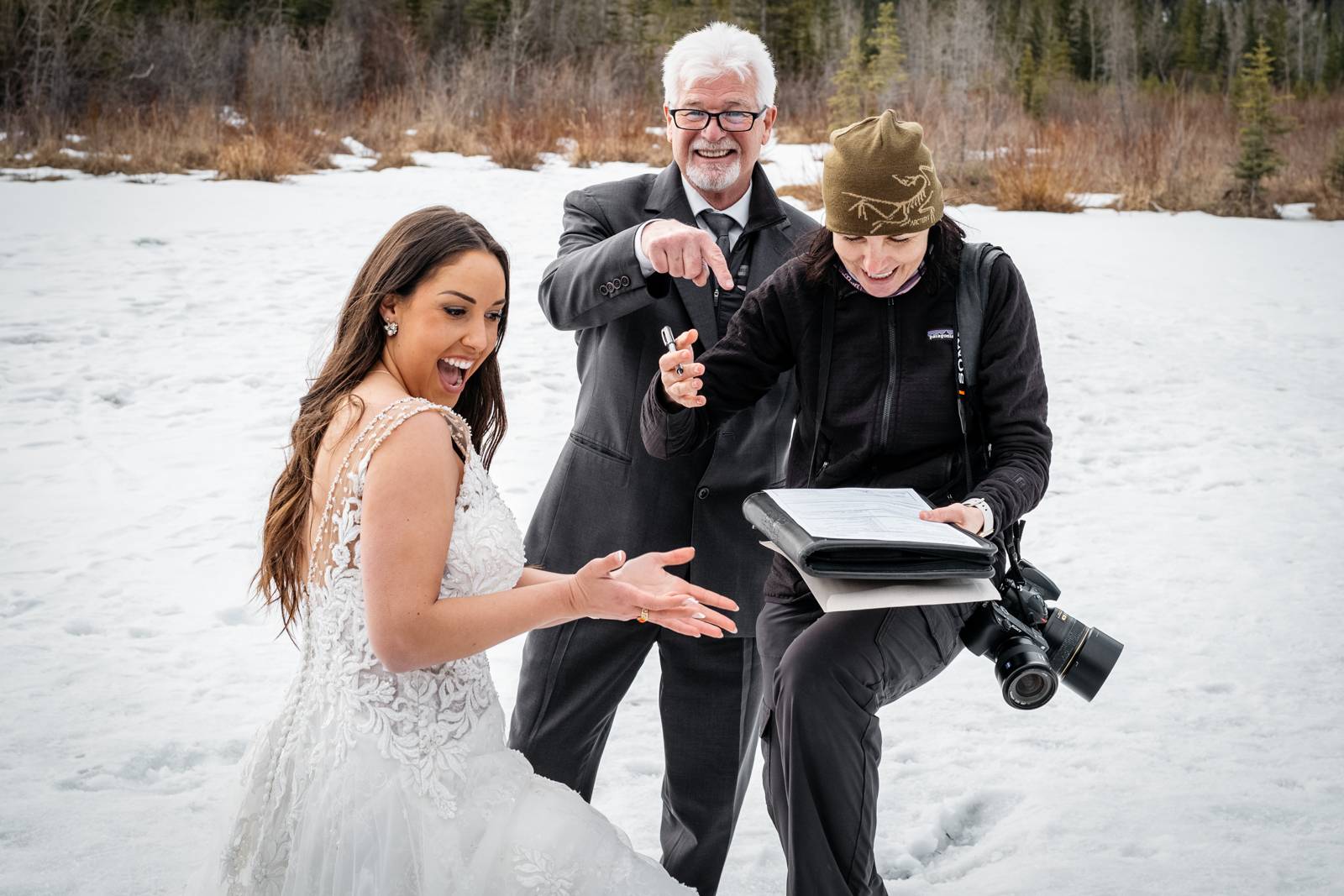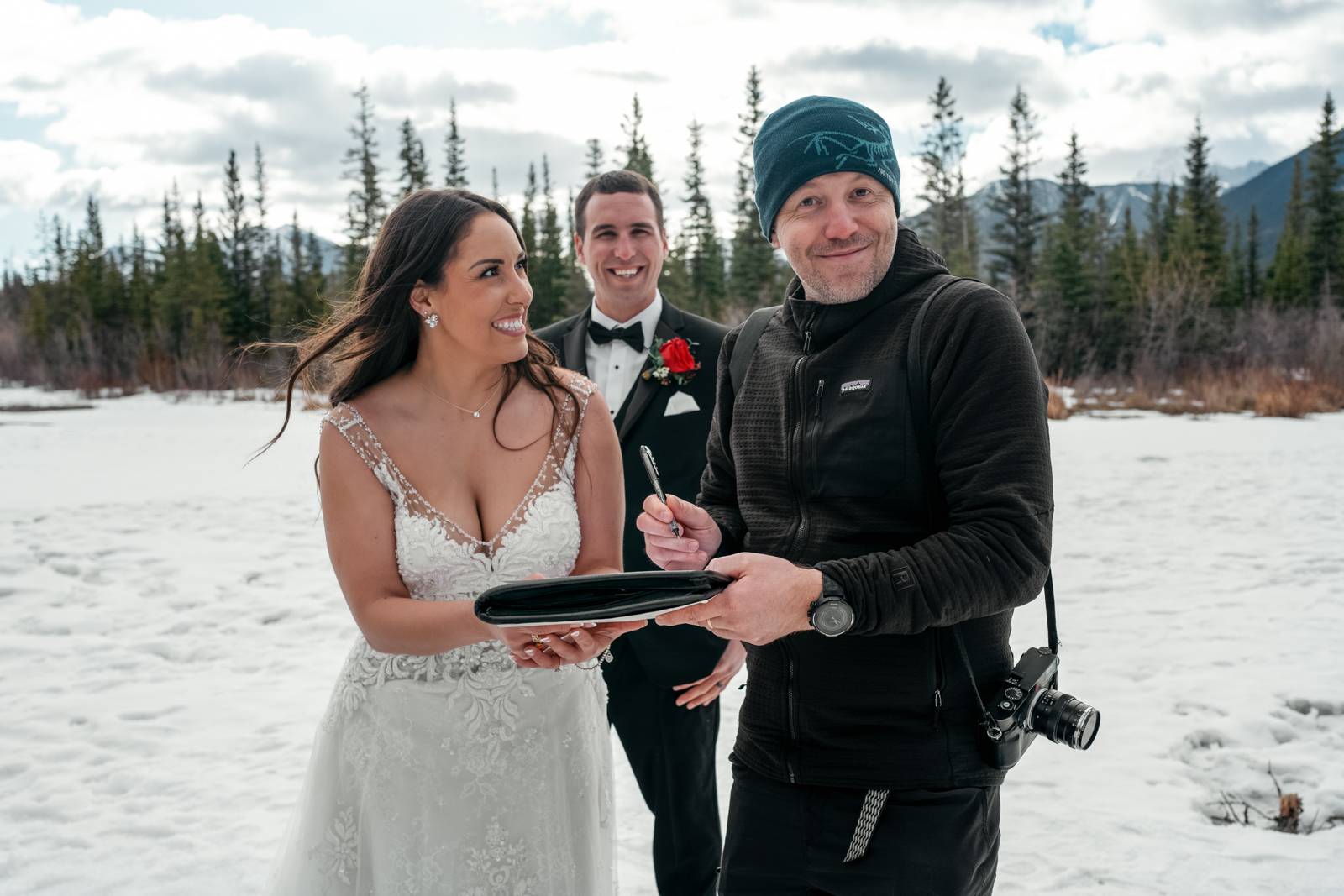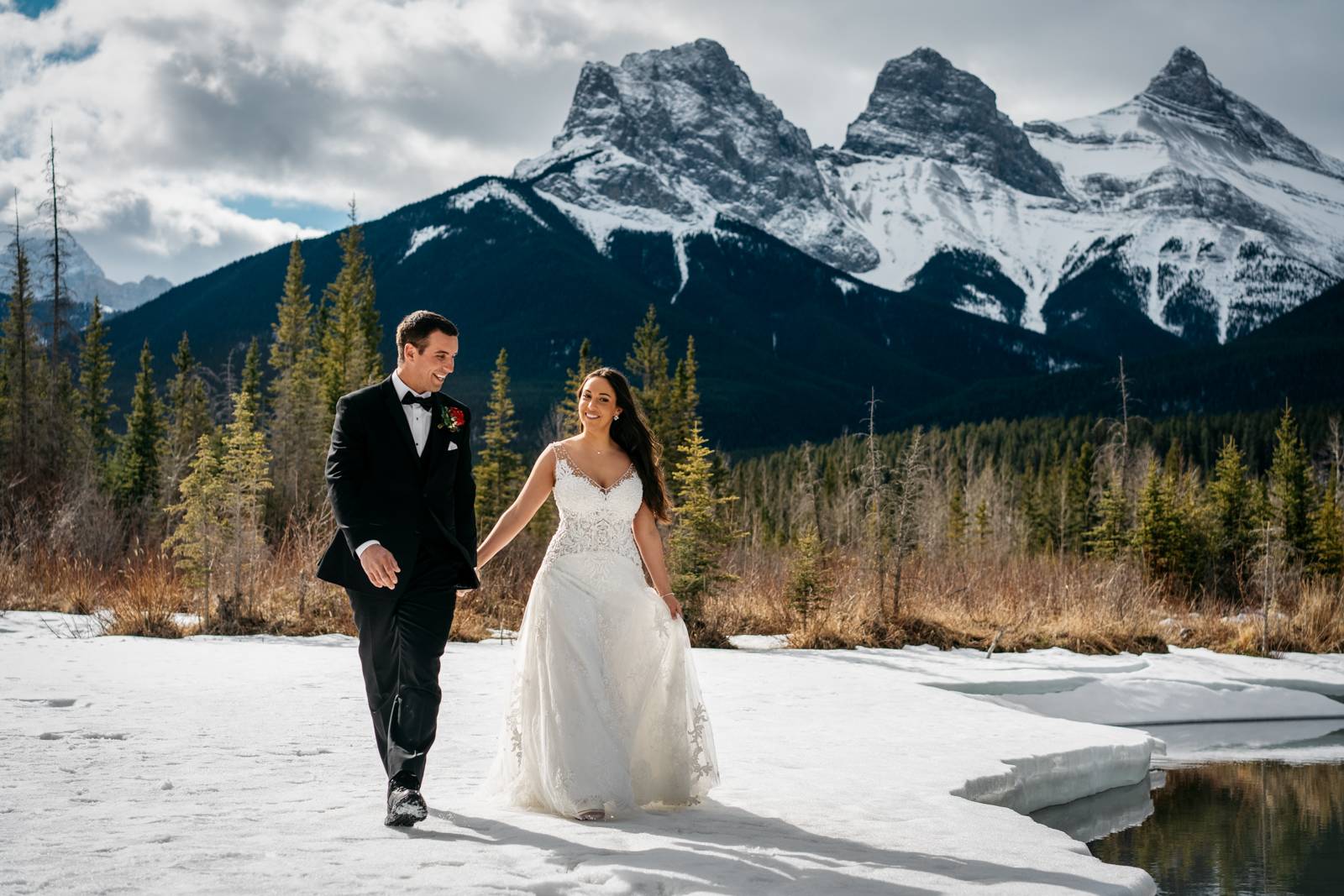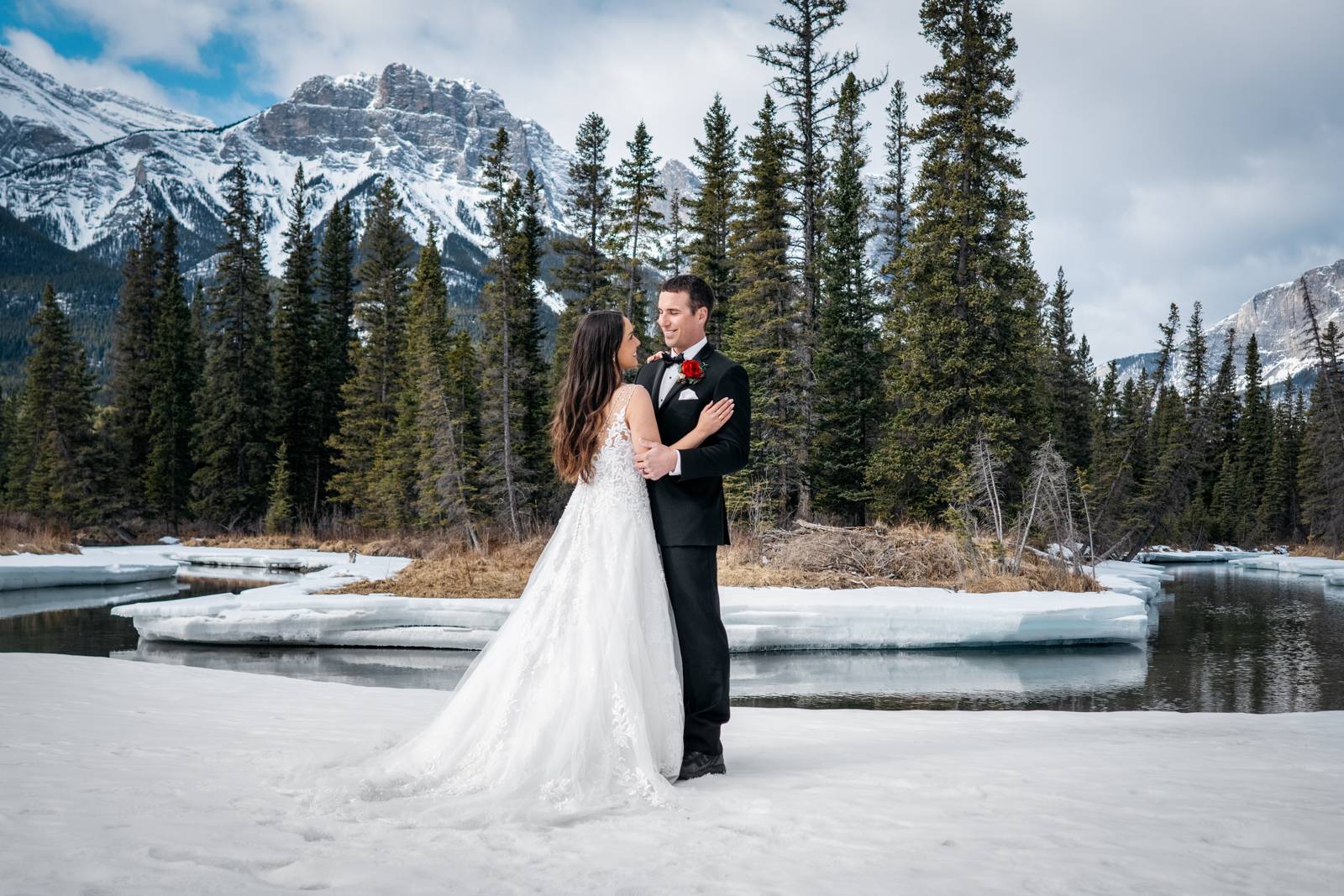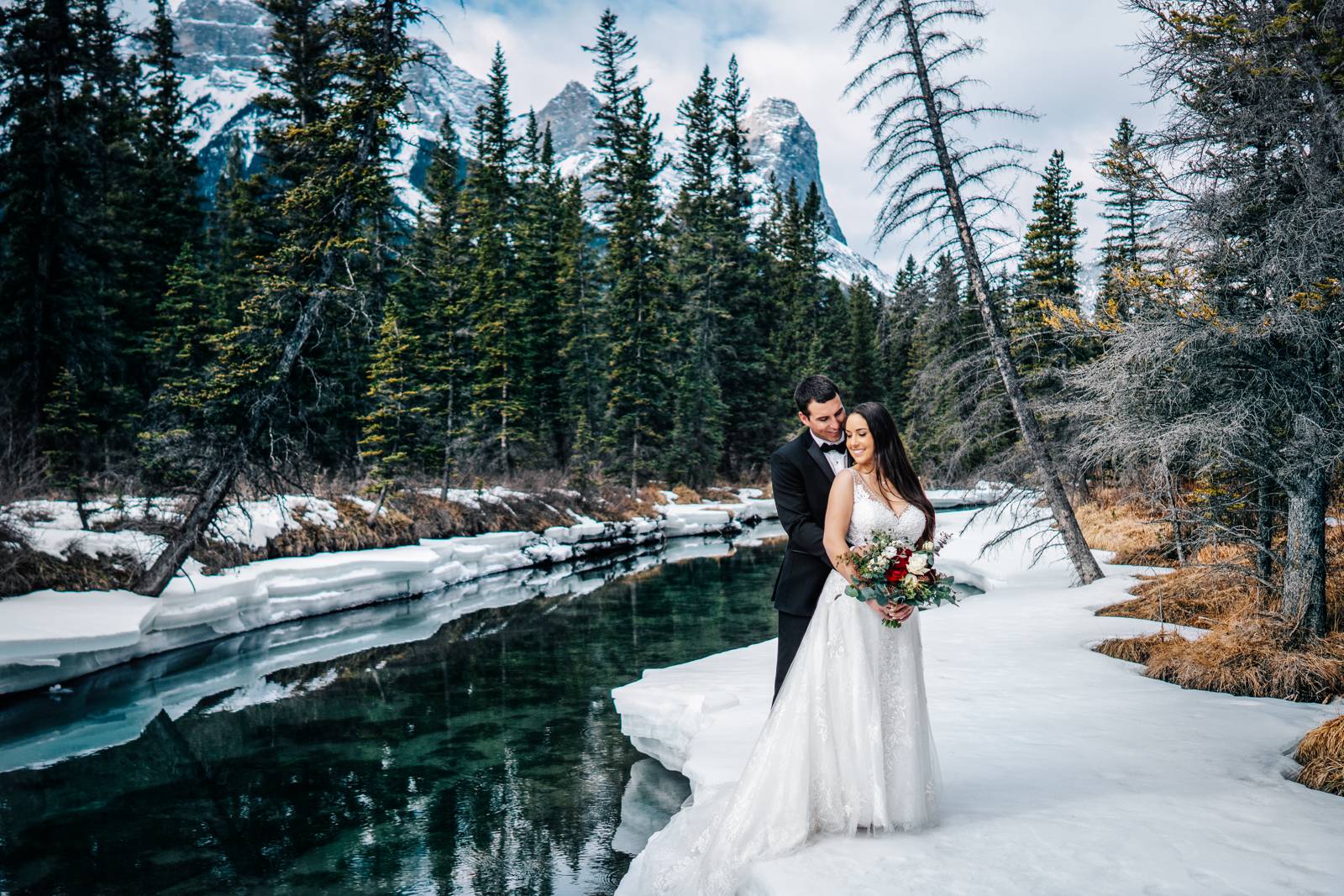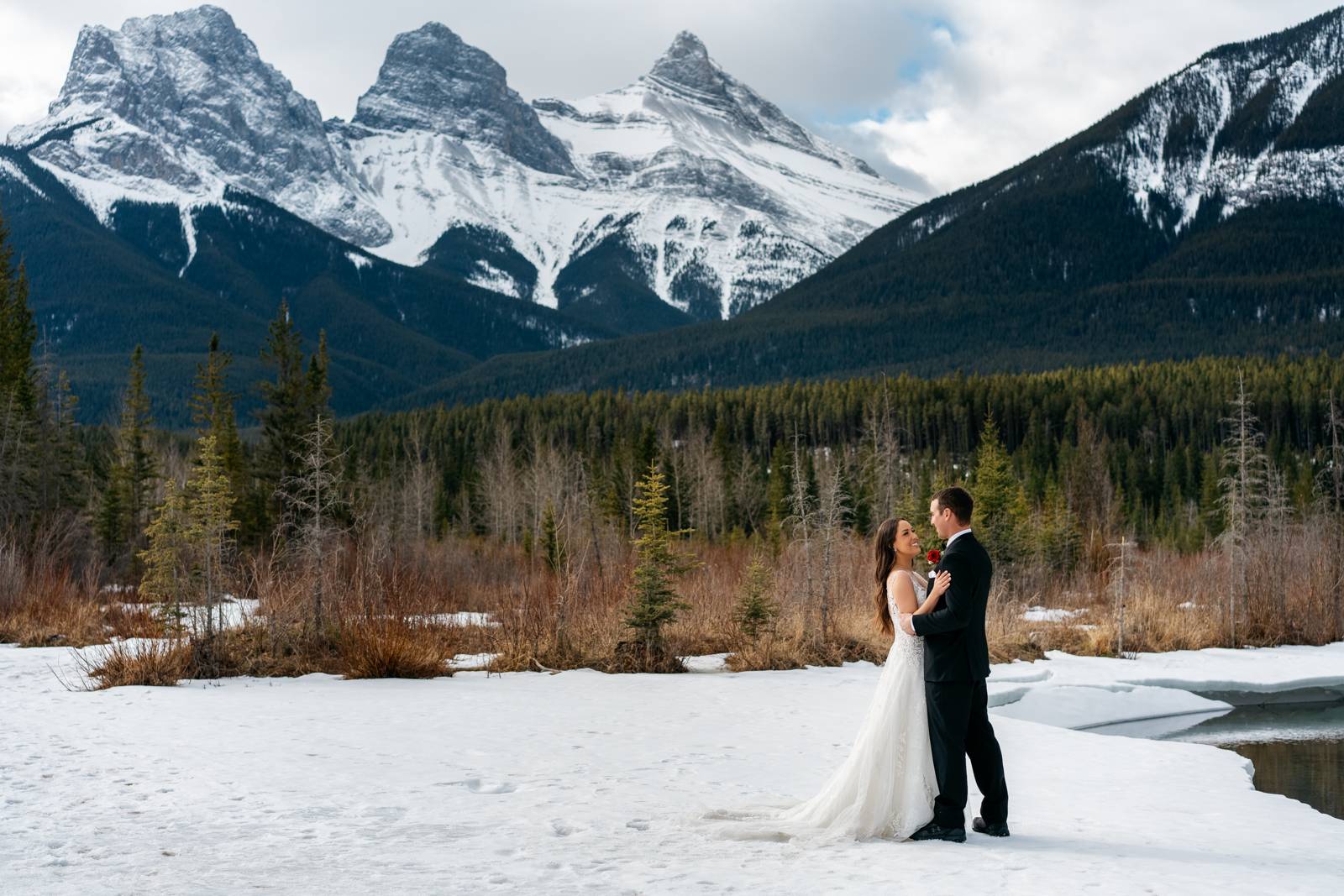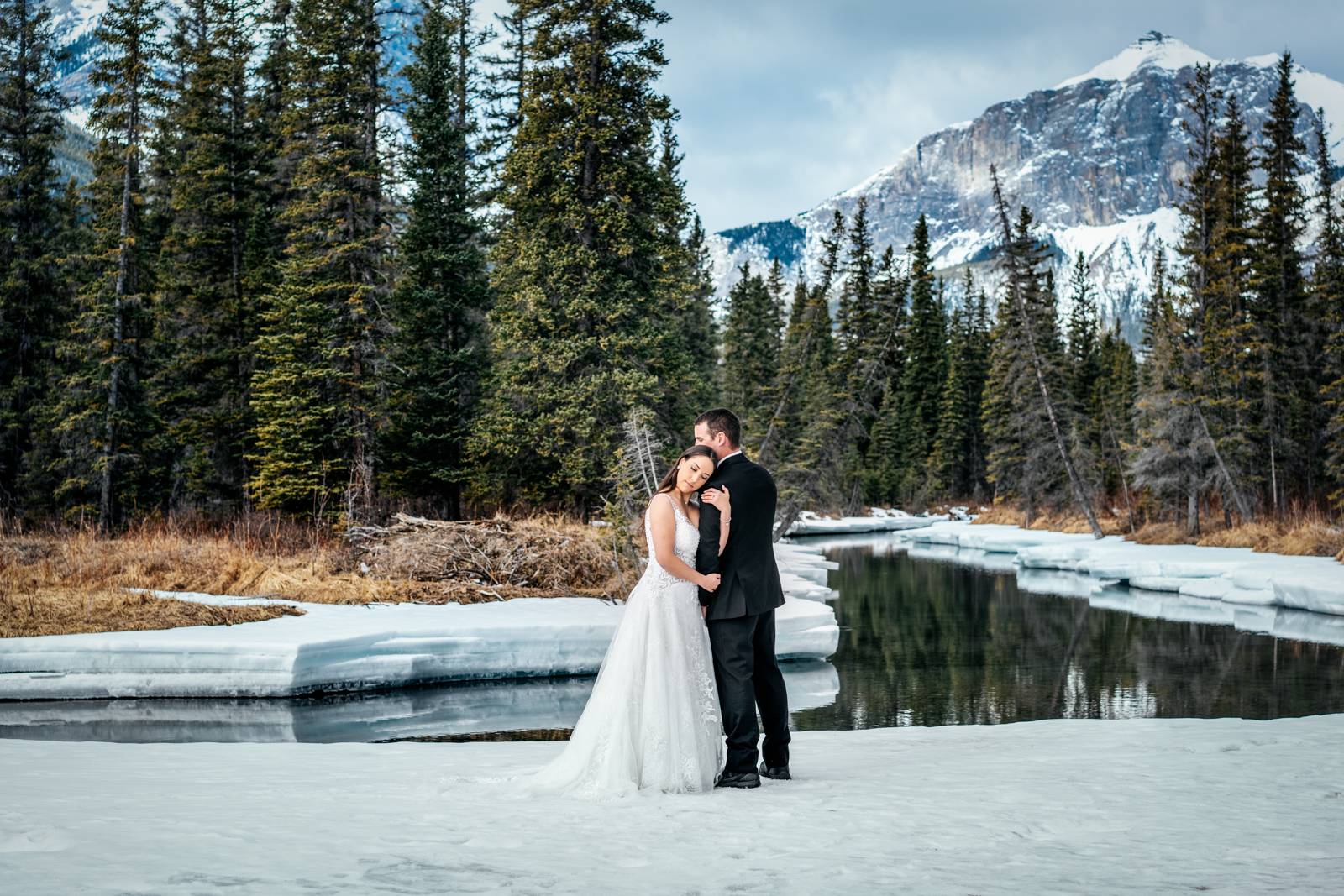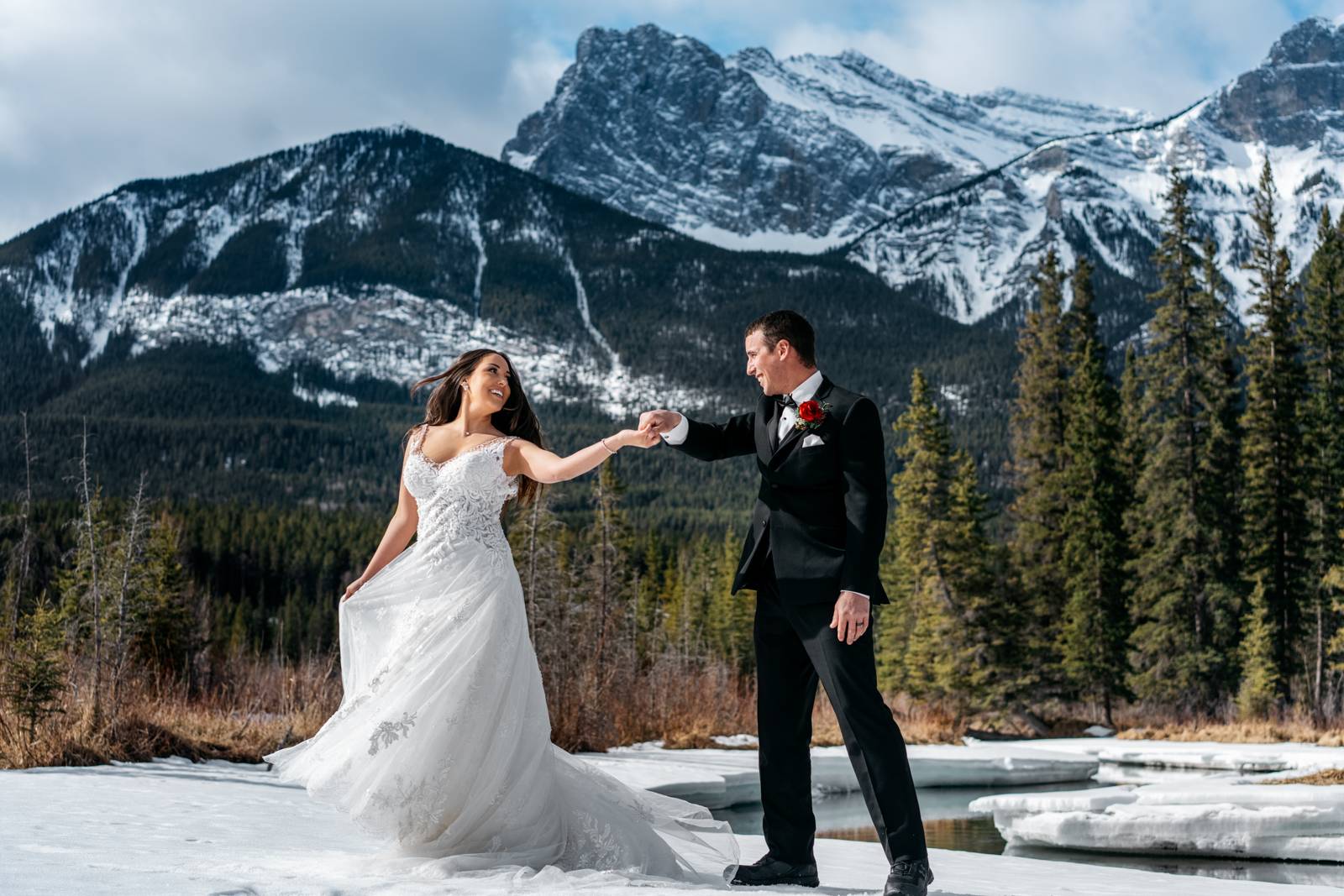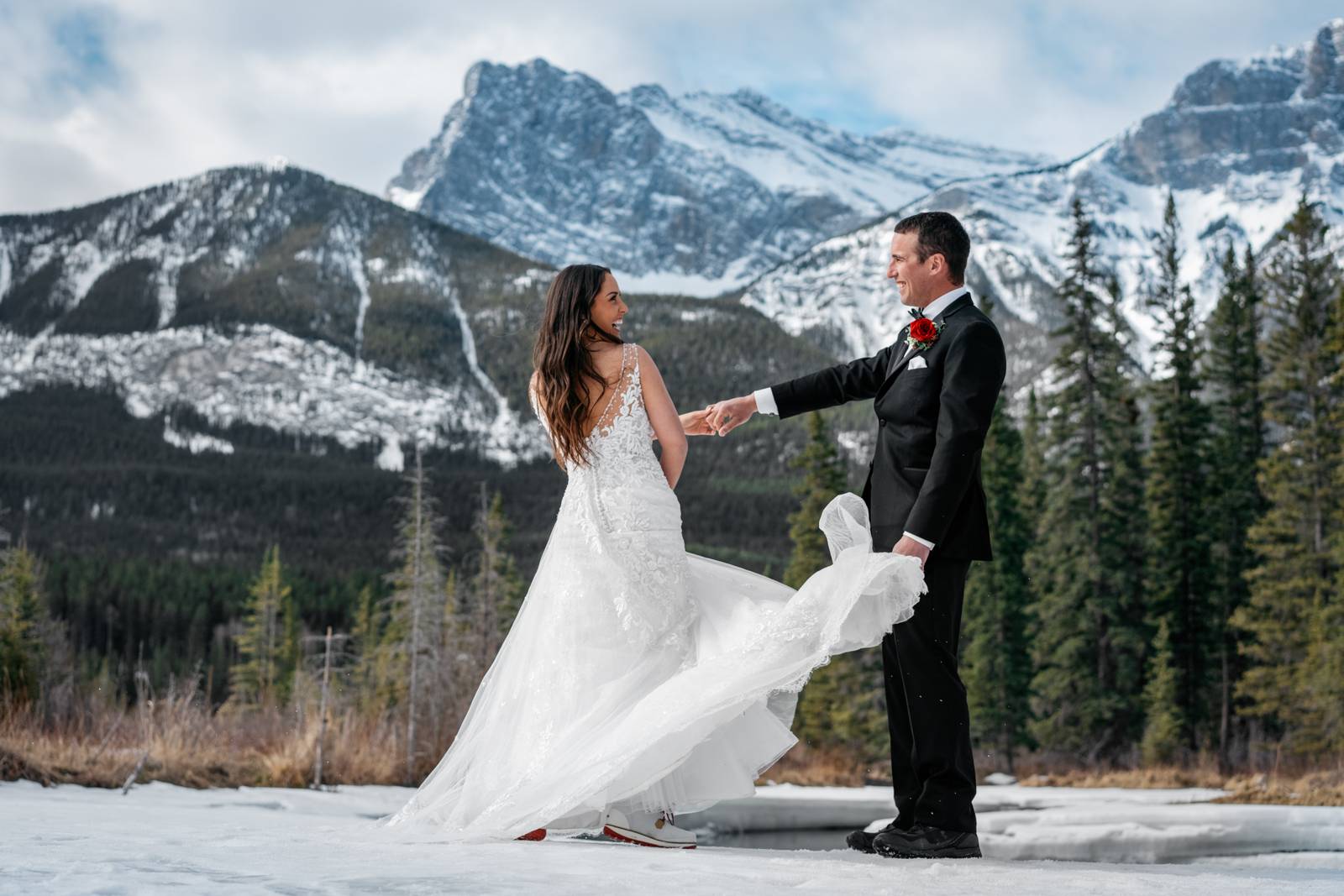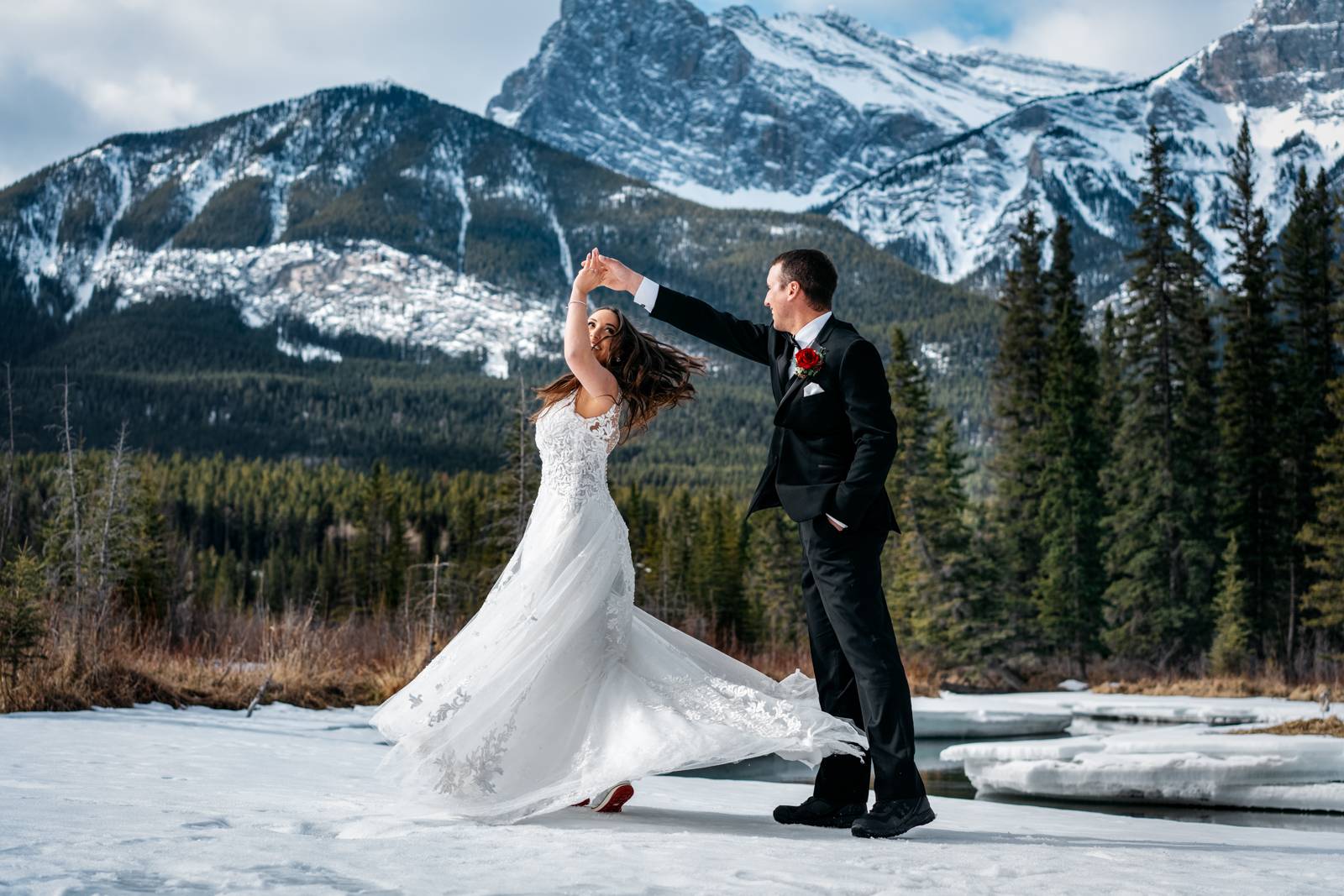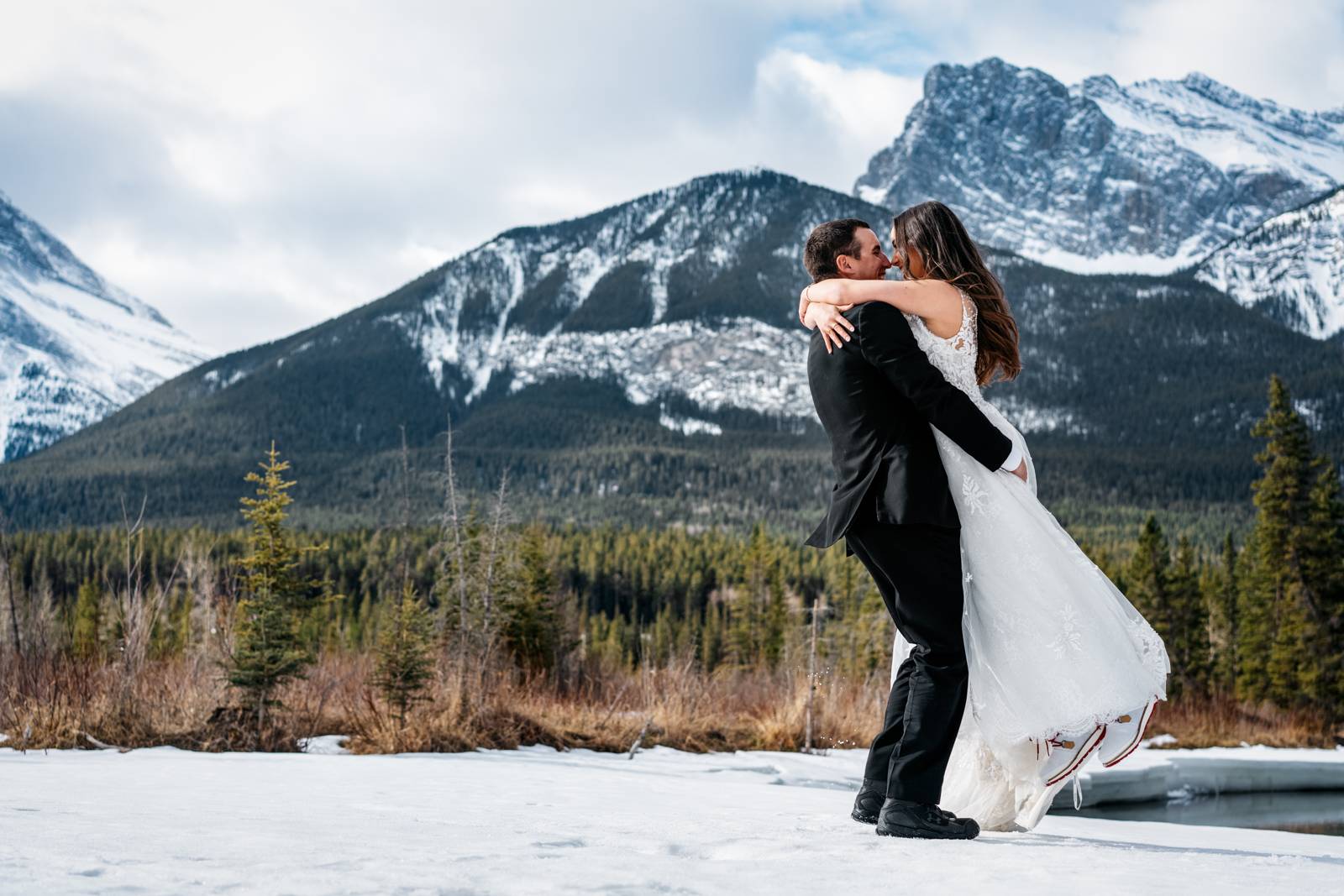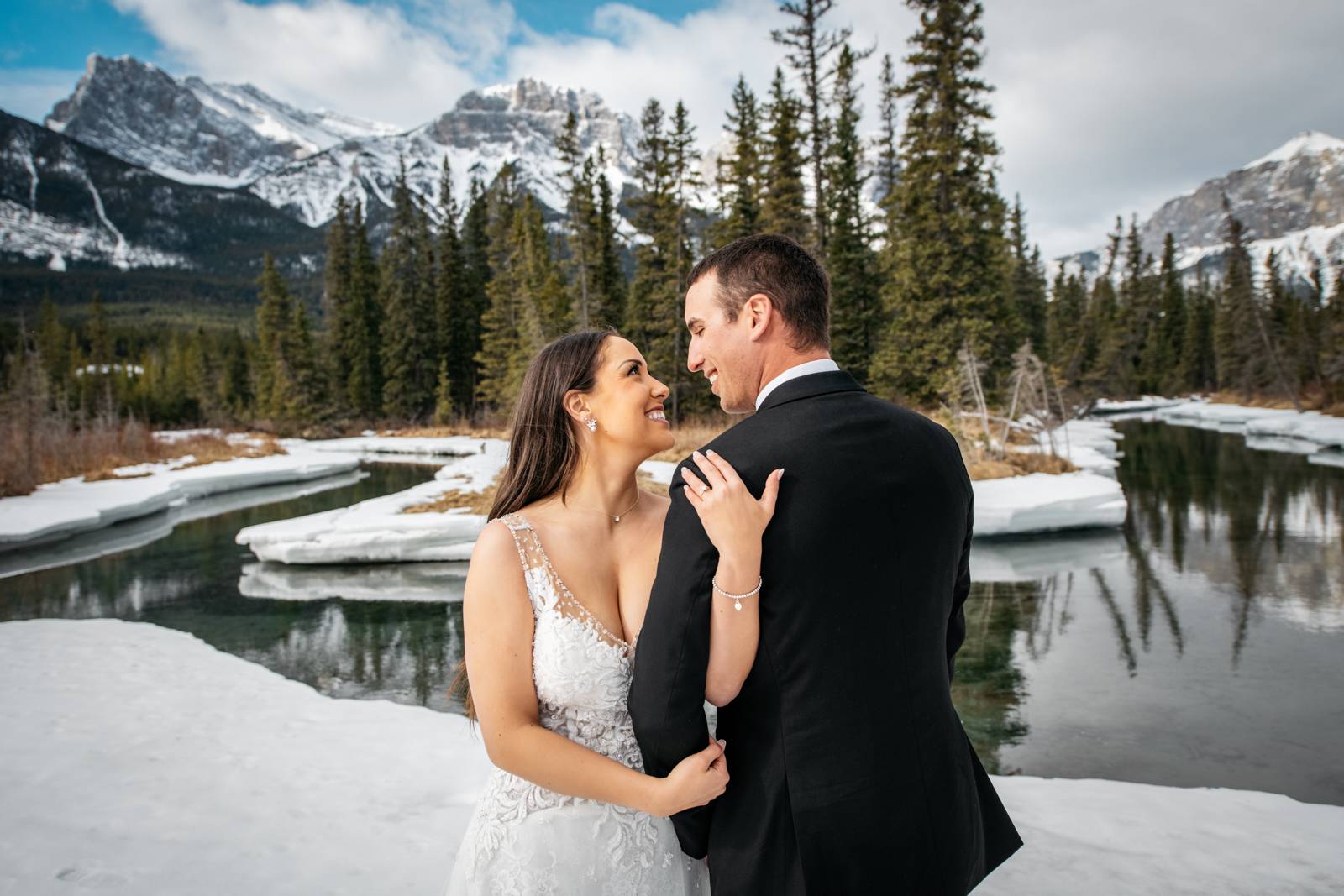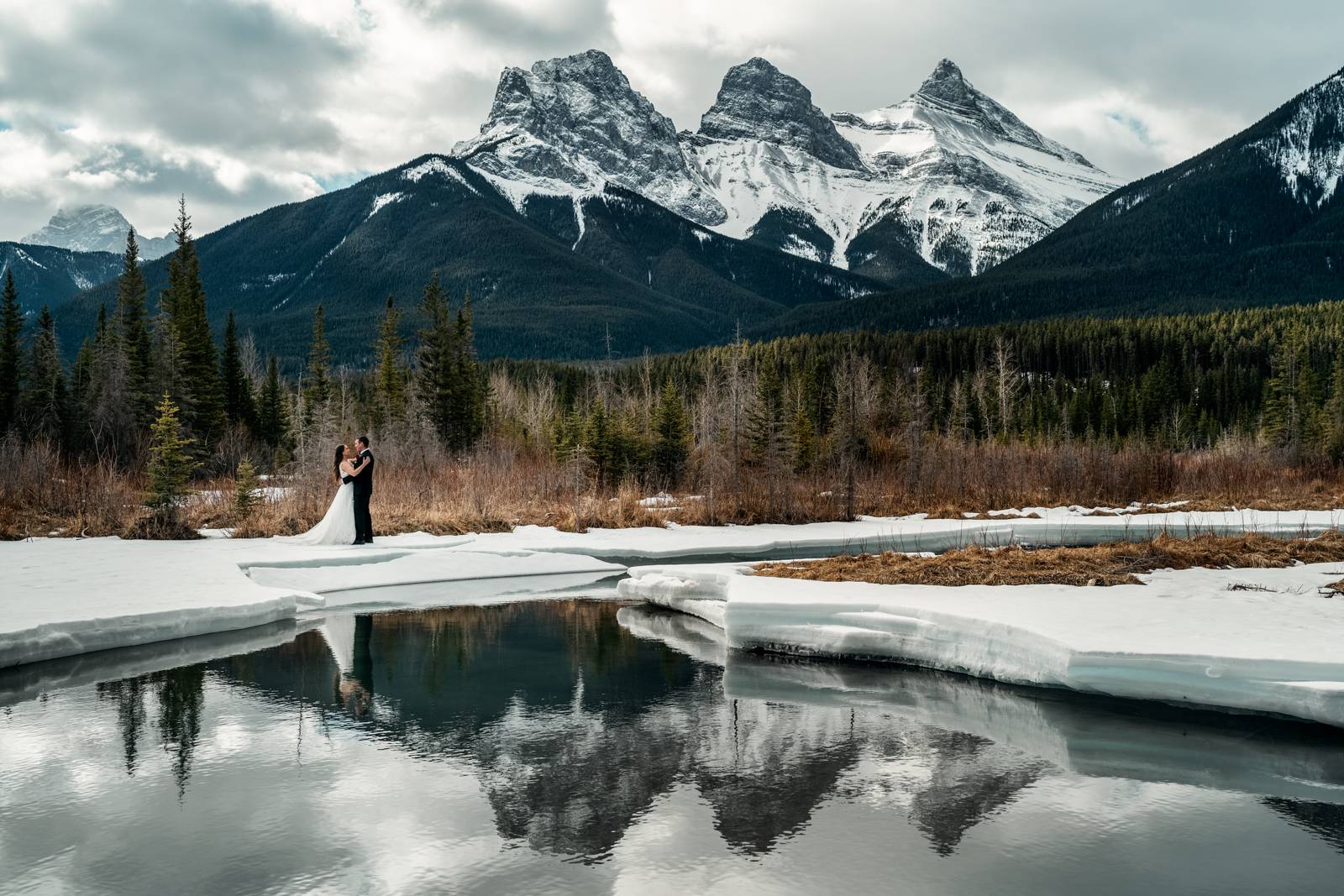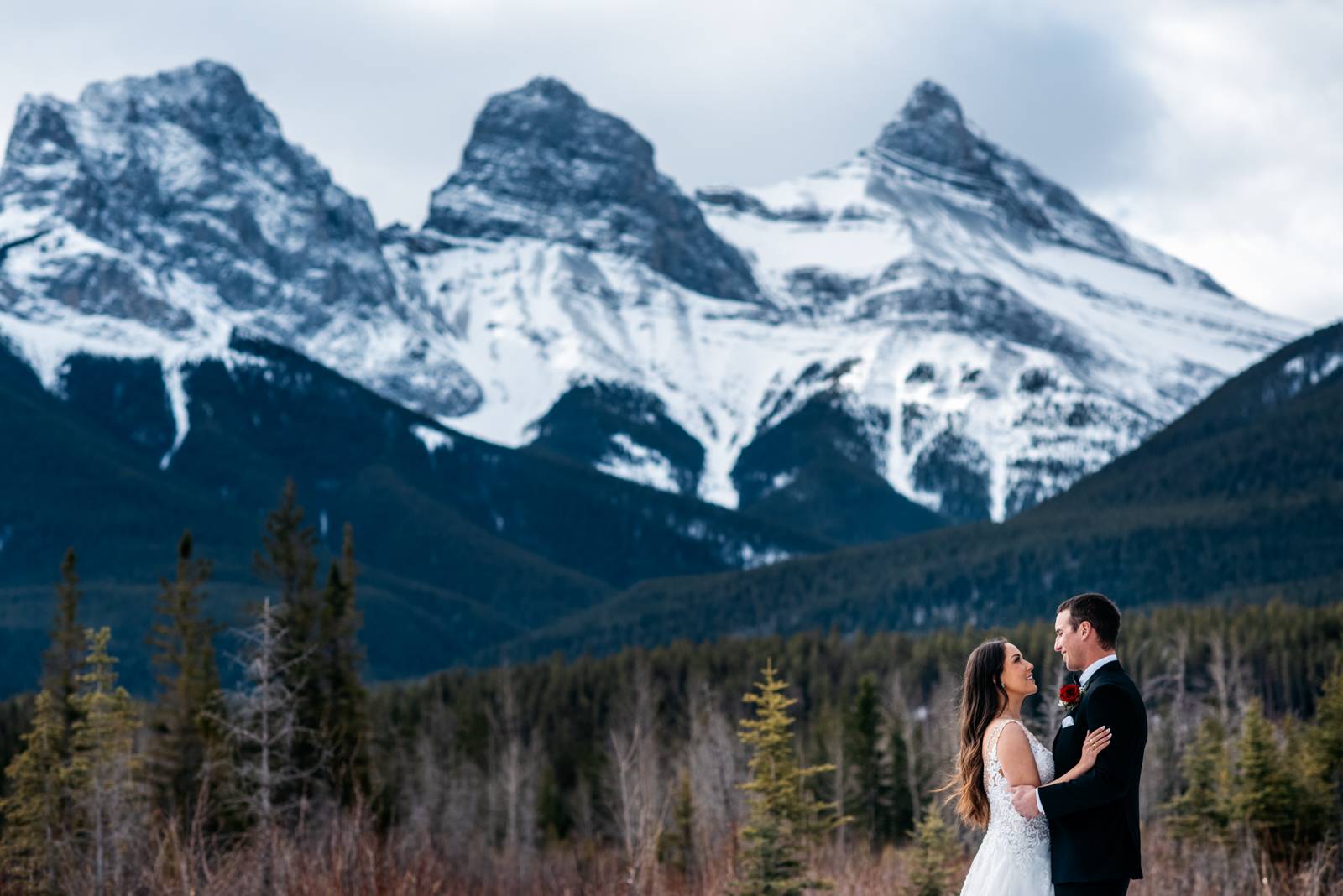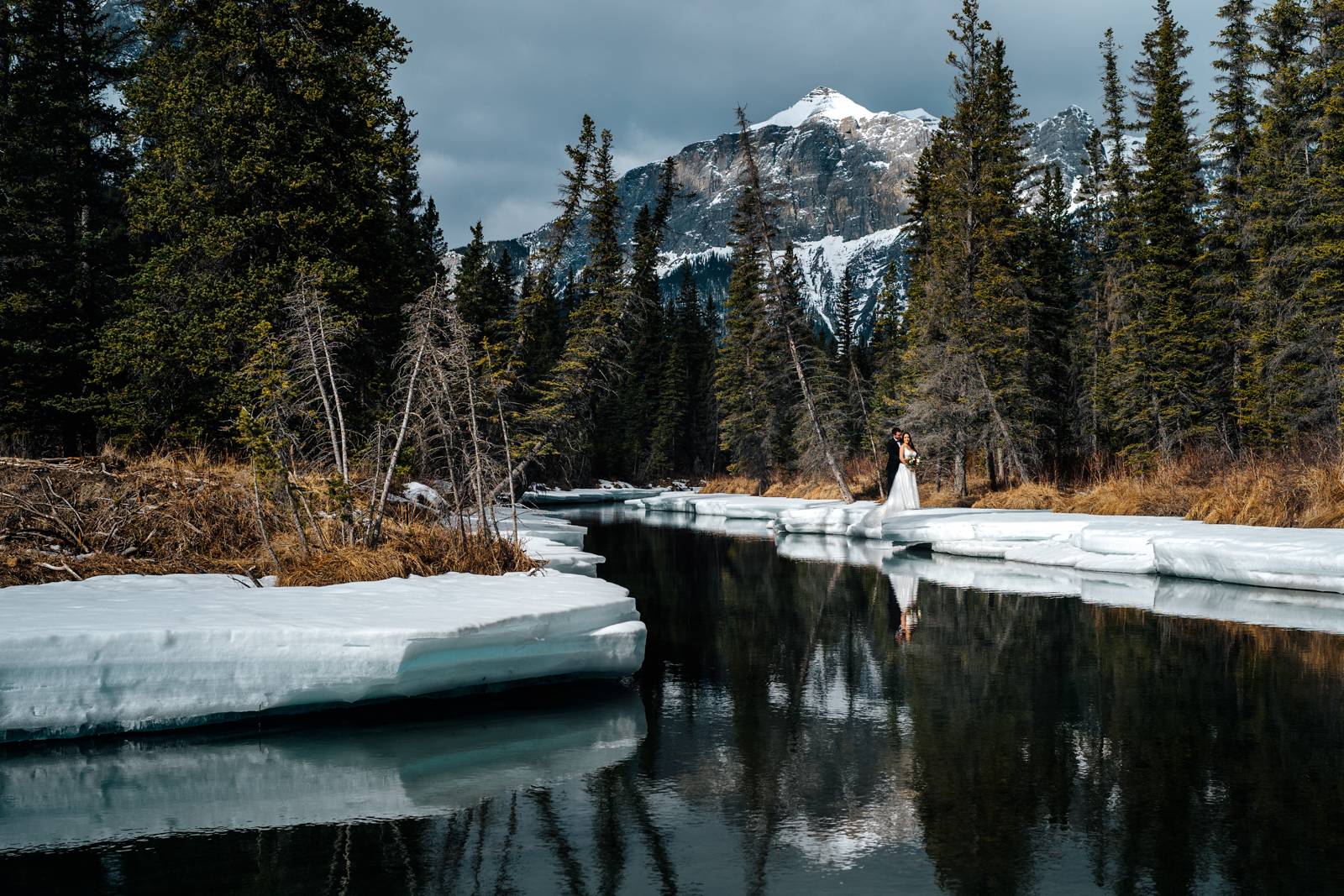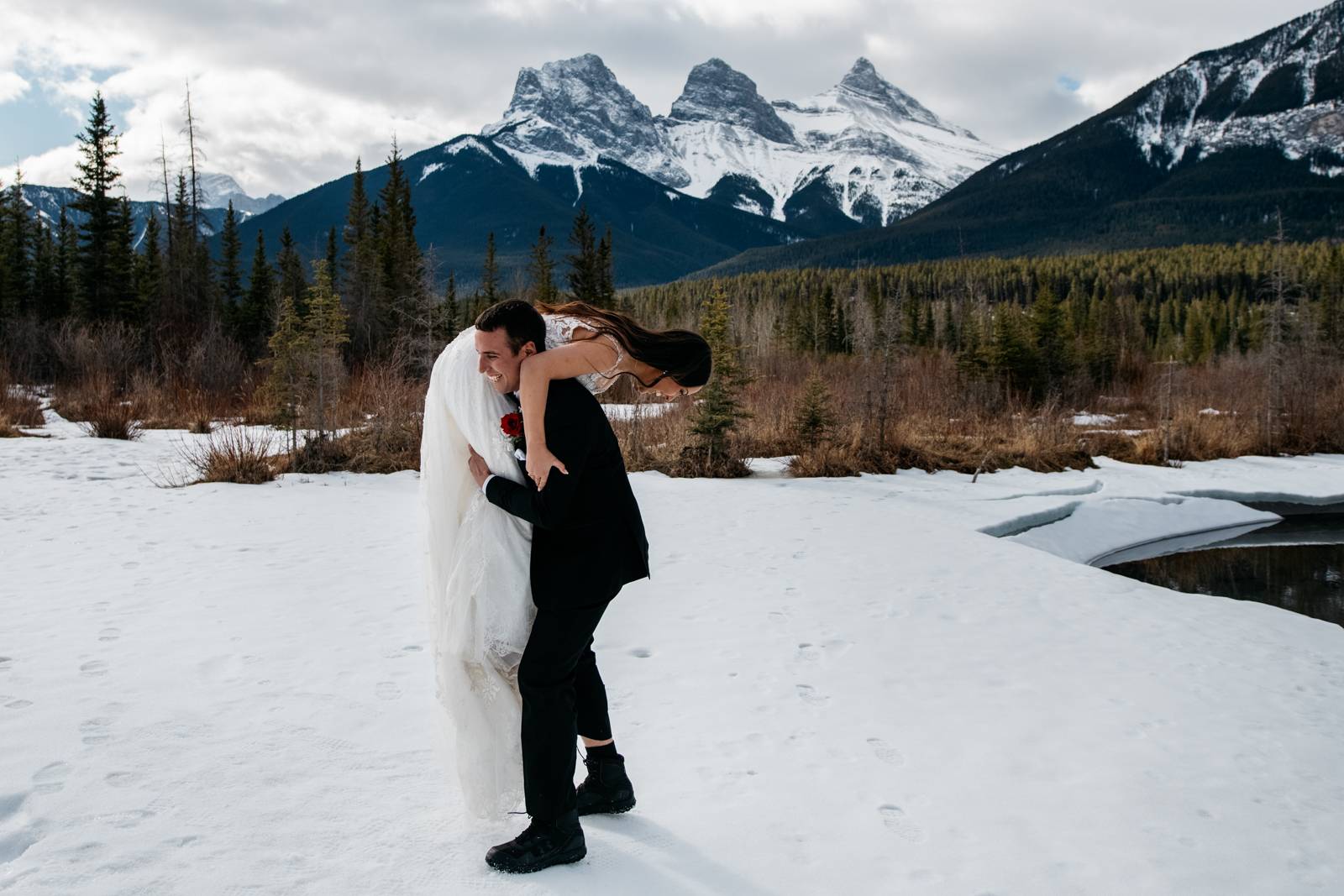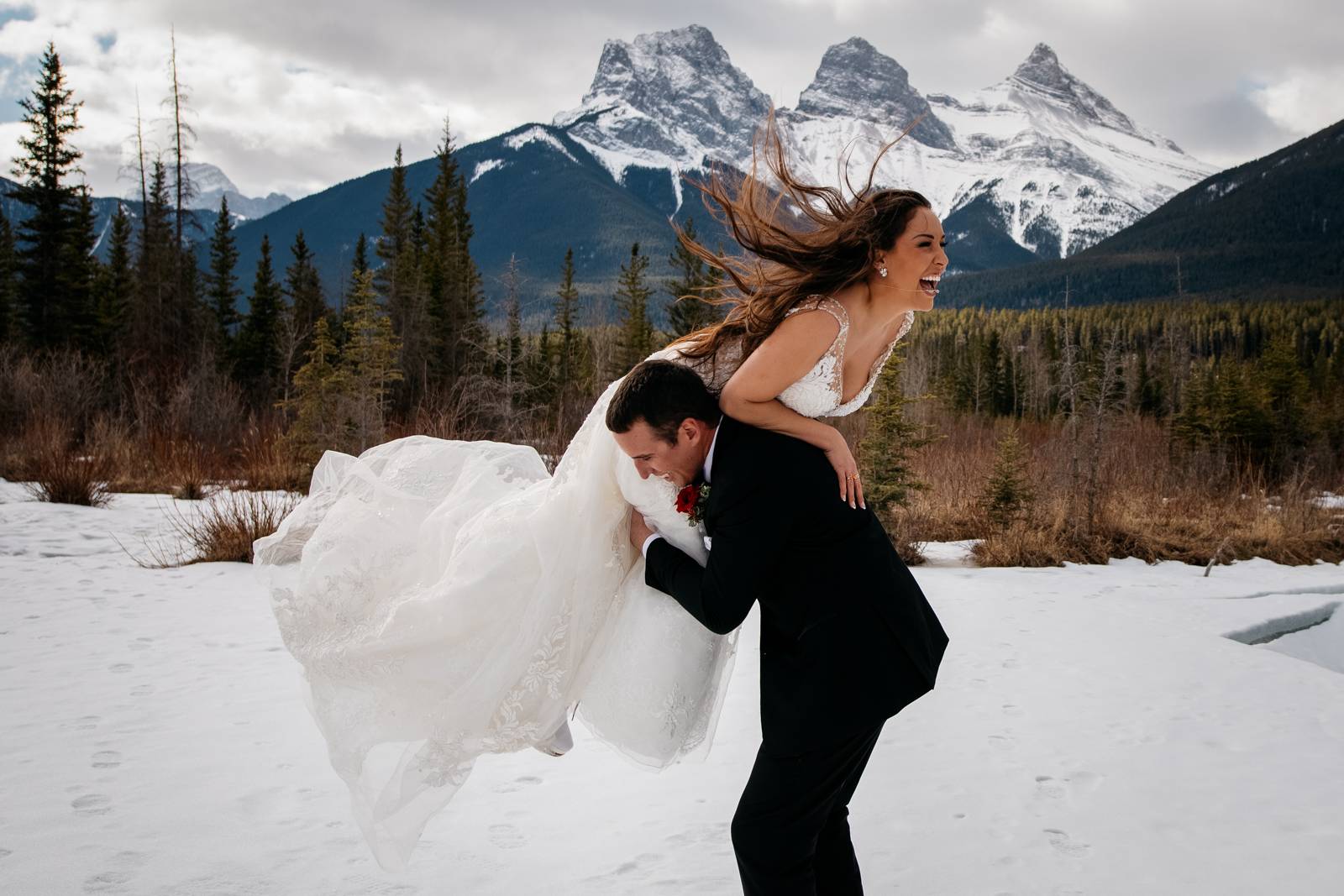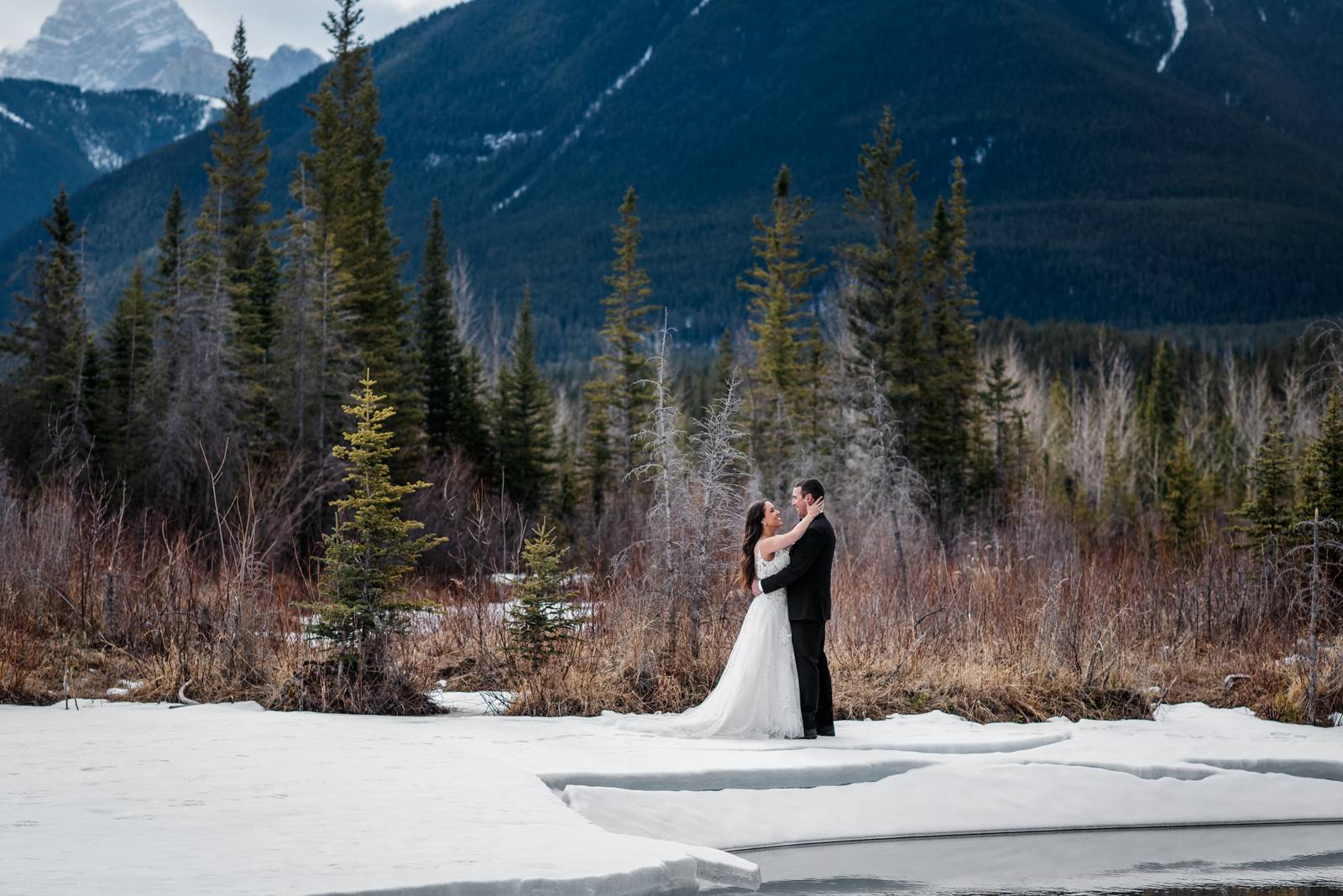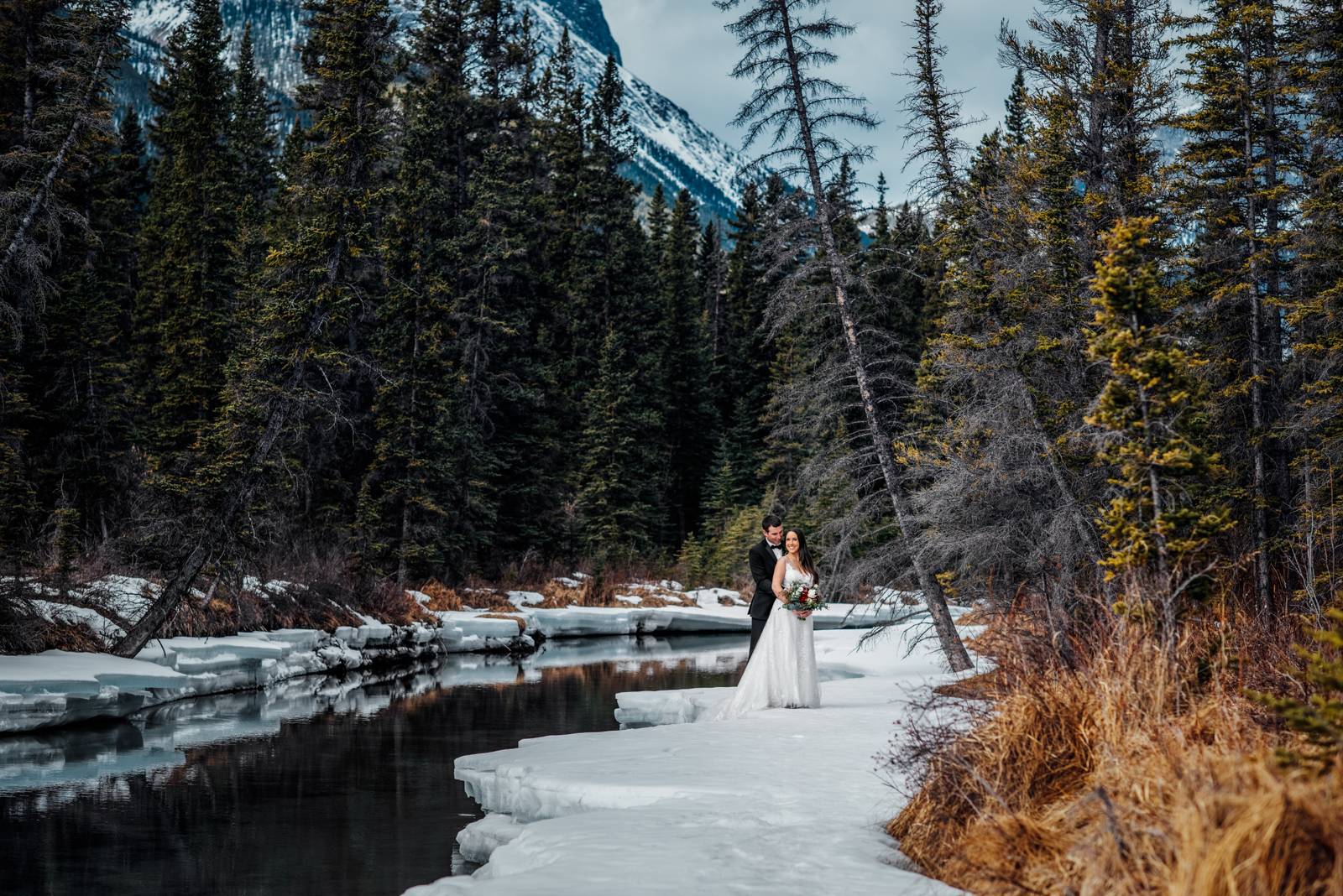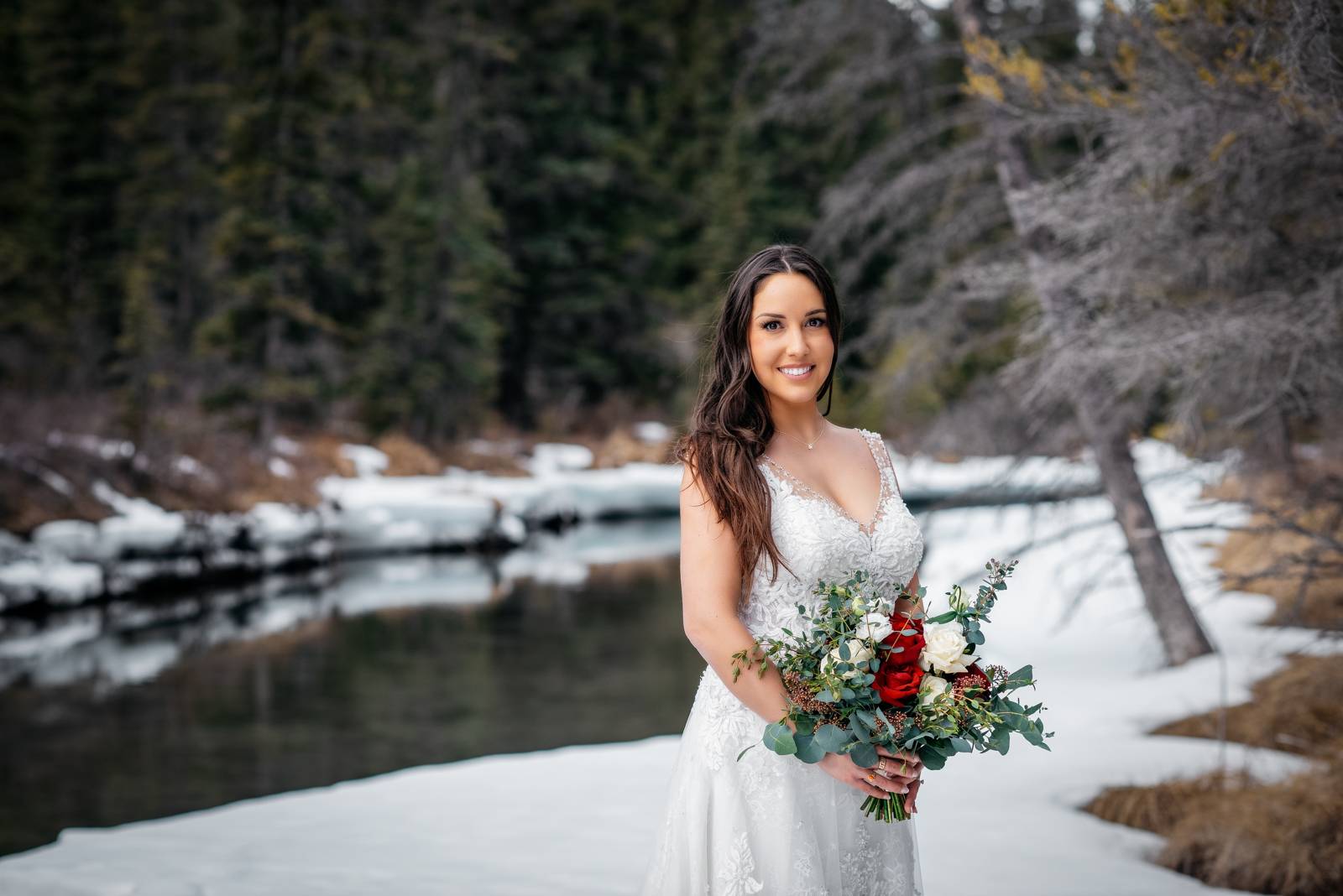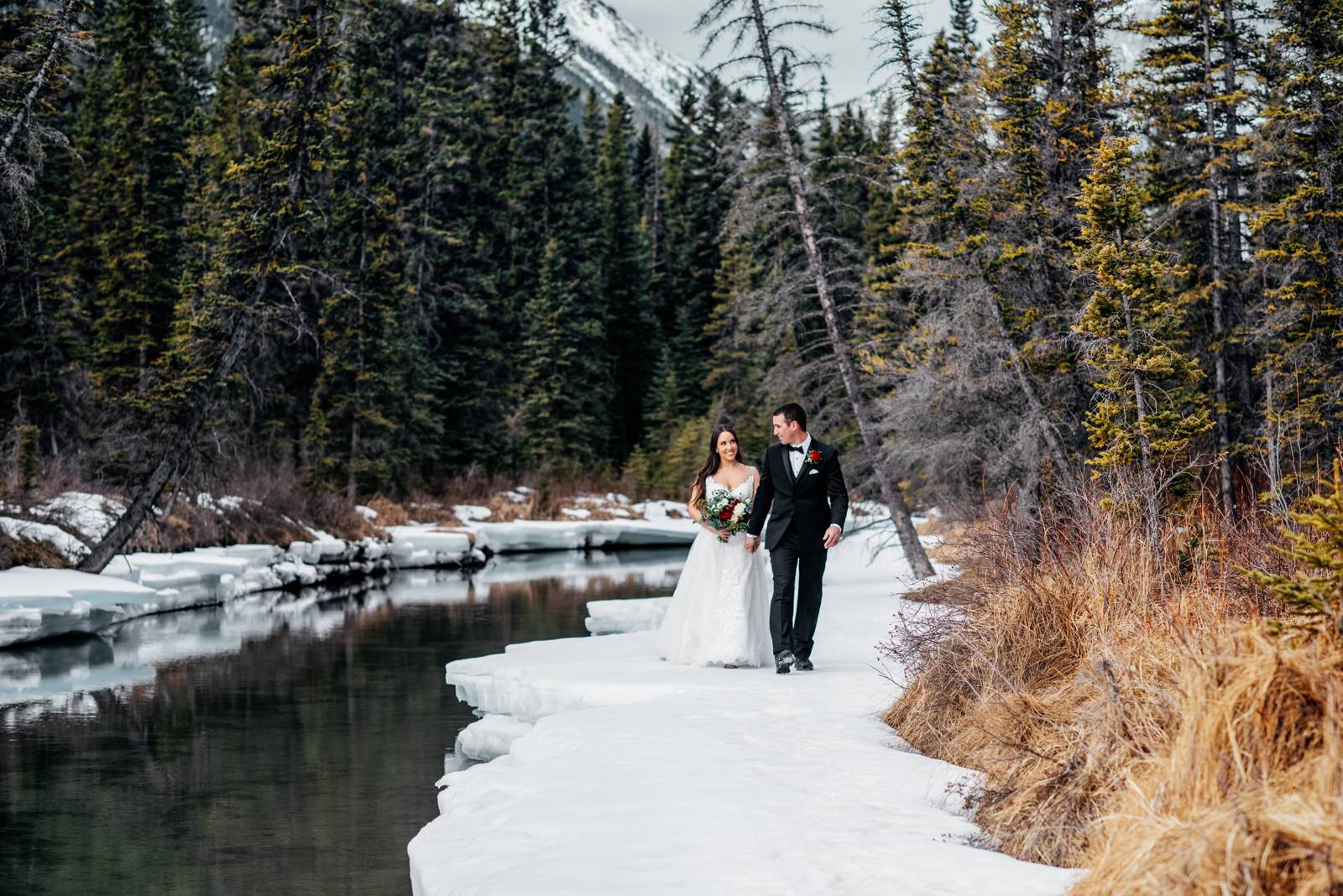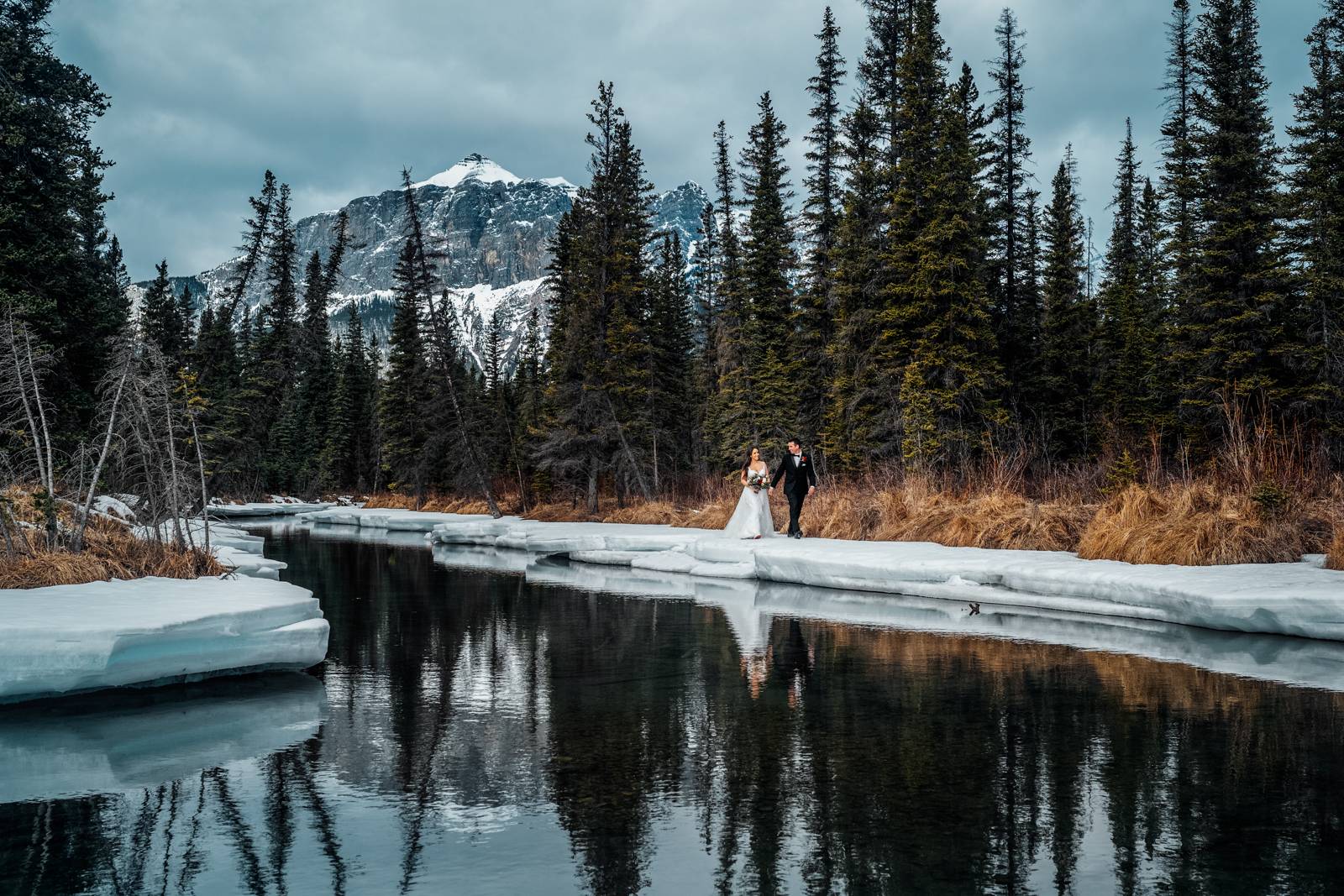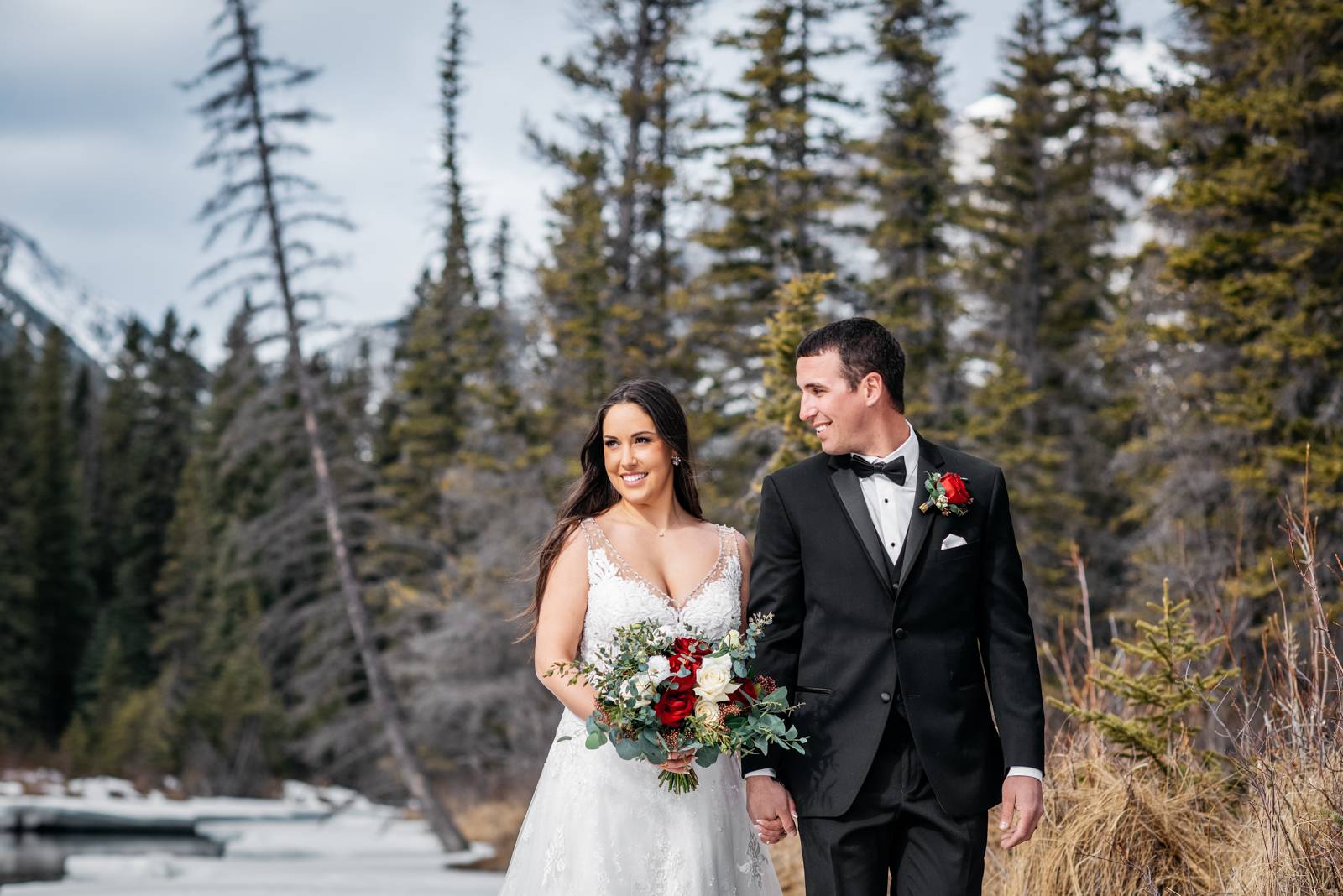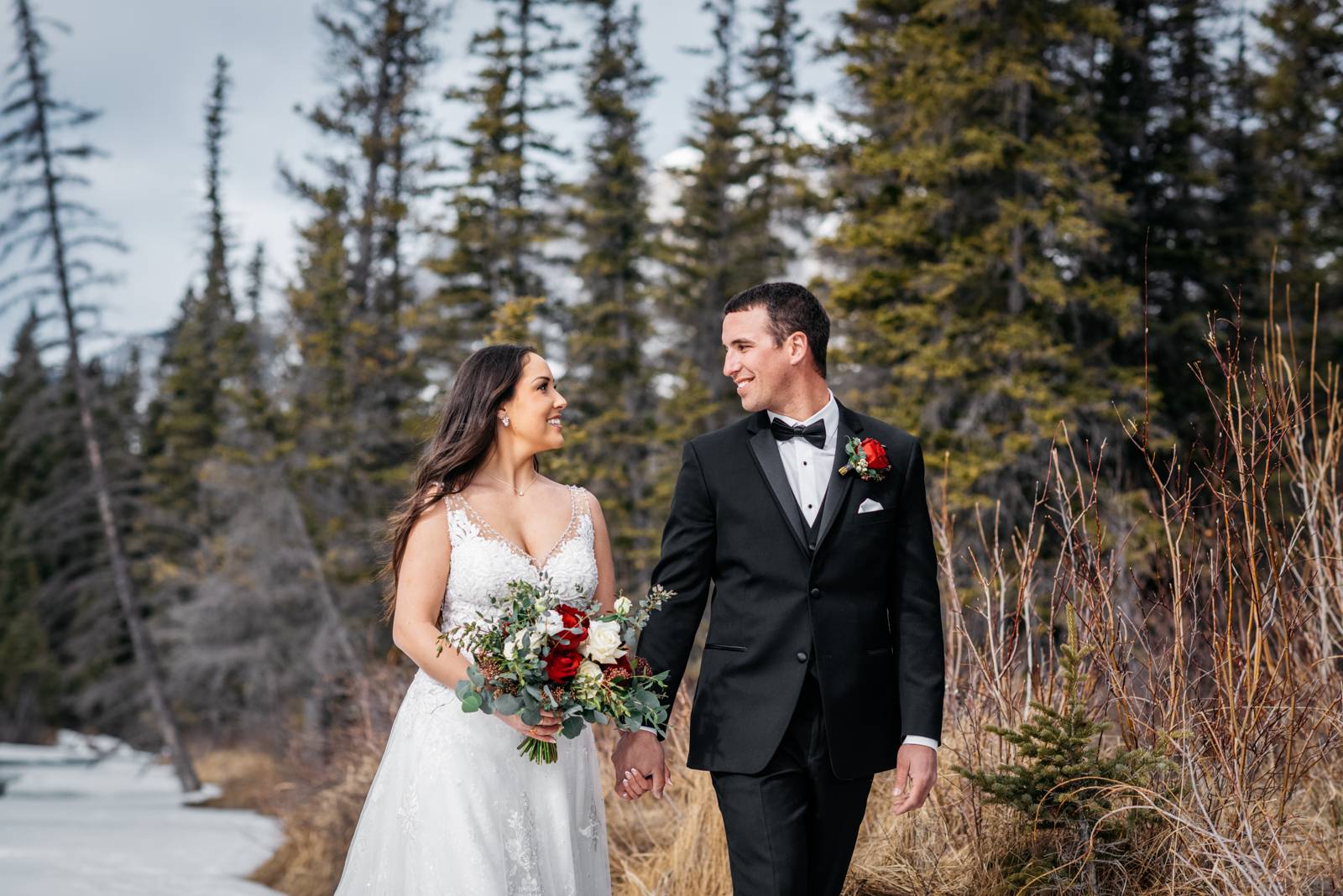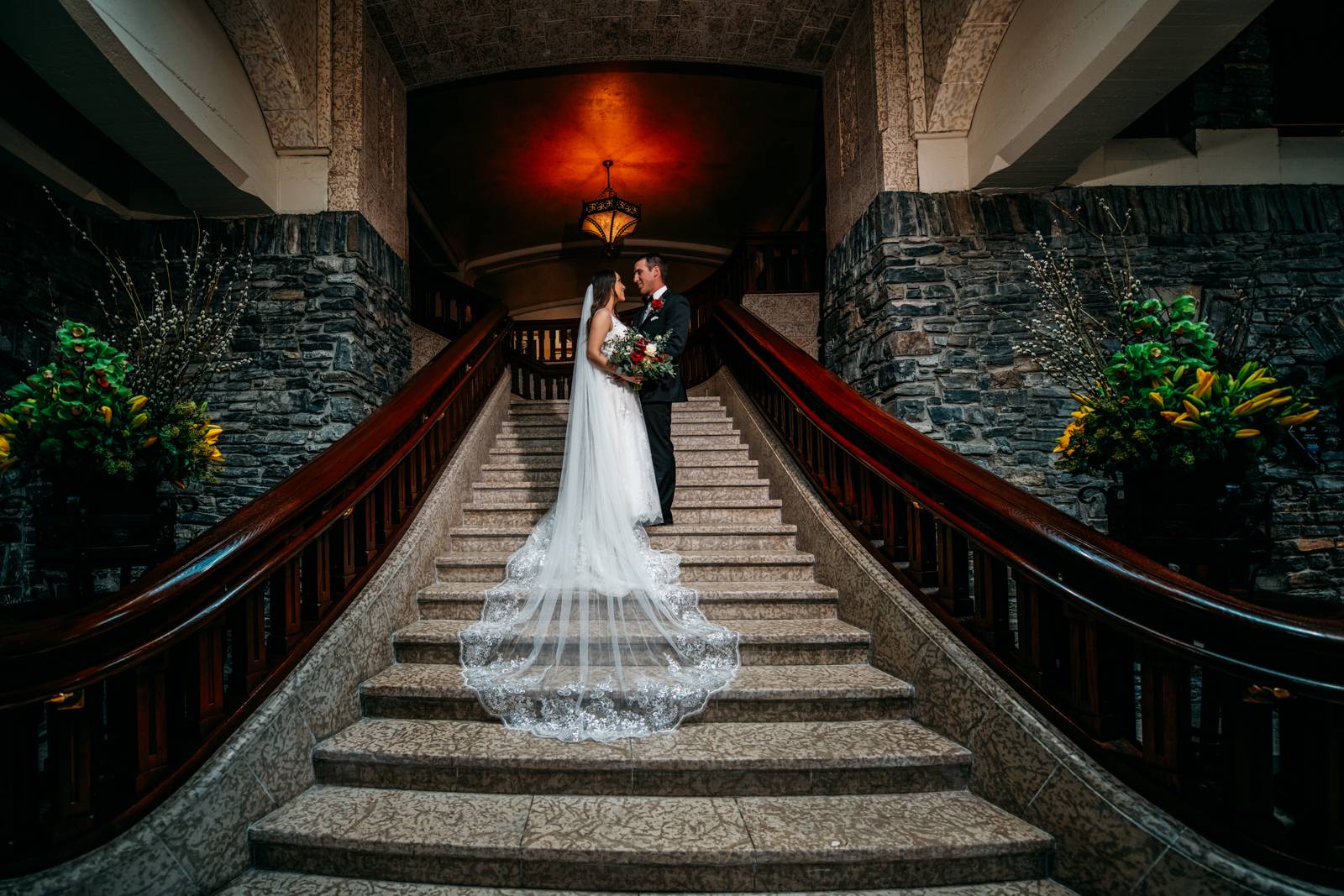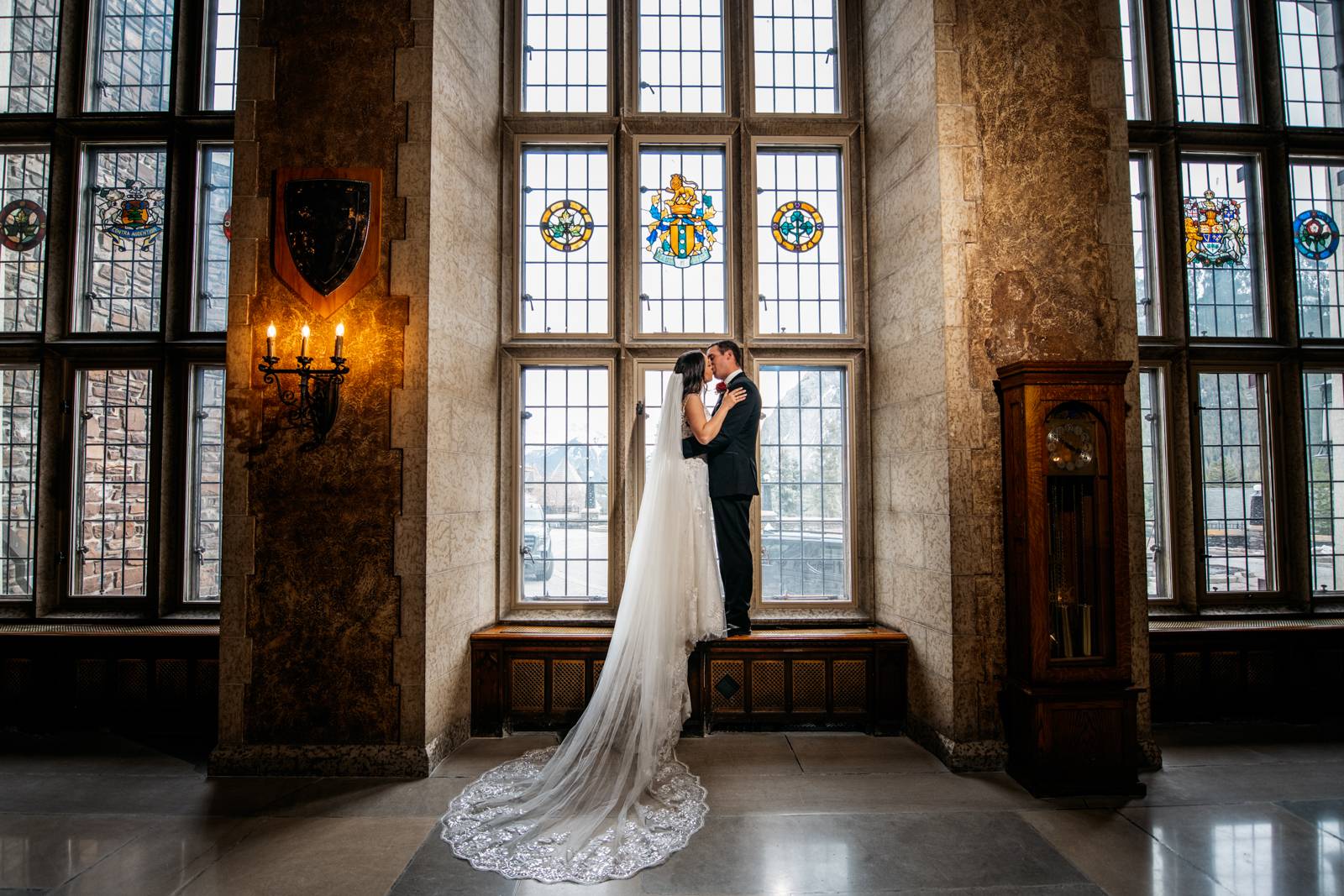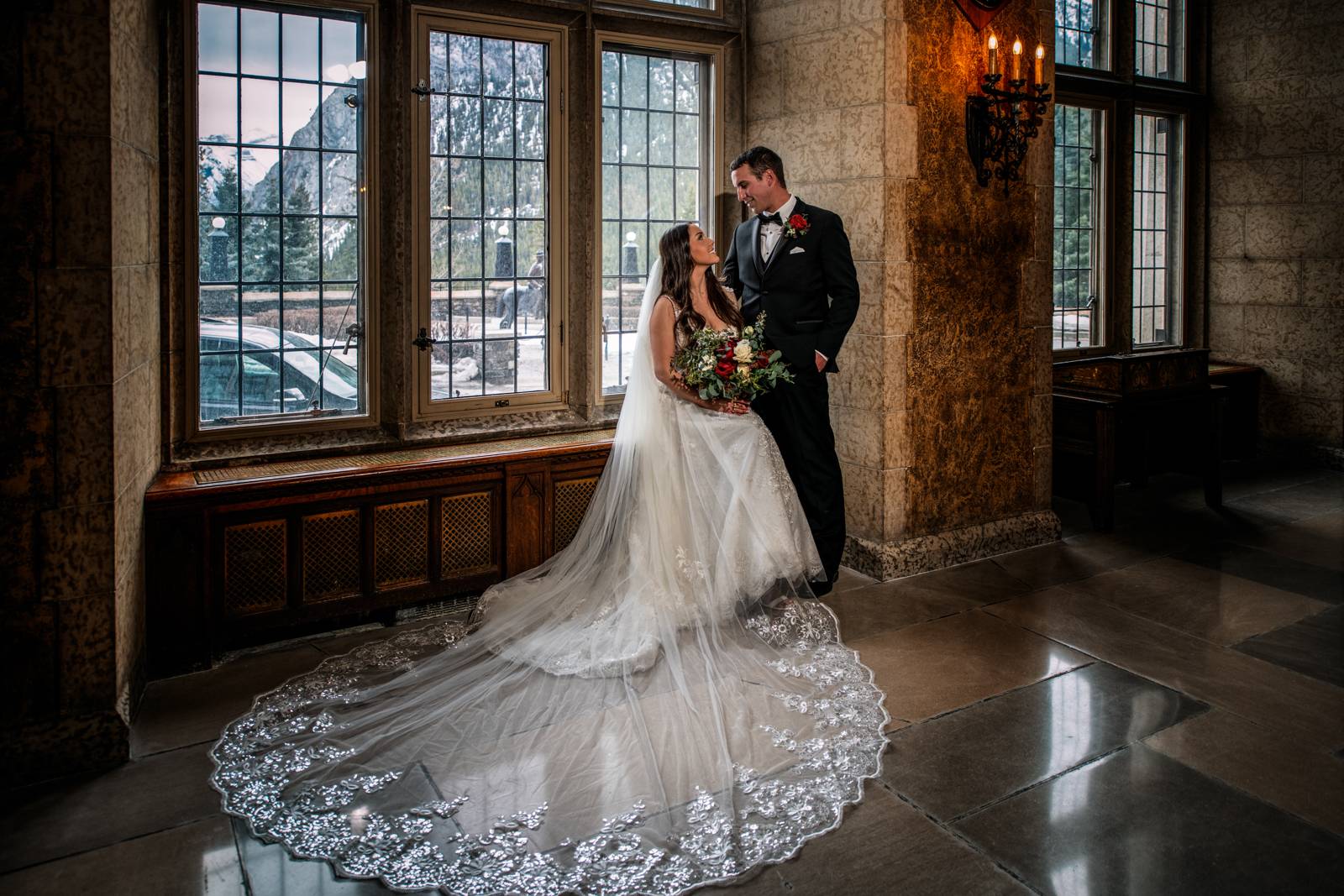 Heli elopement and wedding Banff photographers
We are Dorota and Marcin wife and husband team. If you are looking for fun and super friendly elopement and wedding photography team we are great fit for you.
We love photographing couples in love surrounded by the beauty of the mountains. We always make sure that our couples are going to have unforgettable wedding or elopement day with us, and importantly lots of beautiful images.